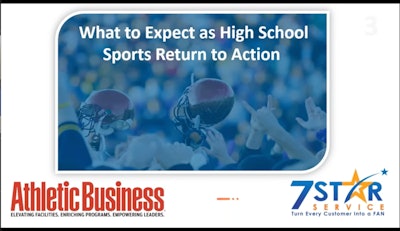 As high schools across the country navigate the uncertain path back to field and court, the primary concern for all involved is ensuring the safety of fans, student-athletes, their coaches and staff. In this webinar, we've gathered a panel of professionals working in prep sports to discuss what they're doing to get the Friday night lights shining bright once again. 
In this free session, you will learn:
What other athletic directors are doing to prepare for upcoming seasons. 
How to provide a safe environment for fans and players alike. 
How to navigate local, state and federal guidelines.  
Guest speakers:
Dr. Karissa Niehoff | Executive Director, National Federation of State High School Associations (NFHS)
Monica Maxwell | Director of Athletics, School City of East Chicago
Darryl Nance | Director of Athletics, Greenville County Schools
Hosted by: Ruby Newell-Legner, CSP | Fan Engagement Expert, 7 Star Service
Sponsor: