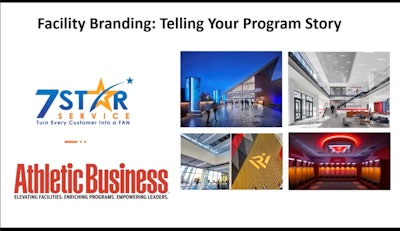 Does your facility tell a story? Does it tell your program or organization's history? Does it communicate your pride and core values? If not, this virtual workshop is for you. Join Athletic Business, 7 Star Service and a panel of experts for an in-depth discussion on the complexities of branding your facility the right way. 
In this free session, you will learn:
How to tastefully tell a story with your branding. 
The latest in materials and techniques to get the maximum "wow factor" out of your design. 
How the right branding strategy can impress visitors and install pride in your students, members, participants and staff.
Guest speakers:
Bill McCullough, AIA, Principal, Sports & Entertainment Practice, EwingCole, Philadelphia, Pa.
Geoff Sabin, Principal, Thysse Design, Oregon, Wis.
Hosted by: Ruby Newell-Legner, CSP | Fan Engagement Expert, 7 Star Service