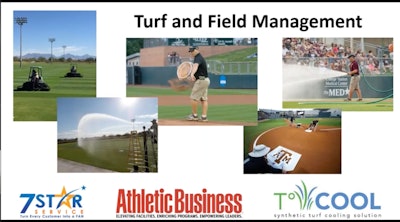 Keeping your playing surfaces in top condition is one of the most important things you can do to ensure the safety and health of your athletes and visitors. But there's a lot that goes into maintaining those fields. Athletic Business and 7 Star Service have invited a panel of experts to discuss how best to maintain your athletics fields. 
In this free session, you will learn:
The latest techniques for turf and field management. 
Cutting-edge technologies for keeping your fields in top shape all year long. 
Strategies for managing turf and field maintenance budgets.
Guest speakers:
Nick McKenna, Assistant Athletic Fields Maintenance Manager, Texas A&M, College Station, Texas
Sarah Martin, Park Supervisor for Water Resource Management, City of Phoenix, Ariz.
Hosted by: Ruby Newell-Legner, CSP, Fan Engagement Expert, 7 Star Service 
Sponsor: