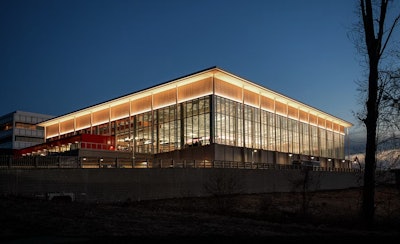 Construction Cost: $84 million
Area / Square Feet: 131,000
Occupancy Date: January 2023
With its dramatic hillside location and pavilion-like form, Martire Family Arena upends the typology of an ice rink as a windowless box. Designed to create an immersive and intense game experience for fans and players alike, the steeply raked seating bowl is accessed from the open concourse level with views of the landscape beyond. The views are made possible using floor-to-ceiling electrochromic glass that tints automatically to protect the ice surface from direct sunlight. With the flip of a switch, the clear glass changes to an opaque appearance to provide privacy to coaches and athletes.
After arrival from the underground parking, fans enter a major interior pathway that begins as a tunnel and ends as a glass-enclosed bridge, enhancing anticipation during the fan-arrival experience. Fans are further engaged with a digital ring board and light show, a center-hung videoboard, and uninterrupted views across the ice. The upper level provides premium seating, suites and club rooms for hosting events and corporate outings.
The facility is designed to host men's and women's NCAA Division I hockey programs, the nationally ranked figure skating team, club ice hockey teams, as well as local youth programs. Skaters have access to NHL and Olympic-quality locker rooms, team lounges, film spaces, meeting rooms, and a puck-shooting room for off-ice training. The design features sophisticated athletic training suites, a pro-motion training harness, world-class strength and conditioning, sports medicine facilities, and hydrotherapy suites.
The arena also serves as a practical learning laboratory/classroom.
ARCHITECT OF RECORD
Minneapolis, Minn.
ASSOCIATE ARCHITECT
Glastonbury, Conn.
PROJECT VENDORS
Fitness Center - Flooring, Aerobics -North West Rubber, PLEA
Gymnasium/Field House/Arena - Lighting - Ephesus
Gymnasium/Field House/Arena - Scoreboards/Timing Systems - Daktronics
Gymnasium/Field House/Arena - Sound Systems - Fulcrum
Gymnasium/Field House/Arena - Wall Padding - Porter
Ice Rinks - Bleachers/Grandstands - Irwin Seating Company
Ice Rinks - Refrigeration Units - Athletica
Indoor Soccer/Inline Rinks - Dashers - Baltimore/Bitzer
Laundry - Dryers - Electrolux
Laundry - Washers - Wascomat
Locker/Shower - Flooring - North West Rubber
Locker/Shower - Lockers - Hollman
Locker/Shower - Shower/Toilet Partitions - ASI Global Partitions
Training Facilities - Hydrotherapy Tanks - Grimm Scientific
Training Facilities - Taping/Treatment Tables - Athletic Edge