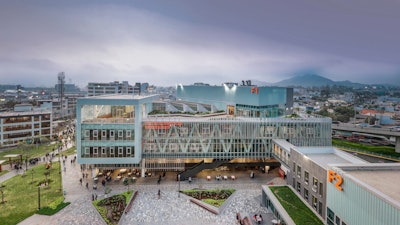 Sasaki
Construction Cost: $32 million
Area / Square Feet: 187,000
Occupancy Date: October 2022
The Universidad de Lima is a leading institution in Peru committed to the formation of professionals and civic leaders who will make a positive impact on the country. Since its founding in 1962, the institution has broadened its academic programs and experienced significant student population growth.
The design team began with a comprehensive campus master plan that creates a programmatic and a physical framework, providing an implementation plan and design guidelines for the optimization of existing infrastructure and the development of new buildings and landscapes for campus renewal and expansion. The institution's first-ever student recreation and wellness center brings the master plan vision to life by becoming the new crossroads on campus. 
For many years, the university offered few student services and recreation programming for a 25,000-person student body. To address this, a new recreation and wellness center was identified as part of the first stage of the campus development. The center includes nutrition, counseling, physical therapy and weight training for athletes, as well as informal recreation space within the multipurpose gym, which doubles as an event space for up to 600 people.
The completed project has transformed the physical campus and student life experience. The building and plaza create a student destination that incorporates recreation, nutrition, counseling, physical therapy, weight training, and flexible event spaces. As a major engine of campus activity, it is a place where students and faculty gather throughout the day to socialize, study and recharge.
ARCHITECT OF RECORD
Sasaki
Boston, Mass. 
PROJECT VENDORS
Fitness Center - Cardiovascular Equipment - True
Fitness Center - Flooring, Aerobics - Mondo
Fitness Center - Flooring, Fitness Center - Mondo
Fitness Center - Free-Weight Equipment - True
Fitness Center - Strength Equipment - True
Gymnasium/Field House/Arena - Basketball Backboards/Supports - Porter
Indoor Sports Surfaces - Basketball - Mondo
Indoor Sports Surfaces - Multipurpose - Mondo
Indoor Sports Surfaces - Track - Mondo
Indoor Sports Surfaces - Volleyball - Mondo
Locker/Shower - Flooring - Porcelanosa
Locker/Shower - Shower/Toilet Partitions - Fundermax
Check out the immersive digital experience of the project below: