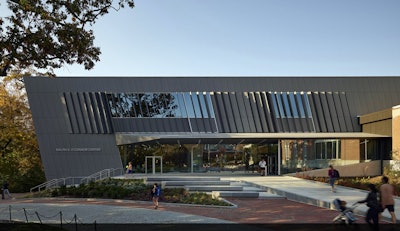 Construction Cost: $19.5
Area / Square Feet: 30,000
Occupancy Date: October 2022
The comprehensive reuse and addition of the Ralph S. O'Connor Center enriches the campus fabric, serving as a transformative face at the Homewood Campus north gateway. The addition increases the center's original interior space by 15,000 square feet and renovates 15,000 square feet of existing space. The project enhances the cardio, weightlifting, and flexible program spaces of the center while giving new emphasis to wellness, social interaction and experiential education.
The design creates new opportunities for gathering and contemplation. The north and east orientations allow visitors views of a serene forest garden. While lifting weights, shifting into warrior pose or simply moving through the building, the sense of wellbeing is heightened. On the lower level, the original gymnasium is now light-filled, as are fitness spaces on the upper floors. The skylit central stair with broad landings is a point of orientation, providing places to meet with open views of the cardio, fitness and program rooms.
Openness, connectivity and accessibility are governing principles of the design. The inviting main entrance on the north facade presents a modern identity and features expanses of glazing over two levels, a long floating porch canopy, and a stepped seating area for students to gather. Along the east, a wide walking path creates a social corridor that runs alongside the wooded Bufano Sculpture Garden and connects the plateau upon which most of the university is built. A glass curtainwall defines 
this elevation, creating strong visual connections between passersby, building occupants and the pristine natural setting.
ARCHITECT OF RECORD
Baltimore, Md.
ASSOCIATE ARCHITECT
Toronto, Ont.
PROJECT VENDORS
Building Systems - Skylights -Velux
Fitness Center - Flooring, Aerobics - Mondo
Fitness Center - Flooring, Fitness Center - Mondo / Sporturf
Indoor Sports Surfaces - Track - Mondo