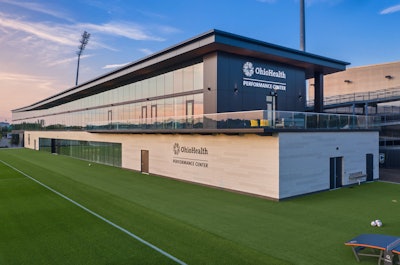 The Columbus Crew is the only team to convert an existing soccer-specific stadium into a training complex. Geographically, the stadium sits in an aesthetically challenging location — surrounded by a parking lot, shopping center and interstate. A berm surrounds the complex with life and growth, giving the facility's three full-sized soccer pitches an oasis-like feeling. The building's exterior materials add to the lightness and warmth of the facility with punches of color, fiber-reinforced lightweight concrete panels, dark metal and aluminum soffit panels in a wood-like finish. 
The interior layout caters to players' day-to-day activity and maximizes the efficiency of the space. Occupied areas feature floor-to-ceiling windows that allow sunlight to penetrate the entire building and provide opportunities for direct visual and physical access to the pitches.
The facility is some 40,000 square feet larger than its predecessor, with amenities for the first team and academy players ages 12 to 19 that include locker rooms for players, coaches and staff; athletic training and sports performance rooms; a players' lounge; shared dining space; meeting rooms; an entry lobby with media workspace; and coaching and staff offices.
Interiors consist of high-ceiling environments with clean, simple, yet solid and warm materials, utilizing a combination of black and white with walnut and grey wood tones. Spaces designed for public interaction incorporate lighter hues, while performance-based areas use darker tones. The building's moments of branding celebrate the team and the community that supports it, reminding players and coaches for whom they're competing.
ARCHITECT OF RECORD
The Columbus Architectural Studio 
Columbus, Ohio
ASSOCIATE ARCHITECT
Columbus, Ohio
PROJECT VENDORS
Fitness Center - Flooring, Aerobics - Ecore - Rally
Fitness Center - Flooring, Fitness Center - Ecore - Rally
Fitness Center - Free-Weight Equipment - Rogue Fitness
Fitness Center - Strength Equipment - Rogue Fitness
Laundry - Dryers - Unimac
Laundry - Washers -Unimac
Locker/Shower - Flooring - Ecore - Bounce 2, Ergon - Cornerstone 1304F8R
Locker/Shower - Saunas/Whirlpools - Cryospa Sport, Patterson Pools
Locker/Shower - Shower/Toilet Partitions - Metpar
Outdoor Facilities/Stadiums - Baseball Backstops - Sportsfield Specialties
Outdoor Facilities/Stadiums - Lighting - Musco
Outdoor Facilities/Stadiums - Soccer Goals - Kwik Goal
Outdoor Facilities/Stadiums - Sports Surfaces Natural Turf - SCG Fields
Outdoor Facilities/Stadiums - Tennis Nets/Posts - Sportsfield Specialties
Training Facilities - Hydrotherapy Tanks -Cryospa Sport, Patterson Pools
Training Facilities - Taping/Treatment Tables - Anchor HL & XL