A swimmer's injury may or may not be the fault of the coach who made her dive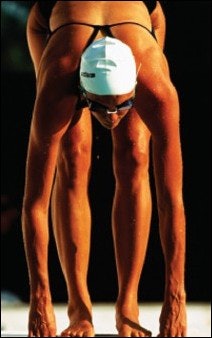 An essential part of a coach's job is to encourage and direct athletes to learn new and increasingly difficult maneuvers and to perform already-learned skills in more stringent competitive circumstances - a learning process that carries inherent risks of physical injury to the athlete. Since these risks are always present, it is the job of a coach to use his or her individual judgment in deciding whether an athlete is ready to attempt a new skill. Can a coach push athletes too far or make them undertake tasks that are beyond their capacity? That was the question the Supreme Court of California was recently asked in Kahn v. East Side Union High School District [2003 Cal. LEXIS 6373].
Olivia Kahn was a 14-year-old freshman when she tried out for her school's junior varsity swim team. Although a competent swimmer, Kahn had no experience as a competitive swimmer and had a deep-seated fear that she would suffer a traumatic head injury from diving into shallow water. Kahn even informed her two coaches, Andrew McKay and Kathleen Chiaramonte-Tracy, of this fact when she joined the team. To ease her fears, McKay assured her that, although three out of the four relay-team members must dive into the pool, Kahn would be the team member who started from inside the pool - which she did at the first few meets.
Just minutes before one meet, however, McKay informed Kahn that on this occasion he would not permit her to start her relay from inside the pool. Terrified, Kahn pleaded with McKay to change the rotation so she could start in the water. Once again, Kahn told McKay that she was afraid to dive into the shallow pool, that she did not know how to perform a racing dive - indeed, she claimed, she had never attempted one. McKay refused to change his mind, and informed Kahn that unless she dove off the starting block, he would not permit her to participate in the meet. At this point, Kahn, with the help of two teammates and without any coach's supervision, began to practice diving from the starting block into the shallow racing pool. On her third practice dive, she broke her neck.
As a result of her injury, Kahn sued the school district and McKay, alleging that her coach negligently failed to train, supervise and protect her adequately against diving accidents. Specifically, Kahn claimed that during the few weeks between the commencement of the swim season and the accident, the coaches failed to offer her any instruction or training in shallow-water racing diving.
In their defense, McKay and the school district claimed that Kahn assumed all the risks inherent in the sport of competitive swimming when she voluntarily joined the swim team and dove into the pool. Under the doctrine of primary assumption of risk, McKay and the school district argued, they were not liable unless they had elevated the risks inherent in competitive swimming or were reckless.
As for Kahn's claim that McKay failed to offer her any instruction or training in shallow-water diving (thus elevating the risks inherent in competitive swimming), McKay claimed that swim-team practices included diving practice twice a week. McKay claimed that he had worked with Kahn in a group and individually, and that he followed American Red Cross training suggestions, starting Kahn with dives into the deep diving pool until he believed she was competent to practice diving into the shallow pool.
A trial court held that in order to support Kahn's cause of action, she would have to establish that the coach acted with intent to cause her injury or that the coach acted recklessly. Before even addressing that issue, however, the court dismissed Kahn's case and granted summary judgment in favor of McKay and the school district. In dismissing the case, the court ruled that Kahn had voluntarily assumed the risks inherent in competitive swimming, and that diving was one of those risks. In affirming the trial court's decision, the Court of Appeal ruled that shallow-water diving is a fundamental part of competitive swimming and is a danger that is an inherent risk of the sport.
As for Kahn's argument that McKay increased the risks inherent in competitive swimming, the Court of Appeal concluded that McKay merely challenged Kahn to go beyond her current level of competence and that coaches who do so should not be subject to tort liability. In addition, by voluntarily rising to the challenge of attempting an unfamiliar dive, the Court of Appeal found that Kahn had assumed the risk that she would be unable to meet that challenge.
Kahn next appealed to the Supreme Court of California. Using the assumption-of-risk doctrine, the court cited its decision in Knight v. Jewett [834 P.2d 696 (1992)], in which it noted that "In the sports setting … conditions or conduct that otherwise might be viewed as dangerous often are an integral part of the sport itself." Therefore, as a matter of policy, it would not be appropriate for the courts to recognize a duty of care when to do so would require that an integral part of the sport be abandoned, or would discourage vigorous participation in sporting events. At the same time, the court, as in Parsons v. Crown Disposal Co. [936 P.2d 70 (1997)], found that a coach owes a duty of due care not to increase the risk of harm inherent in learning an active sport.
But does pushing an athlete unreasonably increase the risk of harm? Not simply by urging the athlete to strive to excel or to reach a new level of competence, according to the court. In analyzing the appropriate limitation on the duty of a coach, the court held that liability should not be imposed simply because a coach asked the athlete to take action beyond what, with hindsight, is found to have been the athlete's abilities. As a general matter, the court held that an athlete's inability to meet a coach's legitimate challenge is a risk that is inherent in learning a sport. To impose a duty to mitigate such risks, the court ruled, could have a chilling effect on teaching and learning skills that are necessary to the sport.
The court, however, did disagree with the Court of Appeal on one important point: whether McKay merely challenged Kahn to go beyond her current level of competence or whether his conduct was reckless in that it fell outside the range of ordinary activity involved in coaching this sport. Unlike the lower courts, the Supreme Court held that a jury could reasonably conclude that McKay's conduct - from his apparent failure to provide Kahn with training in shallow-water diving to his last-minute breach of promise - was reckless. It therefore remanded the case back to the trial court.
T he Supreme Court of California's decision in this case is important for two reasons. First, the court acknowledged that part of the job of a coach is to push and challenge athletes to perform beyond their current capacity. In addition, the court's decision reaffirms that learning a sport itself can be a risky process, that athletes who engage in the process of learning are frequently at greater risk of injury, and that a coach does not have a duty to eliminate all the risks presented by inexperience.
Perhaps more important, however, the decision does not give coaches blanket immunity. If a coach fails to properly train or prepare an athlete before asking him or her to try more-difficult maneuvers, the coach's conduct, if found to be reckless, can be subject to liability.
---
Attorney John Wolohan (jwolohan@ithaca .edu) is an associate professor of sports law in the sport management & media department at Ithaca College.