Staging successful swimming events requires savvy strategy and a host of volunteers.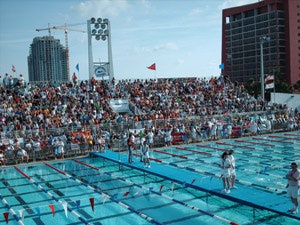 The future of Virginia's largest state high school swim meet was in jeopardy earlier this year when, mere weeks before it was scheduled to take place, the event still didn't have a director. The situation grew so dire that the Virginia High School League took the unprecedented step of threatening to cancel the meet - which attracts approximately 400 swimmers and 1,800 spectators. Credit goes to Virginia Beach's Kellam High School for eventually stepping in and saving the championships by overseeing the successful meet at a local recreation center.
Nevertheless, the incident illustrates how difficult it can be to find organizations capable of hosting major swimming events. "There are certain sports that take a tremendous amount of volunteers and effort," says Phil Levine, director of student activities at Oakton High School in Vienna, Va. When Levine directed Virginia's Group AAA state high school swim meet in 2006, he relied on about 200 volunteers. He also oversees the state's Group AAA district and regional meets every year, and will head up the finals again in 2008. "Track and swimming are the two sports that cannot be run without a lot of parent volunteers. You rely solely on their support to allow these events to take place. It's a huge job."
Complicating matters for high schools and independent swim clubs alike is the fact that most of them do not own their water. Thus, the majority of meets are held in rented venues. That makes strong communication essential between the pool operator and the swimming organization regarding everything from facility fees to staffing needs to sponsorship guidelines.
"You always hear rumors out there about how tough it is to run a meet," says Dave Bimber, a veteran meet director for STAR Swimming in Buffalo, N.Y., a 120-member club that hosts events at Erie Community College. "It's not really tough, but you need to put in a lot of time and work. You need people who can take care of their own little parts of the meet, people who will work with you and who can take on the tasks you delegate. You can't micromanage. But when the kids are happy at the end of the meet, that's what you're looking for."
The first thing to look for, however, is a facility that can accommodate the needs of a given meet. Rental rates have quadrupled during the past decade, thanks to increases in utility and other operational costs. Long-term partnerships between a club and a facility can ease the financial burden. But according to Mick Nelson, facilities development director for USA Swimming (which is affiliated with nearly 3,000 swim clubs), finding the perfect match is no simple task. "It's always a challenge to pair the right size of meet and the right size of pool," he says.
Some facilities, for example, offer an extra pool that can be used by competitors for warm-ups, while others require meet directors to build into their schedules warm-up time in the competitive pool. Oakton High hosts the state swim meet at the Aquatic and Fitness Center on the Fairfax campus of George Mason University, while it holds district and regional meets at the Fairfax County-owned Oak Marr RECenter. Unlike the facility at George Mason, Oak Marr's pool has neither a warm-up pool nor enough room on the deck for swimmers to also be spectators and support their teammates. "So we end up hosting at a pool where the kids stay in a gym until it's their turn to come out and swim," Levine says. "It's frustrating, because you want the meet to be a spectator event for the kids, too, not just the parents."
The ideal facility provides on-deck room for swimmers, plus space in balconies overlooking the pool and deck for parents and other spectators. During last year's state championships at George Mason, Levine and his meet crew added two sets of bleachers on the deck to hold an estimated 125 people. Each participating team was given a specific number of passes that would be allowed to change hands among parents who could temporarily leave their balcony seats for an up-close view of their child's heats.
The other main alternative, on-deck seating for all, creates problems with sightlines and overcrowding. In facilities where on-deck bleacher seating is limited to low risers around the perimeter of the natatorium, the preponderance of swimmers walking around may block spectators' views of the pool. Likewise, on-deck seating tends to encourage fans - some of whom come and go quite often during the course of a meet - to congregate near natatorium entrances and at the sides of high-rise bleacher sections, clogging foot traffic and prohibiting clear views of the action.
Overcrowding is now becoming more of an issue at swimming competitions, as Nelson estimates that each swimmer brings an average of at least one-and-a-half spectators with him or her to any given meet. Options for containing excessive crowds include implementing policies that prohibit the saving of seats and do not allow swimmers to stay in the stands with their parents, asking spectators to be considerate of and make room for others, and setting up queuing stanchions to control overflow outside of the pool area.
But even those good intentions can backfire. For example, despite the presence of university police officers assigned to work the Western Massachusetts High School Swimming Championships in mid-February at Totman Gym on the University of Massachusetts campus, hundreds of fans standing in an overflow line outside of the natatorium grew restless. One man became particularly unruly, reportedly becoming combative and trying to incite similar behavior in others. He was arrested, and several university police were required to restore order to the line, according to the Massachusetts Daily Collegian student newspaper.
In addition to finding facilities with enough space for competitors and spectators, extra rooms may be needed to house trainers and a first-aid station, as well as hospitality centers for coaches and meet officials. Lobby and corridor space will likely be required for swim-gear vendors, various organizations' displays and concessions stands. If the meet is held in a college or recreation facility, those spaces might already be in use for classes, meetings or other previously scheduled activities, which is where long-term contracts again prove beneficial. "Over the years, we've learned how to negotiate these intricacies with a facility owner," Levine says.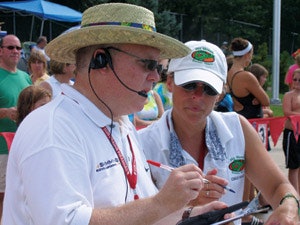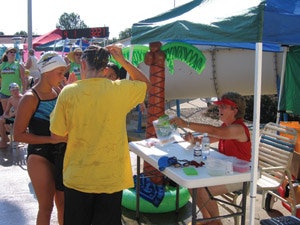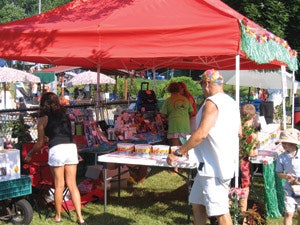 Another negotiating challenge involves convincing parents - especially ones whose sons and daughters have been involved in less volunteer-reliant sports such as football and basketball - that their time and talent are required to help run successful swim meets. Dozens of tasks need to be assigned at every meet. These include collecting admission fees, working in the concessions or hospitality areas, helping stage swimmers for each event, and working as a lane timer, head timer or official. Letting parents know what is expected of them before the season starts and posting sign-up sheets at practices well in advance of each meet will go a long way toward helping fill open slots.
Fortunately, securing volunteers is easier now than it used to be. "That's the one piece I never worry about," Levine says. "I used to, but I think more people understand that the best seat in the house is on the deck, working the meet. It helps the meet go faster for them; they don't have to sit for two hours waiting for their kid to swim for 30 seconds. The more involved parents get, the more they enjoy the atmosphere of the meet. Plus, a lot of them want the shirt."
Indeed, some meet directors try to make their volunteers feel appreciated by offering them T-shirts or polo shirts donated by local sponsors or even taking a portion of meet proceeds and sending volunteers small-denomination gift cards from local retail stores. At STAR Swimming, all families contribute to a "support team fund" at the beginning of each season - the amount varies depending on the swimmer's level. Then, for every meet a family member works, that family receives a $20 kickback from the fund. "That goes a long way with people who have given up their time to work for you," says Bimber, a swim parent who got tired of just sitting in the stands and worked as a safety marshal, a timer and an official before becoming STAR's meet director.
In many cases, the duties associated with any volunteer position can be learned during one meet and require no prior experience. However, pairing veteran lane timers, head timers, officials and other volunteers whose roles directly affect the meet's progress with rookies tends to shorten the learning curve tremendously. (Swim clubs often request that a handful of parents attend classes to become officials, who monitor all heats and watch for rules violations. They then can work both club-sponsored and other meets.)
Once you have volunteers in place - many will no doubt already be members of swim club committees in charge of everything from decorations to security - the objective is ensuring the entire experience is a pleasant and memorable one for swimmers, coaches and spectators. As with many things, that starts with the food. If using a venue in which outside vendors are allowed (some contracts between facilities and food-service providers prevent any competitors' presence), local restaurants should be encouraged to contribute to the concessions and hospitality menus. "If you ask, they'll never say 'no,' " Nelson says.
For multiple-day events, menu items in at least the hospitality room should change. Bimber often rotates main courses among pizza, chicken wings, roast-beef sandwiches and pasta. When Northwestern and Rock Hill high schools teamed up last fall to host the South Carolina state championship meet, they served coaches, officials and other staff members pasta, salad and bread provided by a local Olive Garden restaurant. Meet organizers gave the leftovers to a church that feeds needy families, and grateful coaches from visiting teams told the hospitality staff that they'd grown sick of eating cold chicken and potato chips at other meets.
"Reputation in the swimming community can carry you far," says Bimber, whose organization established itself as a no-nonsense club when it enforced a rule that spectators at Erie Community College's Burt Flickinger Athletic Center found loitering in areas not designated for swimmers and fans will be removed from the facility. After a young boy was caught misbehaving on the indoor running track, meet organizers forced one of his parents (who had another child competing in the meet) to take the boy home. "Once word got out that you can't let your kids roam, that settled any future problems," Bimber says. "You really hate to see it come to that, but it's up to the parents to bring their kids something to do when they get bored. We're not a babysitting service."
The delinquent boy in question was discovered by safety marshals Bimber had hired to patrol the pool's surrounding areas, including rest rooms and locker rooms, gymnasiums, corridors and other spaces in which wandering spectators might find themselves - either accidentally or intentionally. Marshals are typically paid a nominal fee and supplement the services of a handful of local police officers working a meet.
Sometimes meet directors must get involved in safety and security issues, too. That was the case at the Maryland Class 4A Central high school regional swim meet in Laurel, Md., in February. One meet director, addressing what he perceived to be a dangerous situation after several members of the Severna Park High boy's swim team scurried across a slick pool deck and tossed coach Kacie Owens into the water to celebrate their victory, initially withheld the team's award plaque. "It's a safety issue, because there's always a chance someone can get hurt," Anne Arundel County Public Schools athletics advisor Greg LaGrand told The Capital newspaper of Annapolis. "Throwing the coach in the pool is technically not a rule violation, but it's sort of a 'no-no' from a safety standpoint. I think the meet director was just a little shocked and upset about what he saw. He just wanted to send a clear message that it was not okay to behave like that."
Looking out for everyone's best interests is at the core of a meet director's job. "You have to find a middle ground," Bimber says, adding that it's crucial to communicate your intentions to coaches, officials and other volunteers. "You'll have a bunch of coaches who are looking out for their own swimmers, but you need to be fair to everybody. And you have to stand by your decisions."
Chief among those decisions, USA Swimming's Nelson says, is that swim meets should not be treated as fund-raisers. Granted, concessions, program and heat-sheet advertising, sponsorships and even raffles can help pay coaches' salaries and facility rental fees. "But if you try to make money off admissions and entry fees, you lose focus of why you're running meets in the first place," Nelson says. "You're running meets because you want your athletes to have quality competition. That has to be the main focus, and when the business aspect starts taking over, you wind up with too many events at meets that are too long, and they're not run with the athletes in mind."
Levine agrees that, in the end, a swim meet's success is judged solely by the satisfaction of its participants. "There is no other reason to do it," he says. "Money is not the reason. I learned a long time ago that you do what it takes to provide a safe environment in which kids can showcase their talent."
Relay the Safety Message In order to keep personal and facility safety foremost in the minds of swimmers, spectators and staff members, USA Swimming recommends making the following announcements during the course of a swim meet:
"The safety of athletes, officials, coaches and volunteers is of paramount importance to (NAME OF THE ORGANIZATION). Please use safe procedures in and out of the pool."
"(NAME OF THE ORGANIZATION) reminds all athletes and coaches: Have a successful and safe meet."
"Please cooperate with safety marshals and officials. They are here for your safety and protection."
"Please enter the water feet first during warm-ups. No racing starts or dives during warm-ups."
"First-aid services are located (WHERE)."
Starting Blocks Not ready to host a major swim meet involving a half-dozen teams and scores of volunteers? Then consider these alternative meet formats, courtesy of USA Swimming:
Dual Meets: Two teams compete, with more events scheduled specifically for new swimmers rather than advanced swimmers. This small format is ideal for new clubs or clubs with many young athletes.
Relay Carnivals: One to four teams compete, with each team assigned a specific lane for the entire meet. All events are relays and may include mixed-stroke and mixed-gender races.
Battle of the Sexes Events: One or more teams compete in a good-natured boys-against-girls format. Consider creating fun, novelty events that swimmers aren't allowed to compete in at other meets.
Separate-Week Meets: Two or more teams compete over a two-week period. Some age groups will be scheduled for week one and others will be slated for week two. This use of weeknights allows individual volunteers to commit less time and keep their weekends free.
Holiday Sprint Invitationals: Up to three teams compete in a limited number of swims. Build community goodwill by requiring a canned good for donation to a local charity or food bank as the entry fee for each event.
E-mail Meets: Two or more teams compete in the same events at separate sites, with meet officials overseeing races at each location. Results are e-mailed to coaches to determine winners.