Some of Beijing's highest-profile Olympics venues are garnering attention for the evocative nicknames they inspire.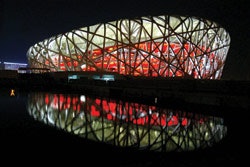 When Olympic torch meets Olympic cauldron and the world's attention becomes fixed on the 2008 Summer Games, some of the attention is certain to be paid to the evocative nicknames inspired by Beijing's highest-profile Olympics venues. But while the Beijing organizing committee has been publicly delighted to support names such as the Bird's Nest (National Stadium) and Water Cube (National Aquatics Center), official response has been muted with regard to the Giant Egg, the Big Shorts and the Toilet.
The Giant Egg - that is, the National Center for the Performing Arts - has been a controversial architectural addition to the skyline as part of the city's $160 billion, Olympics-spurred building spree, as its 46-meter-tall dome is said to clash with the area's traditional hutong alleys and surrounding Forbidden City. And then there's the nickname. Deng Yijiang, vice president of the center, said at its official opening in January, "People have their own opinions, and I can accept that. Personally, I don't like that name."
Some of the new monikers will disappear as construction is completed; the new 54-story CCTV headquarters has inspired one unfortunate nickname, the Condemned Building, because its glass and steel facade has taken some time to be completed. More unfortunate, perhaps, is that local residents have already taken to calling it the Big Shorts, an allusion to the double tower connected at the top.
In the case of other facilities with more than one name vying for supremacy, the nickname that sticks might just depend on how the Games themselves go. While the Bird's Nest enjoys an official imprimatur, the stadium's intricate exterior has been likened to barbed wire - and even, by its co-designer, Ai Weiwei, to a toilet bowl.