Community raises money for a retractable shade system at local aquatics center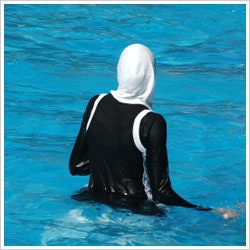 According to most readings of the tenets of Islam, Muslim women are not to be in public without hijab (head and hair coverings and loose-fitting, modest dress that leave only the hands, feet and face exposed). Taken as policy for public swimming, the practice is, to say the least, problematic. But as one community effort in Cary, N.C., demonstrates, Muslim faith and women's swimming need not be mutually exclusive.

While organizing swim classes for boys, a group of Muslim parents wondered what it would take to do the same for girls. A local aquatics center offered its standard rental fee for a 15-yard pool ($170 per hour), but windows overlooking a larger pool precluded the kind of women-only privacy required by the group's faith, according to (Raleigh) News & Observer reports.

After a $3,000 fundraising effort and approval from the aquatics center, a retractable shade system was installed, and the first learn-to-swim class - involving some 35 Muslim women and girls in full-body swimwear, as well as female lifeguards and instructors - took place in December.

"I've wanted to waterproof this community for a long time," Jenny Jaber, a water safety instructor and Islam convert, told the News & Observer's Yonat Shimron. "We're around water all the time."

Salman Shiekh, a native of Pakistan who helped lead the effort to make the class possible, told the paper, "It makes sense for business and service providers to accommodate the needs of the community. All it takes is dialogue to make it happen."
Log in to view the full article