They're bubbling up from Texas to Minnesota and from coast to coast as complements to traditional dry playgrounds and existing pools, as well as stand-alone aquatics amenities replacing traditional pools altogether. For many municipalities, both urban and suburban, splash pads offer a simpler, more affordable aquatics recreation alternative.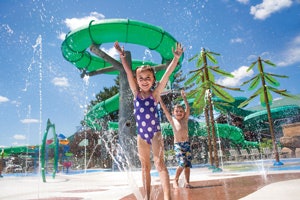 With little or no standing water (and thus no lifeguard staffing requirements), but a wide range of water-play options, splash pads represent a natural evolution of the backyard sprinkler cool-down concept. "The nice thing about splash pads in open parks is they're very cross-generational," says Ron Romens, owner and president of Commercial Recreation Specialists in Verona, Wis. "They represent a space where parents and grandparents can bring kids. The kids can play, and the moms have a cup of coffee. They don't have to be right next to the kids in case they have to grab them like in a wading pool. It's very much a social, community-building space."
But communities looking to build a splash pad still have much to think about. Here are several interconnected considerations: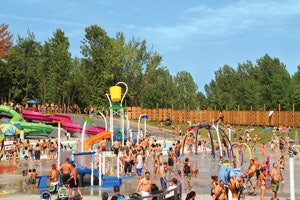 Target audience: While the park-visiting experience may be multigenerational, splash pads will not serve the full range of users that a pool might, focusing instead on the toddlers-to-teens market. Serving that narrower demographic nonetheless requires variety in the form of gentle, non-intimidating sprays — even mists — for the youngest users and higher-volume sprays and dumping elements for older users.
Features: Water that jets upward out of the surface or can be manually aimed through nozzles appeal to toddlers, while teens more likely enjoy subjecting themselves to 50 gallons dumped at once. "When you design a splash pad, you really design it into zones and areas for those different ages of kids," Romens says. "So in the toddler bay, you find laminar-type flow effects, features that are low to the toddler's height, things that are easy to turn and interact with. When you get to the more active bay, now you're putting in action-reaction play features where it takes multiple kids to get a different response from the water, by stepping on different jets or by moving things around. Then you get into competitive play."

Specific features range from ground-level trenches with operable water-flow gates to animal sculptures that shoot water down from 15 feet overhead — the flow manipulated by kids pressing certain valve caps to reroute the water. The key is getting kids moving, even more than they might in a traditional pool setting, according to Ed Benck, owner of Aquatic Recreation Company LLC in Eden Prairie, Minn. "We have products that take two or three kids to really interact fully with the product, so they're getting a little bit of a workout," Benck says. "We make water tunnels that kids can run through to get them active, to get them moving around."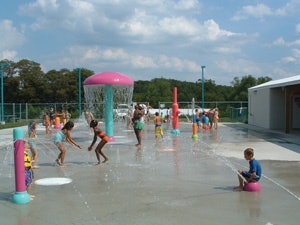 Sequencing: During typical operating hours (9 a.m. to dusk, for example), splash pads are user-activated. A child touches a bollard, which signals a controller to activate a percentage of play features for a preprogrammed period of time (say, four minutes). "So for every minute out of those four minutes, different features are coming on and off," Romens says. "By these features being sequenced at different times and at different rates, it keeps it fresh for the kids."
System type: Exactly what percentage of a splash pad's features are active at any given time often depends on a most fundamental design consideration — the type of system specified. There are two approaches to splash pad mechanics: the flow-through system and the recirculating system.
In a flow-through system, water from a potable source is pumped onto the pad and allowed to drain into a municipality's storm system or, quite often, to be repurposed as irrigation. This method requires no water treatment and testing (nor the corresponding expense and staffing expertise), but water consumed by such a system — perhaps 10 million gallons over the course of a season — tends to raise a few eyebrows, according to Benck. "We just completed a project whereby the owner said, 'Okay, I'm going to bury a tank in the ground. When that tank is full, the splash pad turns off, and we repurpose that water,' " Benck says. "So their big message to the community — and they addressed this with site signage — was that every drop of this drain-to-waste splash pad is being repurposed for landscape maintenance."
A recirculating system, meanwhile, operates more like a pool — with chemicals, filters and pumps. Water is sent to the pad from a tank roughly four to five times the system's flow rate. So if the splash pad's features are operating at the extremely high flow rate of 2,500 gallons per minute, for example, a 10,000-gallon tank is required to allow the system to properly maintain water quality. Minimum tank sizes vary by state, Benck adds. In his home state of Minnesota, 2,000-gallon tanks are required, with larger ones needed as flow rates increase. In California, the minimum tank size is 4,000 gallons.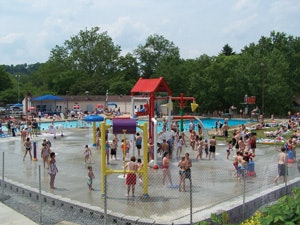 In the interest of preserving water in a flow-through system, low-flow nozzles are typically specified, and perhaps only 60 percent of features are active at any given time, compared to 80 percent of features on a recirculating splash pad. Says Romens, "We could run it at 100 percent, but we like to do 80 because it's always changing it up." For these reasons, splash pads that hope to cater to a wider range of age groups by enticing teens with "big water," as Benck calls it, are likely better off with a recirculating system. "We prefer the bigger, heavier sprays with more water volume, because it's just more fun for the kids," he says.
There's another advantage to recirculating water, Benck adds. "If it's a drain-away system, their up-front costs are less, but they really compromise the play value of the splash pad, because now the kids are getting sprayed with cold municipal water, rather than a recirculating system in which the water is a more ambient temperature," he says. "It's like when you were a kid and you played with the hose at home: 'This is fun, but, man, the water's cold.' "
Benck's firm has even installed recirculating splash pads with another common pool component: mechanical heat. "We have put in splash pads with heaters, so they can extend their season. They don't use them much, but they probably use them for a couple of weeks in the spring and a couple of weeks in the fall," Benck says. "When they close the other municipal pools, they can keep the splash pad on."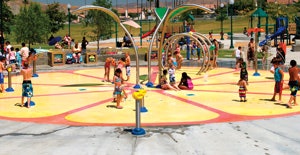 Surfacing: Brushed concrete is the most common splash pad surface, enhancing the safety and overall accessibility of the amenity. That said, manufacturers of resilient synthetic surfacing have emerged in recent years with products better suited to withstand the rigors of sun, chlorinated water and bacteria compared to previous formulations. "The broom finish is more cost-effective and it's non-slip, but if the customer has it in the budget, resilient surfacing is a really good way to go, because if you do slip on the broom finish, you're going to get a raspberry," says Benck, who recommends synthetic safety surfacing, as well, in dry play areas that abut a splash pad, so mulch and sand aren't tracked into the wet areas.
Splash pads have been around in various forms for decades, but their influence in the aquatics industry continues to spread. As more municipal pools become too old to justify their upkeep, aquatics alternatives that cost a fraction of what a new pool would cost to build and maintain start to look as enticing as a 50-gallon bucket dump on a 90-degree day.
"I believe that municipalities are just starting to understand this category of recreation and how they can integrate it into overall recreation," Romens says. "And the beautiful thing about splash pads, especially in open park settings, is there's dry play and wet play tied together. So splash pads really blend well with all the trends that I see in parks and in recreation today. I believe the category really is still in the very beginning stages as to where it will go."
---
This article originally appeared in the August 2014 issue of Athletic Business under the title, "Fountains of Youth."