Location: Reno, Nev.
Project submitted by: Aquatic Design Group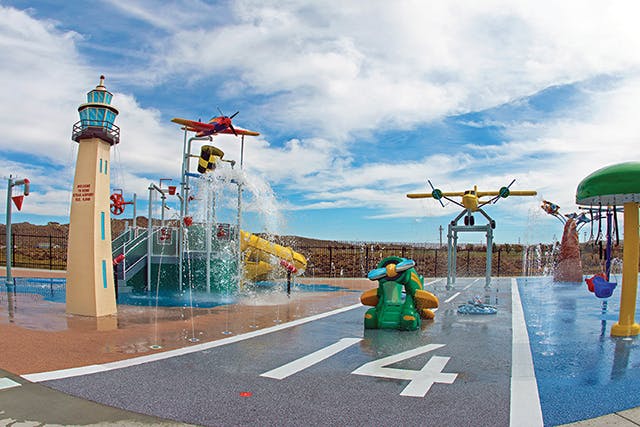 (Photos by California Commercial Pools) Click here to see more
 
In 2013, Washoe County embarked upon a $2.6 million renovation project to transform an existing, single-building park (that was often mistaken for a fire station) into a destination for community members of all ages to experience for centuries to come.
The design team, working closely with county commissioners and the community at large, wanted to develop a theme that best represented the area, eventually selecting an aeronautical theme that played on the close proximity to the Reno Stead Airport and the area's aeronautical history. The park's features include copies of the Stead Airport, including the air tower and runway. Many miniature airplanes reminiscent of the air races populate the landscape.
The park was designed to minimize water loss and maximize water reuse, and is graded to allow the water to drain into a common point through a filtration system and into a pump house, where it is treated with ultraviolet light and recycled back into the park. It also includes decorative security/wind screen fencing, landscaping, shade canopies, signage and site furnishings, as well as soft surfacing featuring graphics of Lake Tahoe and airplanes.
---
QUICK FACTS:
Aquatic Design Engineer: Aquatic Design Group, Carlsbad, Calif.
Architect of Record: Stantec, Reno, Nev.
Square Footage: 7,110
Cost: $880,000 (aquatics only)
Occupancy: May 2014


SUPPLIERS:
Chemical Control Systems: BECS Technology Inc.
Deck/Basin Surface: Polysoft
Filtration Systems: Nemato
Water Play Features: Water Odyssey, WhiteWater West
Ultra Violet System: ChlorKing
Booster Pump: Pentair Aquatic Systems


VIEW THE ENTIRE AQUATIC DESIGN PORTFOLIO>>


In 2015 Athletic Business® introduced the inaugural Aquatic Design Portfolio. From splash pads to competitive swimming venues, these projects highlight the latest aquatic trends and design concepts. We hope they serve as inspiration to professionals across the athletic, fitness and recreation industries and their own aquatics projects. For more information, click here.