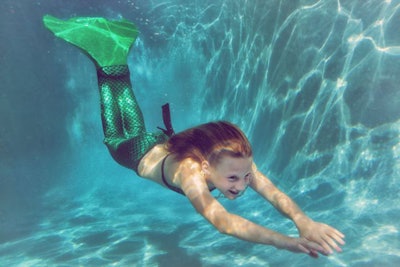 The growing popularity of mermaid tail aquatic accessories has officials in Alberta, Canada, concerned for swimmers' safety. The tail, popular among young girls in particular, typically consist of brightly colored fabric that covers a swimmer's legs and ends in a wide fin.
The accessory was a topic of conversation at the Alberta Association of Recreation Facility Personnel conference last month in Banff, Alta. "They bind legs together and make it difficult to safely manoeuvre in the water," Rob Campbell, supervisor of aquatic strategies for the city of Edmonton said in an email to CBC News.
The fins are currently banned at Edmonton public pools. Campbell says the concern is that they are popular with younger children who aren't strong swimmers, and the tails can encourage children to hold their breath under water, resulting in blackouts. While the city hasn't ruled out allowing the fins to be worn for special events, such as birthday parties where extra supervision can be provided, for now the main concern is swimmer safety.
RELATED: Tragedies Put New Focus on Shallow Water Blackout
Rather than an outright ban, the Lifesaving Society of Alberta recommends requiring swimmers to pass a test before they are able to use them, as has been done in Calgary. The "mermaid swim test" would require swimmers to be able to swim 25 meters continuously, tread water for two minutes. And "swim with confidence" while wearing the mermaid fin.
"There's concerns that people won't be able to save themselves or they might not be able to make it to the edge or stand up and that's why we have a safety test," says Calgary aquatic operation coordinator Jack Birkett.
Proponents of the tails argue that it should be up to a parent's discretion to determine whether their child is a strong enough swimmer to wear a tail, and that parents should be supervising their children to ensure safe behavior.
In addition to being a prop for children's imaginations and games, the tails are the core piece of a fitness trend catching on with adults and children alike, mermaid swim schools.
"When you have your legs tied together you're really reaching those abs and then you work your quadriceps and your glutes," says Marielle Chartier-Hénault, founder of Montreal-based AquaMermaid.
RELATED: Tankinis In, Tube Socks Out in D.C. Pools Dress Code
{module Mermaid Tails}