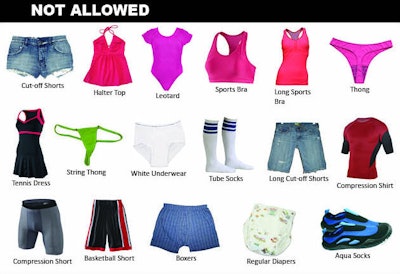 Planning on wearing jean shorts and your favorite halter top to the pool this week? If you're in our nation's capital, you better think again.
The Washington D.C. parks department has laid down some pretty strict guidelines for what is and isn't acceptable at its two dozen public swimming pools. For example, your two-piece bikini is ok, but "Brazil/French-cut, thong style and/or revealing swim wear" is not.
After all, that inappropriate outfit can, "transport airborne and ultimately water borne contaminants into the pool," according to the department's website.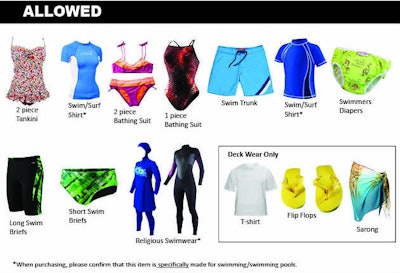 For guys, it's swimsuits only. Your boxers, briefs and athletic shorts don't make the cut. And don't even ask about tube socks. Also prohibited. Show up in athletic gear, street clothes or anything else on the "Not Allowed" list and you'll be asked to leave.
In addition to the "water borne contaminants" concern, the D.C. parks department has several reasons for the new rules it unveiled earlier this week.
According to the Department of Parks and Recreation website:
Materials such as cotton "can break down in the water and cause fibers to clog filters."
"Any 'colored' material (unless specifically made for swimming) can bleed into the pool, effecting water chemistry and balance."
"Cotton and similar materials can absorb the chemicals in the water, causing the water to become less effective at maintaining the proper chemical balance and may cloud the water."
Yet these rules apply even on the pool deck.
There's also this issue according to the Washington Post:
"The policy update comes less than a month after Allison Stewart, a Turkey Thicket pool user, blogged about her frustrations after being asked to leave - and later thrown out and banned from the pool by police - over what pool staff believed was a non conforming shirt. A petition started by Stewart asking the parks department to clarify its policy and better train staff garnered 182 signatures."
We'd love to hear your thoughts on these rules in the comments section. Reasonable concerns or has the D.C. Parks Department gone too far?
(In related news, we noticed the D.C. rules didn't mention fins. They may want to address that before they end up with a mermaid situation on their hands.)