Wondering what the spread of this year's submissions looks like? Projects in the college market dominated, offering a healthy array of athletic, fitness and recreation endeavors. As far as design, an overarching theme across all markets was creating a sense of place through the use of grand and welcoming entrances and atriums, often featuring abundant glass and skylights.
---
Take an in-depth look at the 66 featured facilities by browsing our Architectural Showcase Galleries.
---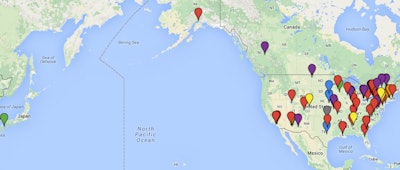 ---
Projects in the Architectural Showcase range from massive college stadiums down to municipal pools, from complex, costly design to the simple and understated. Here's a look at the breakdown:

Want to see more great facility designs? Check out AB's Aquatic Design Portfolio:

In 2015 Athletic Business® introduced the inaugural Aquatic Design Portfolio. From splash pads to competitive swimming venues, these projects highlight the latest aquatic trends and design concepts. We hope they serve as inspiration to professionals across the athletic, fitness and recreation industries and their own aquatics projects. For more information, click here.