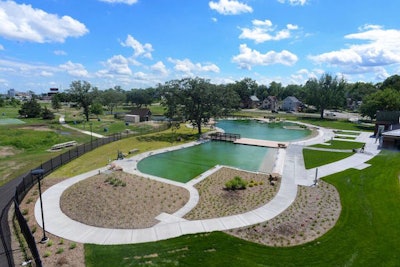 Following months of delays and years of planning, the Webber Park Natural Swimming Pool, the first naturally filtered swimming pool in the U.S., opened to the public in Minneapolis. Planning for the project started 10 years ago and construction on the $6 million facility began in 2013.
Instead of using chlorine and other chemicals to filter the water, the water goes through a natural filtration system to clean it. This involves the water being emptied from the pool every 12 hours into a "regeneration" basin, where it is cleaned using gravel and approximately 7,000 aquatic plants and is then pumped back into the pool. Vacuum cleaners keep the surface of the pool clear of debris.
According to reports, some of the delays in opening were caused by problems with the vacuums, forcing pool staff to clean the water by hand. Currently, the pool is only open three days per week because of the monitoring of the water system.
Even after getting past the delays, it hasn't been smooth sailing for the pool. Just one day after opening, there was a drowning scare after a lifeguard thought they saw a child jump into the water and then didn't see the child re-emerge from the water. The pool was evacuated and the Hennepin County Water Rescue crews searched the pool for two hours before declaring the incident a false alarm. "This actually functions more like a natural lake, so water clarity was definitely an issue here," Hennepin County Sheriff Lieutenant Steve Tait said.
According to Jayne Miller, superintendent of the Minneapolis Parks and Recreation Board, "We have a responsibility to be good stewards of public land and public water. It's consistent with our mission."