The first thing one notices about the Grandview Heights Aquatic Centre in Surrey, B.C., is how its undulating roofline mimics the fluidity of water.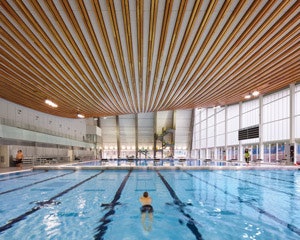 But the roof, hailed by Vancouver-based HCMA Architecture + Design as the longest-spanning catenary wood roof in the world, serves several purposes beyond aesthetics. The catenary system of roof suspension is highest over a waterslide and a 10-meter diving platform that bookend a 50-meter pool, but dips down in between to create a lower profile than that of most aquatics facilities, reducing volume and saving on HVAC-related operational costs. It also spares the interior ceiling of up to 15 feet of steel-truss depth susceptible to corrosion. Designers incorporated ductwork into perimeter steel, relocated fire-suppression sprinklers away from the ceiling, and developed a means for the roof to manage deflection due to wind and snow loads while maintaining a tight building envelope. "We're interested in pushing the boundaries and limits of materials," says HCMA managing principal Darryl Condon. "Using wood in tension, using wood as cable — which to my knowledge has never been done before to this scale — was a really exciting opportunity."
---
This article originally appeared in the November | December 2016 issue of Athletic Business with the title "Aquatic center's catenary roof dips and waves." Athletic Business is a free magazine for professionals in the athletic, fitness and recreation industry. Click here to subscribe.