Breaking Ground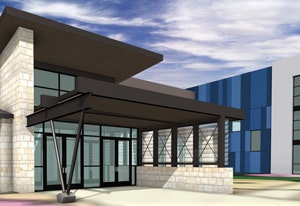 The New Braunfels (Texas) Community Recreation Center broke ground this past fall and should be completed in the summer of 2018. Designed by Brinkley Sargent Wiginton Architects of Dallas with aquatic design consultant Counsilman-Hunsaker of St. Louis, the facility will house a natatorium with a leisure pool and an eight-lane, 25-yard competition pool, as well as a double gymnasium, a large fitness area, group exercise and childcare rooms, an elevated running track and a dividable multipurpose space with kitchen facilities. The project will encompass 74,000 square feet and is projected to cost $23.5 million.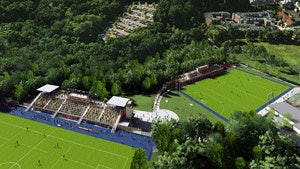 Quinnipiac University has begun construction on a new lacrosse and soccer stadium, to be complete by the 2017-18 competition season. Designed by Centerbrook Architects & Planners, the grandstand will seat 1,500 and be topped by two covered fan decks and a press box. The stadium will have an organic-infill turf playing surface and will be equipped with locker rooms, training rooms and restrooms.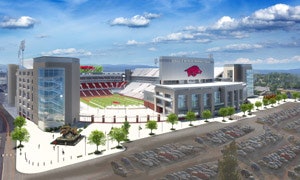 The University of Arkansas will begin renovations on the Donald W. Reynolds Razorback Stadium in January. A collaboration between international architecture firm Populous and Polk Stanley Wilcox of Little Rock, the renovations are expected to cost $160 million and will include a north end zone addition. The project is expected to be complete in September 2018.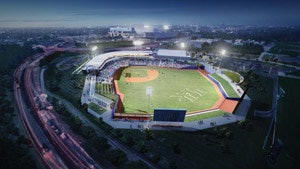 The University of Kentucky breaks ground in February on a $49 million baseball stadium. The project, designed by Ross Tarrant Architects of Lexington with HNTB construction consultants of Kansas City, Mo., is scheduled to open in the fall of 2018 on the site of the current UK soccer training fields, which will be relocated prior to the start of construction. The stadium will seat 2,400 spectators with space on grass berms for a total capacity of 4,000 during the regular season, and temporary bleachers will help accommodate up to 6,000 during NCAA tournaments.
---
First Pitch
Conestoga College is forging ahead with plans to build a new Multiplex in Cambridge, Ont. At an estimated cost of more than $81.5 million, the preferred conceptual design for the multiplex, by MacLennan Jaunkalns Miller Architects of Toronto, includes four new ice pads, 1,500 arena seats, spectator seating for 400 to 500 in the double gymnasium and a 1,500-square-foot pool with a 200-seat viewing area. The city expects to finalize a lease agreement with Conestoga College and begin building early in 2017.
The Mitchell (S.D.) Baseball Association spent the last months of 2016 in negotiations with the Mitchell city council over the construction of a new indoor training center on city property at the Cadwell Park sports complex. The $350,000 project will be funded in full by the MBA, which will rent the building from the City of Mitchell. Construction will begin pending council approval of a final draft lease agreement submitted by the MBA.
---
Grand Openings
The USTA National Campus in Orlando, Fla., is scheduled to open in January, with the first tournament to be held January 6. The campus, designed by HKS of Dallas, spans more than 64 acres, making it one of the largest tennis facilities in the world. It encompasses 100 lighted tennis courts divided into sections to accommodate the Adidas Performance Center, Team USA headquarters and the University of Central Florida's varsity tennis program. The campus is built around existing land features to accommodate green space, water features and landscaping. Pavilions situated around the campus provide access to water-filling stations, restrooms and shade.
Nearly three years after it broke ground, the City of Bozeman, Mont., opens its new ice rink this January. Designed by Intrinsik Architecture of Bozeman, the $8 million rink encompasses 36,000 square feet, and offers the community a beautiful skating venue year-round.
Climb Fayetteville, an indoor climbing, yoga and fitness facility designed by Miller, Boskus, Lack Architects of Fayetteville, Ark., is expected to open early this year. Climb Fayetteville is an extension of Tennessee-based climbing facility Climb Nashville and will be modeled after that facility with a variety of climbing walls, top-rope and lead-climbing terrain walls, and bouldering walls. The 19,000-square-foot gym will also house a functional fitness workout room, classroom space for group exercise, climber training areas, locker rooms and retail space.
Clemson University's new $55 million Football Operations Building is scheduled to open its doors this February. Designed by HOK of St. Louis with Goodwyn Mills Cawood serving as architect of record, the 142,500-square-foot center will be a diverse football training "village," offering a biometric weigh-in center, a nine-hole miniature golf course, a golf simulator, a bowling alley, a nap room and even a barber shop.
---
This article originally appeared in the January | February 2017 issue of Athletic Business with the title "Forward Progress" Athletic Business is a free magazine for professionals in the athletic, fitness and recreation industry. Click here to subscribe.