Breaking Ground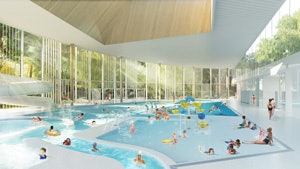 The city of Laval, Queb., has announced the start of construction of the Complexe Aquatique de Laval, a recreation and competition swimming facility awarded through design competition to Vancouver-based HCMA Architecture + Design and NFOE of Montreal. The Complexe's rounded design will provide a view of its wooded surroundings and utilizes skylights to bring in natural light, while a fitness center on the second floor boasts access to a rooftop garden. The $57 million project incorporates three separate pools capable of accommodating more than 800 swimmers, with seating for 1,200 spectators. The Complexe is expected to open in June 2020.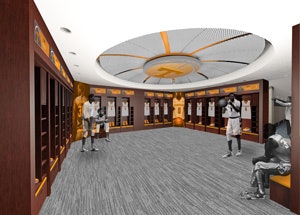 The University of Tennessee breaks ground this spring on new athletic training facilities and locker rooms, part of a spacious addition to Thompson-Boling Arena. Plans for the $15 million project, by Studio Four Design of Knoxville, detail four new locker rooms on the west end of the arena, along with an extensive renovation of the existing men's and women's basketball locker room facilities, several team social areas and a new athletic training space complete with advanced hydrotherapy systems. The university looks forward to the expansion as a means to provide better amenities and improved accessibility for events.
The city of Detroit plans to break ground on an indoor multisport complex in Tolan Playfield this spring. The complex, designed by Detroit Fitness Foundation executive director Dale Hughes, will feature a cycling velodrome, an indoor running track complete with separate walking and inline skating lanes and a multi-use infield. The air dome structure will also offer refreshment from an in-house café. Outdoor features will include playground equipment and picnic shelters, horseshoe pits, a fitness station and a skateboard ramp. The project is funded in full by DFF and is expected to open this summer.
---
First Pitch
The University of Missouri has finalized plans to demolish the current south bowl of Memorial Stadium and replace it with a new football operations center. The planned renovations are projected to cost up to $100 million. The new operations center will incorporate coaches' offices and conference rooms, equipment storage, locker rooms, a team lounge, a virtual reality simulator, a training room with hydrotherapy, and a weight room. The stadium's renovated concourse will feature updated restrooms and concessions areas, as well as premium close-range seating for up to 5,000 spectators.
Nola Van Peursem Architects of Huntsville, Ala., has submitted plans for Madison County's new community center and recreational fields. The county hopes to build a multipurpose community gathering place complete with meeting rooms, an indoor walking track, indoor basketball and volleyball courts, a natatorium with a lap/therapy pool and a free swim area, a climbing wall, and a family entertainment and concessions area. The plan incorporates outdoor space that can be developed into football, soccer and baseball fields, as well as additional greenspace that the county will conserve as a community park.
In early March, the NFL's Raiders announced the securement of new financial partner Bank of America in their efforts to build a new home stadium in Paradise, Nev., directly adjacent to Las Vegas. A design proposed by MANICA Architecture of Kansas City, Mo., features seating for 65,000 spectators covered by a clear roof, as well as large retractable windows on one side, providing a view of the Las Vegas strip. The anticipated construction cost of the proposed stadium is $1.9 billion. Final approval for the Raiders' move to Las Vegas was deliberated by NFL owners at their meetings in late March.
---
Grand Openings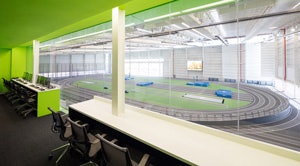 The Ocean Breeze Track and Fieldhouse in Staten Island, N.Y., celebrated a grand opening recently. Designed by Sage and Coombe Architects of New York City, the track and fieldhouse integrate green building principals through the use of photo-sensor lighting controls, storm-water management systems and recycled materials. The 200-meter hydraulic track is capable of converting between six banked and eight flat lanes, with accommodation for up to 2,500 spectators. The fieldhouse features a fitness center, meeting rooms and a concessions area, while all competition spaces and amenities are up to date with current USATF, NCAA and IAFF competition standards.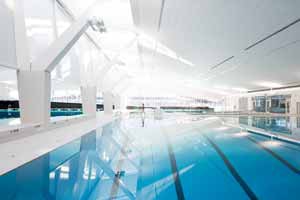 The University of British Columbia held an open house this winter for its newly completed Aquatic Centre, which has been under construction since August 2014. The $39 million project will be home to UBC's varsity swim programs, and is outfitted with a 10-lane, 50-meter competition pool; an 8-lane, 25-meter pool with diving boards; an accessible leisure pool; and a lazy river. The 8,000-square-foot facility also offers a 30-person hot tub, concessions and multiple viewing areas. The design, a collaboration between MacLennan Jaunkalns Miller Architects of Toronto and Acton Ostry Architects of Vancouver, includes a future expansion plan to incorporate a sauna and steam room.

Construction has come to a close on Jonathan Byrd's Fieldhouse at Grand Park, Ind. Designed by Engineering Facility Solutions, the 88,000-square-foot indoor sports facility completes an $8.1 million addition to the Grand Park Sports Complex in Westfield, Ind. The fieldhouse features eight basketball and volleyball courts surrounded by a mezzanine viewing area, administrative office space, a viewer concessions area and an in-house restaurant with a full-service kitchen.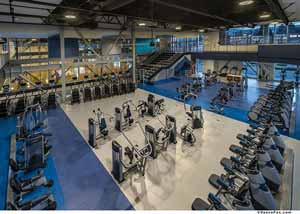 This winter, the University of Nevada, Reno celebrated the grand opening of the E.L. Wiegand Fitness Center, nearly tripling the campus' available fitness and recreation space. The fitness center, designed by WORTHGROUP Architects & Designers of Denver in collaboration with St. Louis-based Hastings+Chivetta Architects, is the finishing touch on the university's ongoing campus development project. The center offers 105,800 square feet of multipurpose fitness space including a 200-meter indoor running track, a weightlifting area, a specialized training space, several group fitness studios and three full-court gymnasiums.
---
This article originally appeared in the April 2017 issue of Athletic Business with the title "Forward Progress" Athletic Business is a free magazine for professionals in the athletic, fitness and recreation industry. Click here to subscribe.