Check out the newest products as seen in the June 2017 issue.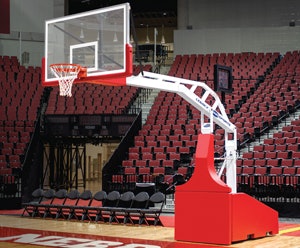 SNA Sports
Representing the fourth generation of design innovation, SNA Sports' new Legacy™ 10 and Legacy 8 portable basketball goals include a host of engineering refinements. A redesigned power beam and superstructure provide greater rigidity and strength without adding bulk or weight. Larger, more powerful lift springs work in tandem with a new Kinematic Integrated Stabilizing System (KISS) to make setup even faster and easier. Thicker padding on the front impact area offers greater safety, while new triple-double 8-inch-diameter casters on the rear of the unit provide better mobility and protection for hardwood floors. As with previous models, the Legacy can be moved and set up by just one person.
www.snasportsgroup.com
(800) 823-0182
---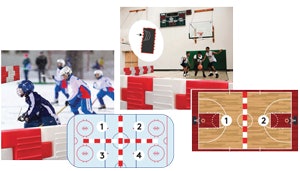 Impact Safety Systems
Impact Safety Systems' SoftLink barrier solution helps athletic facilities maximize space and safety. The unlimited setup configurations allow for simultaneous practices, games or other events. Barriers are portable, easy to install and stackable, saving time, labor and space. Proven durability minimizes the need for replacement, making barriers more economical than other options. Units can be customized with branding and can accommodate signage for sponsors, wayfinding or crowd regulations.
www.impactsafetybarriers.com
(781) 752-1220
---
S.R.Smith
Sentry lifeguard chairs are designed to complement any aquatic environment, providing a stylish look that will stand the test of time. Constructed from high-density polyethylene and marine-grade hardware, the chairs are strong, durable and low maintenance. The 30- and 42-inch seat heights meet the specifications commonly used for community, hospitality and resort swimming pools. Sentry lifeguard chairs come with umbrella holders and cup holders as well as a deck anchoring system. Both models are easy to assemble and UPS shippable.
www.srsmith.com
(800) 824-4387
---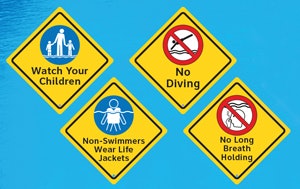 Clarion Safety Systems
Typical, text-heavy pool area messages often fail to be noticed and read. Clarion Safety System's innovative pool safety sign systems are expertly designed to comply with the latest standards and best practices in order to convey critical safety messages — helping to better protect pool patrons and reduce a facility's liability risk. This new approach to pool safety draws attention to core safety concerns with graphic-based designs and systematic repetition of messages. The system has been tested by viewers and proven to be quickly recognized and easily understood. Clarion's sign systems can also be fully customized to meet a facility's needs.
www.clarionsafety.com/ab
(877) 748-0244
---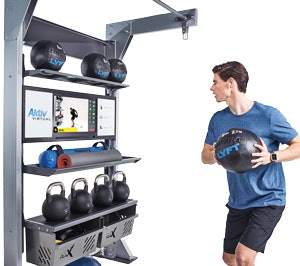 Aktiv Solutions
Aktiv Solutions' Aktiv Virtual guided-training platform represents the first artificial-intelligence personal trainer for the commercial fitness industry, offering facilities a new resource to compete with today's high-demand studio-based offerings. The virtual platform provides club members with the guidance, education and motivation of a personal training experience, including movement coaching via the system's 24-inch HD display and audible guidance provided by a virtual master trainer. The system is optionally embedded into the company's proprietary Gym Rax® bay structure and includes the entire kit of functional training tools to support a library of more than 500 movements.
www.aktivsolutions.com
(310) 559-9949
---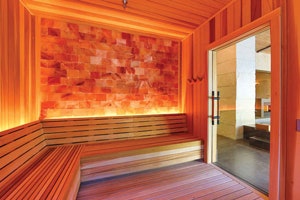 Am-Finn Sauna & Steam
Am-Finn's Himalayan salt sauna combines the quality and craftsmanship of the company's traditional custom-cut saunas with the health and relaxation benefits of pure Himalayan pink salt. Am-Finn's pre-engineered salt panels are made with 100 percent natural salt blocks and do not use any mortar or harmful adhesives. A building-block system makes Installation easy, and panels can be added to existing saunas or new construction.
www.am-finn.com
(800) 237-2862
---
This article originally appeared in the June 2017 issue of Athletic Business with the title "New & Improved." Athletic Business is a free magazine for professionals in the athletic, fitness and recreation industry. Click here to subscribe.