Check out the newest products as seen in the July | August 2017 issue.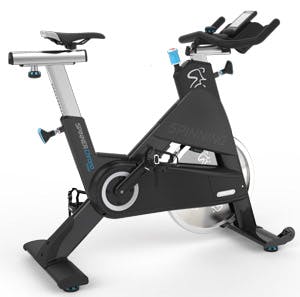 Precor
The new Spinner® Chrono™ and Chrono Power bikes are the latest introductions to the Spinner family of indoor cycles. The Chrono Power provides direct-power measurement at the power source, delivering the most accurate measurement of personal performance on an indoor cycle. The breakthrough design eliminates the need for batteries in either the console or power sensor, instead utilizing a self-powered generator to store energy and supply current to the console. A new backlit color console supports SpinPOWER® programming and features an easy-to-use interface showing watts, cadence, heart rate, time, distance and 10 different interval settings. The aluminum-framed bike also includes a patent-pending magnetic resistance system to apply resistance more evenly.
www.precor.com
(800) 786-8404
---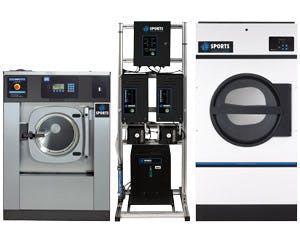 Sports Laundry Systems
Sports Laundry Systems® combines freestanding, high-speed washer-extractors with ozone injection and high-performance drying tumblers to perfectly fit athletic laundry production and disinfection needs. Systems complete more laundry in less time; cut water, energy and detergent usage; save utility and chemical costs; and ensure items are properly washed according to preprogramed settings, exactly matching fabric recommendations.
www.sportslaundrysystems.com
(800) 256-1073
---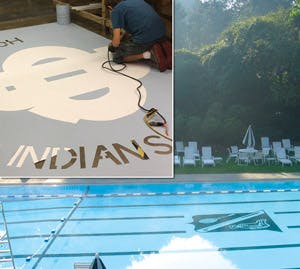 RenoSys
Custom logos are now available for placement within the RenoSys PVC pool shell. Aquatic facilities can upgrade their PVC pool shell renovation with a school team logo, athletic club logo or similar custom logo design. Custom logos can be made to virtually any size and shape. They are crafted from a 60-millimeter, custom-textured and reinforced PVC material, and applied on-site to make pools watertight. PVC pool shell membrane installations offer a solution to effectively contain water, seal structural cracks and solve problems such as leaks or rough concrete. PVC pool shells with custom logos provide a high-end look with a textured, nonabrasive, slip-resistant surface that is pore-free for ease of maintenance.
www.renosys.com
800-783-7005
---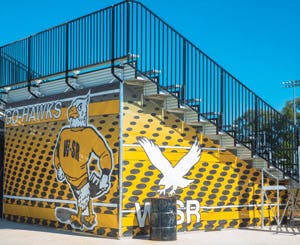 Kay Park Recreation
New customizable bleacher wraps by Kay Park are a multifunctional way to display school spirit in any spectator venue. Customizable bleacher wraps block views of unsightly trash that falls beneath bleachers and prevent children from climbing under bleachers, while also providing a place for extra storage. Bleacher wraps are made of heavy-duty, printable mesh fabric with durable grommets to attach to the bleacher frame.
www.kaypark.com
(800) 553-2476
---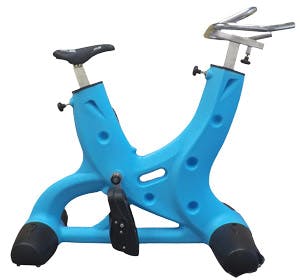 Colorado Time Systems
Colorado Time Systems, a PlayCore company, has introduced the second-generation WaterFit bicycle. The WaterFit Series product line includes underwater bicycles, treadmills and trampolines. Each product is designed specifically to withstand a harsh pool environment and rigorous exercise routines. Key enhancements to the WaterFit bicycle include reduced weight (30.9 pounds or 14.0 kilograms), rear wheels for ease of placement and removal, and a removable base for compact storage.
www.coloradotime.com
(800) 279-0111
---

Life Fitness
Life Fitness' new Integrity Series cardio line includes a treadmill, elliptical cross-trainer, and upright and recumbent Lifecycle exercise bikes. The Integrity Series is designed and revamped for facilities requiring robust cardio equipment that is simple and intuitive for exercisers. The line allows facilities to choose their preferred product configuration when prioritizing price and features. The Integrity Series is available in three product models with two console options for each machine. Both consoles offer wireless connectivity to enable customers to take advantage of LFconnect, a digital solution that allows for equipment monitoring, tracking and asset management.
www.lifefitness.com
(800) 527-6065
---
This article originally appeared in the July | August 2017 issue of Athletic Business with the title "New & Improved." Athletic Business is a free magazine for professionals in the athletic, fitness and recreation industry. Click here to subscribe.