Breaking Ground
The University of Southern Indiana has broken ground on a $27 million expansion and renovation of the existing Physical Activities Center (PAC) that includes a new 4,200-seat multipurpose arena. The facility, by CannonDesign of St. Louis, will be home to the university's basketball and volleyball programs, while providing needed space for convocation, campus concerts and other events. Included in the initial phase of the project are a new kinesiology lab, a hall of fame, several classrooms, locker rooms and an athletic training room.
The San Marino (Calif.) Unified School District held a groundbreaking ceremony in June for the Barth Athletics Complex at Huntington Middle School. The $14 million project will feature a gymnasium, a fitness and training space, a multipurpose event room, locker rooms and two media classrooms. Plans for the facility were approved by the Division of State Architect. A funding plan was approved in February by the San Marino Board of Education, and the facility is expected to open in fall 2019.
Construction begins this summer on Penn State University's Panzer Stadium on the University Park campus. The 1,300-seat stadium will be the new home of the PSU men's and women's lacrosse programs, with permanent concessions stands and a ticket office, accessible bathrooms, a full-service press box and a multipurpose room overlooking the field. The project is funded largely through alumni donations.
Robert Morris University has scheduled a groundbreaking for July on a 140,000-square-foot volleyball and basketball complex. The $50 million project includes the UPMC Events Center, with the 4,000-seat People's Court, a practice court, locker rooms, a strength and conditioning center, administrative offices, concessions, a souvenir shop and 11,000 square feet of convention space. There will also be a student recreation and fitness center housing two basketball courts, a weight room, a cardio fitness room, two group exercise studios and locker rooms. The center is expected to be completed in January 2019.
---
First Pitch
In June, Colby College gained approval to begin construction on a $200 million athletic center to replace the current Alfond Athletic Center. The 350,000-square-foot facility will feature a 13,500-square-foot, three-story strength and fitness center, an indoor competition center with a 200-meter track, a gymnasium, an ice arena, a 50-meter Olympic-sized swimming pool, studio fitness classrooms, training rooms and coaching suites. There will also be an open-air courtyard, a field house and three new athletic fields. The facility will be ready for occupancy in 2020.
The Timbers and Thorns FC have begun collaborations with the City of Portland, Ore., to complete a $50 million, privately funded expansion of Providence Park. The modernized design by Allied Works of Portland will expand the stadium's current capacity by 4,000 seats. The expansion will consist of four new levels of seating inside a 93-foot covered structure on the east side of the stadium, with three levels reserved for large group seating. It will also feature a new street-level colonnade and a pedestrian-friendly public arcade. Construction is expected to begin at the end of the 2017 soccer season.
Vacaville (Calif.) Unified School District officials unanimously approved a $13.95 million contract for the construction of a new athletics stadium at Will C. Wood High School. Funded by a general obligation bond approved by voters in 2014, the stadium will have bleacher seating for 4,000 spectators; a synthetic track and football field; a track and field event pitch with room for shot put, discus, pole vault and jump pits; and a new press box. Work on the project is expected to conclude in February 2018.
---
Grand Openings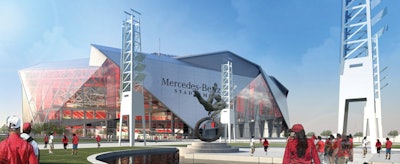 The Atlanta Falcons' Mercedes-Benz Stadium is on track to open before the team's first preseason game on August 26. The design by HOK of St. Louis features 75,000 permanent seats, with the ability to accommodate 83,000 spectators for events. The stadium has 4,000 onsite solar panels, 1,800 wireless access points, 650 concessions points of sale and a 61,000-square-foot outdoor live entertainment plaza. There is a 360-degree halo board built into the retractable roof structure. Total cost of the project is $1.5 billion.

The City of Hoover, Ala., recently celebrated the grand opening of the Finley Center, a 155,000-square-foot indoor events center and the first phase of the $76 million Hoover Sports & Events Complex project. Designed by Goodwyn, Mills and Cawood Inc. of Montgomery, Ala., the center is intended to accommodate 300 booths for trade shows, 2,400 plates for banquets and 5,000 seats for theater-style viewing. The center also encompasses 11 regulation basketball courts, 16 volleyball courts, a walking track, a climbing feature, locker rooms, a food court, a convenience store, meeting rooms and a performance center. The outdoor components of the complex are currently under construction, to be completed in 2018.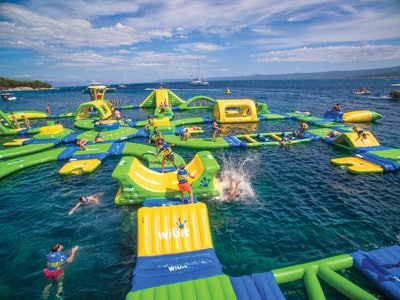 In June, The Whoa Zone, a water-based family entertainment center, opened at Whigala Beach in Whiting, Ind., on the shore of Lake Michigan. The aquatic recreation park was designed by Commercial Recreation Specialists of Verona, Wis., and is reminiscent of facilities used in "American Ninja Warrior" and "Wipeout," with giant slides, towers, trampolines, ramps and wiggle bridges on a floating obstacle course. The Whoa Zone also offers rentable beach cabanas, paddleboards and kayaks.
The Midtown Athletic Club opens its doors in July after undergoing a $75 million renovation of the historic property in Chicago. The 575,000-square-foot updated facility includes a 55-room boutique hotel, as well as 16 indoor tennis courts, a basketball court, cardio and strength training facilities, group exercise and cycling studios, locker rooms, a spa and sauna, a pro shop and a bistro. Design for the renovation was provided by DMAC Architecture P.C. of Evanston, Ill.
---
This article originally appeared in the July | August 2017 issue of Athletic Business with the title "Forward Progress" Athletic Business is a free magazine for professionals in the athletic, fitness and recreation industry. Click here to subscribe.