Breaking Ground
The University of Idaho has received a Wood Innovation Grant, allowing it to begin construction on a $30 million sports arena to house the men's and women's basketball and volleyball programs. Designed by St. Louis-based Hastings+Chivetta Architects with architect of record Opsis Architecture of Portland, Ore., the 4,700-seat arena will feature signature timber and mass timber construction. The project is expected to be complete in 2020.
Elyria (Ohio) High School broke ground late this summer on a $13.5 million multisport complex on the site of the former Ely Stadium. The design, provided by Architectural Vision Group of Westlake, Ohio, features a 5,000-seat accessible grandstand, synthetic turf football and soccer fields, a competition track, eight tennis courts, two baseball fields and a practice space for the marching band. A planned field house will enclose indoor batting cages, a multipurpose arena, locker rooms, offices and concessions stands. Along with increased parking, the complex will offer a series of walking paths connecting the distinct spaces. The complex will be completed in 2018.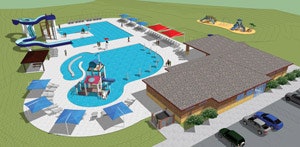 The City of Burlington, Wis., broke ground last month on a new aquatic center. The former municipal pool will be replaced with a $5.6 million waterpark and service building, complete with locker rooms, staff offices, concessions areas and a multi-use rentable space. The center will offer a recreation pool with a zero-grade entry, a splash pad and a resistance current channel, as well as a training pool with lap lanes, a diving board, a water slide and a climbing wall — all surrounded by a spacious pool deck with tables, umbrellas and lounge chairs. The center, designed by architecture firm Ayres Associates of Eau Claire, Wis., is expected to open in summer 2018.
The Bend-La Pine School district in Oregon is hoping to begin construction later this month on a $5.2 million restoration of Kenwood School's historic 1930s-style gymnasium. Funded by insurance money collected from a collapsed roof, the new facility will feature expanded bathrooms and LED lighting, while preserving the character of its predecessor with hardwood maple floors, wooden bleachers and salvaged brick. The 11,500-square-foot gym by BBT Architects of Bend, Ore., will encompass one standard basketball court and two volleyball courts. Bend-La Pine hopes to have the new facility available for use by the start of the 2018-19 school year.
---
First Pitch
The City of Austin, Minn., has recently finalized a construction timeline for a $35 million community recreation center. After receiving millions in funding through private donations, the city has chosen the architecture firm BWBR of Madison, Wis., and plans to break ground on the seven-acre site secured for the project in May 2018. The center is expected to open in fall 2019.
This summer, the school board commission at Florence (S.C.) Darlington Technical College approved a $40 million budget for a new athletic complex to be built on the Southeastern Institute for Manufacturing and Technology campus. A construction timeline for the complex — complete with new baseball and softball fields — has not yet been set.
The Smithville, Texas, school board has recently approved the design of architecture firm PBK of Houston for a 5,000-seat stadium with an eight-lane track, a soccer field and a synthetic turf football field. A 500-square-foot press box with a covered field deck is planned for the site, as well as bathroom facilities and a concessions stand. The project is expected to be complete within a year after construction begins.
Logan County High School in Russellville, Ky., has gained approval to begin the design phase of a 27,000-square-foot indoor practice facility. JKS Architecture and Interior Design of Hopkinsville, Ky., was chosen by the school board to implement designs for the practice facility, which constitutes phase one of a two-step athletics improvements plan and will feature the practice space, restrooms, changing rooms and a concessions stand. Phase two will include a track and soccer field. The project is estimated to cost a little more than $900,000 per phase.
---
Grand Openings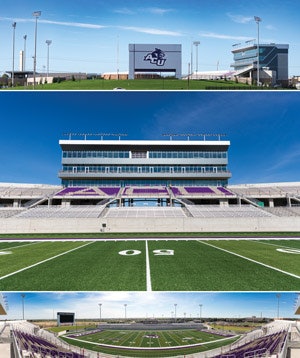 Wildcat Stadium is scheduled to open for its first game September 16 at Abilene Christian University in Abilene, Texas. The $50 million football stadium by HKS Architects of Dallas will have a total seating capacity of 12,000 spectators, including berm, club level and suite accommodations. A 10,000-square-foot club level will feature a multipurpose room and balcony seating with a combined capacity of 350 for events. The stadium's three-story press box is lined on the second floor with 10 distinct suites, and features a press area on the top level. Each side of the stadium can accommodate approximately 6,000 spectators, with access to separate restrooms and concessions stands. The home locker room is located under the seating area to the west, with an HD video board at the north end of the stadium and visitors' locker rooms and an official's dressing room to the southeast.
The City of Oshkosh, Wis., will hold a grand opening this fall for the 3,500-seat arena built for the Wisconsin Herd minor league basketball team. The city received a $250,000 grant from the Wisconsin Economic Development Corporation to help fund $2.5 million in infrastructure improvements in support of a new $20 million arena. The project, under management by developer Fox Valley Pro Basketball Inc., will feature a multipurpose facility for concerts, youth sporting events and expos, as well as a sports bar and team store.
Ontario (Ohio) High School hopes to unveil renovations to its football stadium and track at the first home game this month. In June, the district board of education approved a $700,000 budget for construction of a new ticket booth, a track and a pedestrian path connecting the school's athletics facilities. The ticket booth, by MKC Architects of Powell, Ohio, is phase two in the school's three-part athletics improvement project, which began with a new wrestling room and a weight room update and will now look forward to an indoor turf arena, new locker rooms and a community room.
---
This article originally appeared in the September 2017 issue of Athletic Business with the title "Forward Progress" Athletic Business is a free magazine for professionals in the athletic, fitness and recreation industry. Click here to subscribe.