Breaking Ground
The Texas Rangers broke ground Sept. 28 on a $1.1 billion ballpark at Globe Life Field. Designed by HKS of Dallas, the 1.7-million-square-foot ballpark features a transparent, retractable roof and approximately 41,000 spectator seats on a 13-acre site. Excavation on Globe Life Field began in early October. The new ballpark is projected to open in time for the 2020 baseball season.
The City of Aurora, Colo., recently broke ground on a 55,000-square-foot community recreation center. Funded through marijuana tax revenue, the Aurora Rec Center by Populous of Kansas City, Mo., will provide recreation amenities such as a gymnasium with elevated track and fitness area, a natatorium, group exercise studios, multipurpose and event rooms, offices, locker rooms and a teaching kitchen.
Southern Utah University broke ground Oct. 6 on the George S. Eccles Sports Performance Center. The new strength and conditioning center will feature a strength training room, a turf runway, a nutrition station and coaches' offices. The project has been in the planning stage for nearly two years and is projected to open for use in early 2018.
The City of Newark, Calif., will begin work in early December on $1.4 million in improvements to the swimming pools and play area at Silliman Family Aquatic Center. Overseen by Aquatic Design Group of Carlsbad, Calif., the project will include a renovation of the center's activity pool, lap pool and lazy river; maintenance to existing pumps, filters, chemical control systems and drain grates; and a new $370,000 play structure with spray features and a dump bucket. The center is projected to reopen in March 2018.
---
First Pitch
The University of Texas recently announced $4.5 million in upgrades to the Frank Erwin Center, including a basketball court with a new floor design and a nine-display, center-hung scoreboard measuring 12½ feet high by 23 feet wide on all four sides with a 360-degree ribbon display installed underneath. The school already has new practice courts, wall graphics and locker rooms inside Denton A. Cooley Pavilion. Officials expect to replace both facilities with a new multipurpose arena within a few years.
Montana State University has announced a 20-year Athletics Facilities Master Plan, including the new Bobcat Athletic Complex to house the football program, expanded student-athlete academic support and training facilities inside Brick Breeden Fieldhouse, upgrades to the north end zone and eastside grandstand of Bobcat Stadium, and renovations to the existing Bobcat-Anderson Tennis Center. The school also plans to construct a new Bobcat Indoor Performance Facility, featuring a 100-yard turf field, a 300-meter eight-lane track, media facilities and seating for 1,000 spectators.
The University of Kansas recently secured funding for $170 million in improvements to Memorial Stadium, including upgrades to seating and lounge areas, renovations to the suite tower and viewing decks, an expansion of the concourse and concessions areas, two new video boards, and renovations to the south end zone and west side of the stadium. University officials also approved a $12 million renovation of Hoglund Ballpark, as well as construction of a $15 million indoor football practice facility and a $10 million volleyball arena.
---
Grand Openings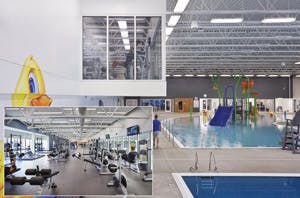 [Photos courtesy of 292 Design Group]
The City of Shakopee, Minn., celebrated the grand re-opening this fall of the 95,000-square-foot Shakopee Community Center. The center has been renovated to include expanded fitness and cardio space, new teen and senior centers, an indoor children's play area, and multipurpose meeting and event space. The center's former ice arena space has also been repurposed to include an aquatics center with a zero-depth entry pool, a lap pool and a spa, as well as a new two-sheet ice arena constructed in the adjacent space. Design for the renovated community center and new ice arena was provided by 292 Design Group of Minneapolis.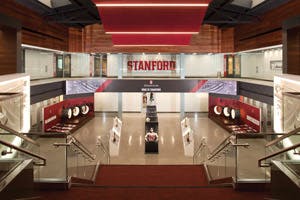 [Photo courtesy of Advent]
Stanford University recently opened the doors on the Stanford University Home of Champions, housed in what was once the Arrillaga Family Sports Center. The 18,000-square-foot former basketball facility has been transformed by experiential design firm Advent of Nashville, Tenn., into a celebration of 126 years of student-athlete history. The Home of Champions features interactive elements such as the Letter-Winner Books, the Hall of Fame interactive table, and vertical, high-definition screens displaying life-sized interactive video interviews of student-athletes and alumni. The facility also features corner displays for the university's notable awards and memorabilia.
Total Sports Park of Washington Township, Mich., will hold a grand opening Nov. 4 for a 119,000-square-foot indoor community recreation and sports facility. The indoor facility is an addition to a larger sports complex on the 220-acre site that includes 24 existing outdoor soccer fields. The $8.5 million project features a full-size practice field to accommodate football, soccer and lacrosse, as well as six volleyball courts, six batting cages, fitness facilities, a dance studio and a sports bar.
---
This article originally appeared in the November | December 2017 issue of Athletic Business with the title "Forward Progress" Athletic Business is a free magazine for professionals in the athletic, fitness and recreation industry. Click here to subscribe.