Breaking Ground
James Madison University begins construction early this year on an $88 million basketball arena and practice facility. Designed by Moseley Architects of Virginia Beach in partnership with Populous of Kansas City, the new Union Bank & Trust Center features an 8,600-seat main arena with an attached training facility to provide a practice court, locker rooms, player lounges, strength and conditioning space, and offices for both the men's and women's basketball teams. JMU hopes to open the center in time for the 2020-21 basketball season.
The University of Wisconsin-Platteville recently broke ground on a 55,925-square-foot expansion of Williams Fieldhouse, along with substantial renovations to the existing facility.
The expansion,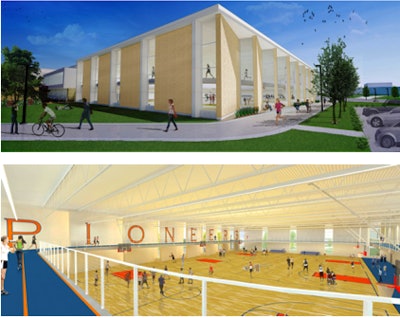 designed by Kahler Slater of Madison, Wis., will add three multipurpose athletic courts to the Fieldhouse, as well as increased space for weight training and cardio, a new athletic training room, and upgraded locker rooms and restroom facilities. The Fieldhouse will also undergo improvements to its exterior, including an outdoor multisport athletic field with synthetic turf and upgraded field lighting. The entire $15.3 million project is funded by student fees.
The Loop development in south Reno, Nev., broke ground this winter on a $30 million recreation multiplex expansion project. The 20-acre indoor complex will consist of two separate, high-end dining areas with bowling lanes, a roller rink, a multilevel rope obstacle course and an arcade, as well as a 120,000-square-foot year-round Sportsdome XL to accommodate community sports leagues with indoor flag football, soccer, lacrosse and futsal fields, and indoor courts for volleyball, basketball, pickleball and badminton. The Loop plans to debut the improvements in fall 2018.
---
First Pitch
The Livermore (Calif.) Valley Joint Unified School District recently approved new and renovated sports facilities for two district schools. Plans include a two-story gym replacement with additional team rooms at Granada High School, as well as indoor swimming pools, new weight rooms and wresting areas and group exercise studios at both Livermore and Granada Schools. The total cost is estimated at between $64 million and $69 million. Construction will begin at Granada in fall 2018.
The City of Oceanside in San Diego County recently unveiled plans to construct a 10,000-seat professional soccer stadium as an expansion of the existing SoCal Sports Complex youth soccer facility. The modular design by Populous of Kansas City features a prefab complex with additional bleachers surrounding the pitch, as well as permanent bathroom facilities and a concessions stand to be shared with the city's youth leagues. Oceanside plans to break ground in September 2018.
The University of South Florida has announced plans to renovate and expand its Morsani Football Practice Complex. The 160,000-square-foot expansion, designed by HOK of St. Louis, will include an indoor practice facility and a two-story headquarters building featuring a new lobby, a multipurpose recruiting space, a strength and conditioning center, new locker rooms, a players' lounge, an auditorium, a sports medicine facility, a nutrition center and support spaces. The estimated cost is $40 million.
The University of Delaware plans to undergo a $60 million renovation of Delaware Stadium. Renderings by HNTB Architecture Inc. of Kansas City include an upgrade to chair-back seating, a new seating box area on the home side, a five-story media center with club seating, athletic training facilities, a nutrition center, a strength and conditioning center, academic support areas and a complete overhaul of the west stands. A groundbreaking is planned following the 2018 football season.
---
Grand Openings
The Key Center in downtown Cleveland recently underwent a $24 million renovation, including a new $3 million gym space that will be run by local gym and spa Vedas Fitness. The center's third-floor club area reopens in January. This 20,000-square-foot fitness space, designed by Pelli Clark Pelli Architects of New Haven, Conn., features an open workout area, group fitness studios and spa facilities, and hopes to expand in the future to include physical therapy services.
The Township of Woodlands, Texas, held a ribbon-cutting ceremony this fall at the newly renovated Recreation Center at Rob Fleming Park. The existing facilities were purchased for $4.5 million, with $500,000 invested in renovations and $900,000 spent to install new outdoor amenities, including a dog park, a playground, an adventure obstacle course and field lights. The new center is equipped to house traditional recreation programming with municipal offices, community outreach space and an outdoor youth camp with trails and novelty tree houses.
In January, the University of Michigan debuts a new indoor/outdoor track and field facility called the Stephen M. Ross Athletic Campus South Competition and Performance Project. The indoor track features a 200-meter, banked hydraulic track enclosed in a 300-meter practice track, with 2,000 permanent spectator seats that can be expanded to accommodate up to 3,500. The fieldhouse offers year-round training facilities for crew, tennis, soccer, wrestling, gymnastics and lacrosse, as well as convertible year-round throwing facilities, runways for long jump and pole vault, a weight room and locker rooms.
---
This article originally appeared in the January|February 2018 issue of Athletic Business with the title "Forward Progress." Athletic Business is a free magazine for professionals in the athletic, fitness and recreation industry. Click here to subscribe.