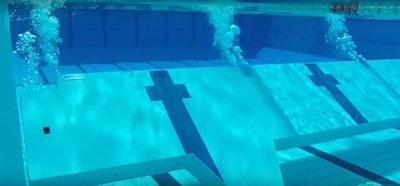 This sponsored content is provided by S.R.Smith. What is sponsored content?
Swimming is a favorite Aussie pastime, so it's no wonder a unique swimming pool separation system was developed in Australia. SwimWall Systems™ from S.R.Smith help maximize pool space and allow a variety of aquatic activities to take place simultaneously. Today there are close to two dozen aquatic facilities in Australia that are maximizing their pool space with SwimWall Systems.
Both unique and simple, SwimWall Systems lift from the pool floor and lowers using displacement of water and air, with all operation taking place high and dry on the pool deck. Transforming an eight-lane, 50-meter pool to 16 lanes takes place in just a few minutes. Best yet, SwimWalls are produced in a few lane sections (three- to five-lane segments are common), so long-course and short-course lanes can be available at the same time.

In September 2016, S.R.Smith installed a SwimWall System in the 50-meter pool at Bond University in Queensland, Australia. General manager of sport operation Russell Ramsay began looking for solutions to pool space issues in early 2016. He had a wide range of aquatic programs competing for pool time, and realized that many programs didn't need complete 50-meter lanes. The university's elite swimming program is a high priority, and the availability of long-course lanes for these top-tier swimmers to train in was a must. On the other hand, short-course lanes were more than enough for Bond's junior developmental groups. Furthermore, Ramsay needed more time and space for a variety of other activities – water polo, fitness classes, lap swimming and learn-to-swim programs — all essential for generating income needed to help ensure the facility's bottom line is healthy.

"It was about getting numbers in the pool." Ramsay says. "We have a strong swim program, but it had to pay for itself. So for us it was maximizing the eight lanes, turning them into 16, and really getting our bang for the buck in regards to the facility, but also the operational costs associated with the facility."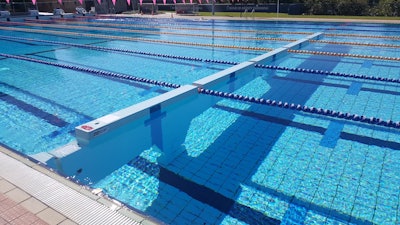 After the 2011 Brisbane floods caused extensive damage to the University of Queensland Aquatic Center, the 50-meter pool needed to be repaired and renovated. Prior to the flood, temporary turn boards were regularly used in three lanes at the 25-meter mark to separate space and allow for different programming on both halves of the pool.
UQ aquatic manager Jae Marr wanted to use the renovation as an opportunity to find a better solution. The turn boards required a lot of staff time to install, as each needed to be attached to each lane line and weren't particularly sturdy for flip turning. Marr discovered S.R.Smith's technology and has been very happy with the operation and performance of the SwimWall System. "It performs like pushing off a solid wall due to the volume of water trapped within it," according to Ole Hoskinson, S.R.Smith project engineer. "And it now takes one UQ staff member under a minute to raise or lower the SwimWall."

Marr was so pleased with the increased flexibility the 50-meter pool's SwimWall offered that when the university decided to build a new 25-meter pool, he was able to include a two-lane SwimWall in the budget, which was installed at the 12.5-meter mark.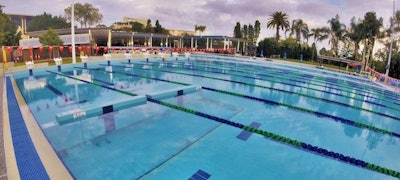 The new pool opened in June 2017 and provides the university with even more aquatic programming flexibility. Marr explains that a gentle walking program in the shallow end and a small aqua aerobics program in the deep end can now take place at the same time. There are many other combinations of programming that can be run simultaneously in the four 12.5-meter sections, while 25-meter swimming can occupy the other pool lanes. And with increased flexibility comes the possibility of increased revenue. Rather than having two lanes out of action due to a small learn-to-swim group at one end, the aquatic center can accommodate multiple different groups effectively across the whole pool.
S.R.Smith SwimWall Systems are made from strong, durable fiberglass and can be installed in new or existing pools. For existing pools, the water does not need to be drained, and installation can take place in about three days. SwimWall Systems have been installed in concrete and vinyl-lined pools, as well as fiberglass-coated steel pools, and are providing unprecedented pool flexibility. From design to manufacture, delivery and installation, S.R.Smith provides complete turnkey pool separation solutions. Learn more at srsmith.com/swimwallsystems