Breaking Ground
The Plainfield Township Park District in Plainfield, Ill., recently broke ground on an indoor recreation center. At 40,000 square feet, the new facility will house two basketball courts, a fitness center, an elevated walking/running track, preschool classrooms, multipurpose rooms and office space. Chicago-based Wight & Company provided the design for the building, which is slated to open in late 2018. The new facility will be highly sustainable, designed to generate the annual amount of energy it consumes through roof-mounted photovoltaics.


Cañada College in Redwood City, Calif., broke ground this winter on its new Kinesiology and Wellness Building and Aquatics Center. Designed by ELS Architecture and Urban Design of Berkeley, the 85,000-square-foot facility includes wellness classrooms, a basketball court, locker rooms, staff offices and a fitness and training room. The aquatics center includes an instructional pool and a competition pool with bleachers and support facilities. Construction is expected to be complete by early 2019. The project is targeting LEED Gold certification.

Construction began at the end of January on a $270 million modernization of United Airlines Memorial Coliseum, home to the USC Trojans, in Los Angeles. The design by DLR Group of Omaha, Neb., reduces the stadium's capacity to 77,500 with widened seats, increased leg room and updated concessions. New safety features include handrails and additional access aisles. The seven-story Scholarship Club Tower features 20 founders' suites, 22 club suites, 24 loge boxes, a press box and a rooftop terrace. Construction is scheduled to be complete by fall 2019.


The University of Connecticut recently broke ground on a $75 million Student Recreation Center. Chicago-based design firm Moody Nolan and JCJ Architecture of Hartford, Conn., planned the 190,000-square-foot facility to include cardio and strength training spaces; racquetball and basketball courts; multipurpose areas; a running track; an aquatics center with a pool, whirlpool and sauna; a wellness center; indoor and outdoor club sports spaces; and a flexible events space. The project is targeting LEED Gold certification with expected completion in fall 2019.
---
First Pitch
The Boulder City, Nev., City Council recently approved a $109,000 contract with SH Architecture of Las Vegas to prepare conceptual plans for a new Municipal Aquatic and Cultural Center. City officials hope to replace the current deteriorating public pool with a facility equipped to host swim meets and other events.
Montgomery County, Va., recently approved $1.8 million to construct baseball and softball facilities at Christiansburg High School. Another $2.1 million was approved for a new football field and track, as well as concessions points of sale, restrooms and updated entries for all outdoor sporting venues. Field work could begin later this spring, with facility construction due next year.
Virginia Tech has received funding for a new, on-campus Student-Athlete Performance Center. The $16.5 million project will expand and renovate the fourth floor of the Jamerson Athletic Center, more than doubling the square footage. The completed center will house dining and nutrition facilities, as well as donor hospitality and recruitment spaces. Construction is expected to begin later this year.
The board of trustees at the University of Alabama recently approved a series of projects, including a 7,447-square-foot football recruiting lounge at the Mal Moore Athletic Facility. The renovation, by Davis Architects of Birmingham, features updated lighting, graphics, finishes and audio/visual systems. A preliminary budget is estimated at $2 million.
---
Grand Openings

In February, the University of Maryland-Baltimore County held a grand opening ceremony at its new Campus Event Center, a comprehensive athletics venue that will house the school's men's and women's basketball programs, as well as the women's volleyball team. The $85 million center by CannonDesign of Grand Island, N.Y., is equipped with concessions and catering facilities, hospitality and guest services amenities, restrooms, and security infrastructure. At 162,000 square feet, the facility will also accommodate administrative and coaches' offices, academic support space, sports medicine rooms, locker rooms, a strength and conditioning area, and a dedicated practice space. Total seating capacity is 5,000 spectators.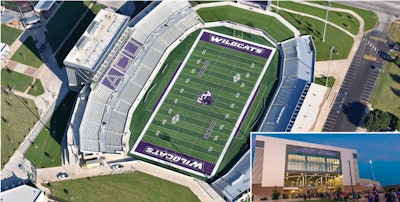 Abilene Christian University recently opened the doors to a 12,000-seat football stadium. The new Anthony Field at Wildcat Stadium includes a five-story press box, 10 luxury suites, club seating, home and visiting locker room facilities, restrooms and concessions areas. The $50 million design-build project was completed by Hoar Construction and HKS.

The Banc of California Stadium opens this spring at Exposition Park on the former site of the Los Angeles Memorial Sports Arena. The $350 million professional soccer venue features an open-air design with retail space, private suites and a rooftop bar. The design was provided by San Francisco-based architecture firm Gensler.
---
This article originally appeared in the April 2018 issue of Athletic Business with the title "Forward Progress." Athletic Business is a free magazine for professionals in the athletic, fitness and recreation industry. Click here to subscribe.