Breaking Ground
Colby College has broken ground on a comprehensive new athletics, recreation and wellness center along with playing fields on its Waterville, Maine, campus. Scheduled to open in 2020, the facility will house a 50-meter competition pool, a field house with a 200-meter indoor running track and tennis courts, a multisport gymnasium, an ice arena, nine squash courts, strength and conditioning space, an erg room and a multipurpose flex space, as well as support spaces including locker rooms, sports medicine rooms and coaching and administrative offices. Sasaki of Watertown, Mass., is working with Hopkins Architects of London to design the project.

Marquette University recently broke ground on a 46,000-square-foot Athletic and Human Performance Research Center. Designed by Perkins+Will of Chicago in collaboration with HGA of Minneapolis and Ellenzweig of Boston, the facility represents phase one of a long-term master plan that includes new faculty research space, locker rooms and other support spaces for the lacrosse and golf teams, and strength and conditioning space for the athletics department. A two-story glass wall on the north end opens lines of sight to the strength and conditioning space, showcasing the center's interdisciplinary initiative. Phase one is expected to be complete in spring 2019.
The Gordie Howe Sports Complex in Saskatoon, Sask., broke ground in April on a major renovation project. Upgrades to the community sports complex include the installation of multilayer, dual-polymer turf, the addition of a winter speed skating oval that's convertible to a summer outdoor Beynon track, and the construction of new indoor and outdoor baseball and softball diamonds and batting cages. The complex will also feature a new 60,000-square-foot indoor multisport training center with weightlifting facilities. These upgrades will allow the complex to continue hosting national and international sports championships. The project is scheduled for completion by the end of this year.
---
First Pitch
The Merriam, Kan., city council voted last month to approve a $30 million community center. The 66,000-square-foot building will include indoor and outdoor pools, a fitness center and an indoor walking track. The building design was provided by McCarthy Building Companies of St. Louis, with pool components overseen by Aquatic Design Group of Carlsbad, Calif. The center is expected to be completed in March 2020.
A 4,300-square-foot addition and renovation of the baseball hitting facility at Alex Box Stadium was recently approved by the Louisiana State University Board of Supervisors. Planned improvements include a 3,500-square-foot weight room, a cardio mezzanine, locker rooms, a nutritional fueling station and advanced graphics and audio-visual systems. The project is expected to break ground June 1, with a completion date of August 2019.
The City of Buffalo, N.Y., recently approved plans for the new 12,593-square-foot Seneca Babcock Community Center. At a projected cost of $2.5 million, the center will feature a 7,644-square-foot gymnasium, spectator bleachers, locker rooms, restrooms, storage, offices, study rooms, computer classrooms and parking. Designs for the community center were provided by Kideney Architects of Buffalo.

The University of Wisconsin-Whitewater recently completed a facilities master plan to accommodate the athletic department, the Office of Recreation Sports and Facilities, and the Department of Health, Physical Education, Recreation and Coaching. Developed by Milwaukee-based design firm Kahler Slater, the plan details a multiphase expansion of the Williams Center, including a 3,500-seat events center, an 80-yard field house, a natatorium, an athletic training suite, team offices, locker rooms, a multipurpose court, a combative arts room and a 10,000-square-foot expansion of the strength and conditioning center.
---
Grand Openings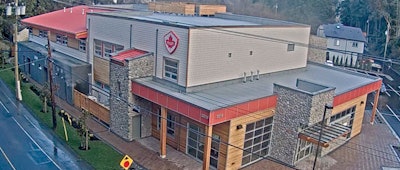 The Al Charron Rugby Canada National Training Center recently opened its doors in Langford, B.C. Designed by JSA Sport Architecture of Victoria, B.C., the new 21,650-square-foot training center is home to the men's and women's national rugby teams. At a cost of $7.84 million, the project was funded through the Building Canada Fund — Major Infrastructure Component and the City of Langford, as well as private donations. The center features a 6,750-square-foot gymnasium, strength and conditioning equipment, therapy rooms and pools, locker rooms, team meeting rooms, kitchen and dining facilities and three studio bedroom units. The center will also house the Rugby Canada Hall of Fame and Museum. A seating expansion is planned for future development.
The Marvin Williams Recreation Center in Bremerton, Wash., held a grand opening in April. The two-story, 20,000-square-foot facility by Seattle-based McClellan Architects will feature community elements such as a cooking theater, a catering kitchen, an events center, a 7,000-square-foot gymnasium, locker rooms, meeting rooms and a computer classroom, as well as an open-air courtyard. The total project budget came to $7.2 million.
The Sycamore (Ill.) Park District held a grand opening for its new Community Center April 14. The 40,000-square-foot center was designed by Farnsworth Group of Bloomington, Ill., and will include a 24-hour fitness center, an elevated track, two gymnasiums, three multipurpose rooms and a group exercise studio, as well as administrative offices. The center will also offer a wellness program hosted by Northwestern Medicine and the Department of Kinesiology at Northern Illinois University. The $13 million project budget was covered by a combination of grants, private donations and a $9 million bond sale.
---
This article originally appeared in the May 2018 issue of Athletic Business with the title "Forward Progress" Athletic Business is a free magazine for professionals in the athletic, fitness and recreation industry. Click here to subscribe.