Breaking Ground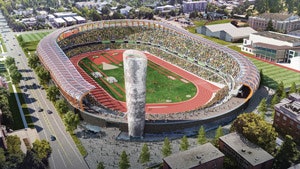 The University of Oregon breaks ground this month on renovations to Hayward Field. The 12,900-seat track and field facility will be upgraded with state-of-the-art locker rooms, practice spaces, athletic training rooms, laboratory and classroom space for the human physiology department, and a nine-story tower. The tower will house a lobby with offices, conference rooms, media centers and an upper-level observation deck. The new stadium will have a nine-lane track, a clear canopy ringing seating areas, and a pedestrian parkway with temporary seating to meet an expanded capacity of 30,000. Improved training facilities include a weight room; a six-lane, 140-meter straightaway; indoor jumping and pole vaulting space; and a 500-meter covered concourse. Designed by SRG Partnership of Portland, the project is anticipated to open in spring 2020.
Marshfield (Wis.) School District breaks ground this month on a new outdoor football, track and soccer facility, complete with increased seating capacity, a press box and a veterans' memorial. The $11 million project will feature new ticket booths and storage, as well as upgraded scoreboards, lighting and signs. Other project elements include new baseball and softball fields near the high school and track and field facilities at Marshfield Middle School. The project is being overseen by Stevens Point, Wis.-based architecture firm Rettler Corp. and is expected to be completed by summer 2019.
The Paso Robles (Calif.) Joint Unified School District broke ground in April on the Paso Robles Aquatic Complex on the district's high school campus. The complex will be open to the community and will support physical education, competitive swimming, emergency water safety programs, and health and wellness programs. The project includes two competition pools with diving blocks, athlete changing rooms, public restrooms, learning spaces, meeting rooms and a concessions stand. The $8.2 million project was designed by SIM-PBK Architects of Fresno. The first phase of construction is expected to be completed by January 2019.
The University of Memphis breaks ground this summer on the Center for Wellness and Fitness. The 75,000-square-foot renovation will bring the completed center up to 225,000 square feet with a two-court gymnasium, an indoor track, 14,000 square feet of cardio and weight training space, and four group exercise studios. The center will also include academic support spaces, a biometrics-controlled check-in desk and lounge, an administrative suite, a conference center, an instructional kitchen and a physical assessment lab. Outdoor facilities include a recreational pool, basketball and volleyball courts, a synthetic turf multi-use field and three tennis courts. Designs are being provided by Askew Nixon Ferguson of Memphis and CannonDesign of Grand Island, N.Y. Construction is expected to be completed in June 2020.
---
First Pitch
Oklahoma State University recently announced plans for a new baseball stadium to be completed in 2020. The 3,500-seat stadium will feature 13 suites and 400 premium seats, with the ability to expand to a capacity of 8,000. There will also be an outdoor playground, an outfield plaza and an events area. The playing surface will be natural grass with a built-in drainage system, and a second practice field will be built with synthetic turf. A 7,400-square-foot locker room and a players' lounge will be constructed along the left field line, complete with a nutrition center, a classroom, an indoor practice facility and a pitching lab.
An additional $18 million in funding was recently approved for a new arena and aquatics complex at Trent University in Peterborough, Ont. The community sports facility will include indoor space for running, swimming and skating practice, recreation and competitions. There will be a twin-pad community ice arena, an off-ice training center, a 10-lane competition pool, a warm-up pool and an elevated running track. Support spaces will include offices and storage, meeting rooms and multipurpose spaces. The full cost of construction is estimated at $54 million.
Sacred Heart University in Connecticut will build a second student recreation center, a $21.8 million facility designed by The S/L/A/M Collaborative. The new center will stand three stories tall at 57,400 square feet and will include an indoor track, a juice bar, a bowling center, an 18-bike group cycling center, a 45-foot climbing wall and weight training facilities. The center is expected to open in August 2019.
Piscataway (N.J.) Township plans to build a new community center with a three-pool aquatics center, a basketball court, an indoor mezzanine running track, a fitness center, dance studios, a multi-use community room, locker rooms, meeting rooms and a café. The community center is expected to be open for use by summer 2020. Netta Architects of Mountainside, N.J., is developing design plans.
---
Grand Openings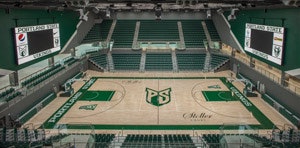 Portland State University held a grand opening in April for the new Viking Pavilion at the Peter W. Stott Center. Designed by Woofter Architecture of Portland and Denver's Sink Combs Dethlefs, which has since joined Perkins+Will, the $52.1 million athletics center features a 3,000-seat arena for volleyball and basketball competitions, graduation ceremonies and other events. Additional renovations to the Peter W. Stott Center include new athletics offices, weight training space, locker rooms, classrooms and a sports medicine center.
Life Time held a grand opening last month on a 164,000-square-foot lifestyle resort in Princeton, N.J. Life Time Athletic Princeton will feature 119,000 square feet of interior athletics and recreation space, including multiple group exercise studios, cardio and strength training space, a children's recreation area, a spa, indoor basketball courts and member locker rooms. Outdoor features include a 45,000-square-foot aquatics complex with leisure pools, lap pools, whirlpools and water slides, as well as a café with outdoor dining space and lounge seating.
The Chambersburg (Pa.) Aquatic Center opened just in time for Memorial Day 2018. The $7.7 million project includes renovated bathroom facilities and infrastructure improvements to the sewer, water and gas services, as well as reconfigured stairs, ramps and retaining walls. Notable features include four pools: a six-lane, 25-meter lap pool; a 5,497-square-foot activity pool with a lazy river; a 715-square-foot toddler pool with interactive play equipment; and a diving tank. A pool house, a picnic pavilion and a nine-hole miniature golf course round out the center's amenities.
---
This article originally appeared in the June 2018 issue of Athletic Business with the title "Forward Progress." Athletic Business is a free magazine for professionals in the athletic, fitness and recreation industry. Click here to subscribe.