Breaking Ground
Construction began this summer on a $241 million expansion of Rupp Arena at the University of Kentucky. Designed to LEED specifications by architects NBBJ and EOP, the arena will feature an expanded concourse, new chair-back seating to replace upper-level bleachers, member clubs with court-level seating, an atrium entrance with 85-foot ceilings, a new metal-and-glass exterior shell, a climate-controlled bridge connecting the lobby and concourse, and a new public plaza. Improvements are expected to be complete by fall 2021.
The University of New Mexico has broken ground on a renovation and expansion of its primary campus recreation facility, the Johnson Center. According to university architect Amy Coburn, the upgrades will include increased weight training and cardio space, an indoor track and a group cycling room, as well as an addition to the existing bike shop that will provide outdoor adventure equipment. The $35 million project is funded through student fees and is expected to be complete in fall 2020.
Sandusky, Ohio, officials recently held a groundbreaking ceremony on a new facility at the Cedar Point Sports Center. The 170,000-square-foot indoor sports complex will cater primarily to youth basketball and volleyball, with a community indoor walking track and fitness center. A championship arena will feature 10 regulation basketball courts on hardwood floors that convert into 20 volleyball courts with retractable seating for spectators. Construction is expected to take a little more than a year and cost $50 million.
The Louisville (Ky.) City Football Club broke ground this summer on a $65 million stadium in Butchertown. The stadium, designed by HOK of St. Louis, is part of a 40-acre development near Louisville's Waterfront Park. The stadium will provide spectator seating for 11,300, with 18 luxury suits and a premier club area with a capacity of 250. The venue will also feature eight bar locations and a 40-by-72-foot video board. The stadium is expected to be ready to host its first match during the 2020 season.
---
First Pitch
The Northglenn, Colo., city council has approved funding to replace the existing Northglenn Civic Center. The new center will house a therapy pool, fitness studios, cardio equipment and weight rooms, as well as a walking track, community rooms and an expanded theater. Construction on the $53 million project is slated to begin in fall 2019 and conclude in 2021.
The Savannah, Ga., city council has approved a design contract with Chicago-based architecture firm Perkins+Will for a multipurpose arena. The proposed arena will feature spectator seating for 9,000 as well as luxury club seating, with accommodations for ice hockey. The project will also include parking garages, office buildings and restaurants. The total cost is estimated at $140 million.
St. Lawrence University in Canton, N.Y., has received funding in the form of alumni donations that will allow the school to move forward on renovations to the historic Appleton Arena. Planned improvements include a new entrance, expanded concourses and concessions, additional social and wellness spaces, training and competition space for the men's and women's hockey programs and new locker rooms.
---
Grand Openings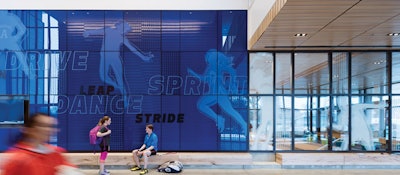 The Snyder Center has officially opened at Phillips Academy Andover. The $30.7 million project delivers a 98,000-square-foot multi-use athletics and student center with an indoor practice space, a 200-meter competition track, a 12-court squash center, an events complex with room for 2,500 spectators, locker rooms, a sports medicine area, meeting rooms, storage space, recreation space, a catering kitchen and an upper-level banquette hall. Designs for the Snyder Center were provided by Perkins+Will's Boston office.
ELS Architecture and Urban Design of Berkeley, Calif., recently completed the new Legends Aquatic Center at the University of California, Berkeley. The multibuilding facility features an open, multipurpose space to accommodate training and events and a 50-meter competition pool with a dive tower and spring boards (with platforms at 1, 3, 5, 7.5 and 10 meters), a warm-water spa and locker rooms. The pool connects to the Tang Health Center by a fenced walkway.
The Kinsmen Water Park recently opened in Prince Albert, Sask. The park includes water slides, whirlpools, splash pads, a basketball hoop, and a $1.2 million junior Olympic swimming and leisure pool. The new L-shaped pool features a zero-depth entry to allow for maximum accessibility. The leisure pool connects to the shallow end of the 25-meter, six-lane lap pool at a depth of three feet. The park master plan was provided by space2place, an urban design firm based in Vancouver.
The community of Mitchell, S.D., held a grand opening this summer of the new Indoor Aquatic Center, a project that was two and a half years in the making. The facility, designed by Sioux Falls-based design firm MSH Architects, features a competition pool, a leisure pool, diving boards, water slides, a climbing wall, a zip line, a basketball hoop and a vortex. The project came in a few thousand dollars under its originally estimated $8 million budget.
---
This article originally appeared in the September 2018 issue of Athletic Business with the title "Forward Progress." Athletic Business is a free magazine for professionals in the athletic, fitness and recreation industry. Click here to subscribe.