Grand Openings
The Mick and Susie McMurray High Altitude Performance Center (HAPC) at the University of Wyoming opened in time for the 2018 football season. The project includes a 47,000-square-foot renovation to the former Curtis and Marian Rochelle Athletics Center, as well as a 71,000-square-foot addition. The new integrated center features 12,000 square feet of football strength and conditioning space overlooking Jonah Field, an Olympic weight training space, a football locker room and a player lounge. The renovation also creates a new academic center, nutrition center, offices and meeting rooms on the second level. The HAPC was designed by DLR Group with local partner Pappas & Pappas Architects.

Stalco Construction recently completed a $7.2 million renovation of the Borough of Manhattan Community College Aquatics Center inside the main campus complex in New York. The project focused on upgrades to a six-lane, 25-yard competition pool and the surrounding deck and facilities, including repairs to existing steam pipes, concrete repairs, tile replacement, and the installation of new HVAC, water-treatment and filtration systems. The team — which included architect and engineer of record MP Engineers & Architects — also built a new staff office, mounted new diving platforms, renovated the storage room and installed two ADA-compliant chair lifts, a competition-level timing system and new emergency lights.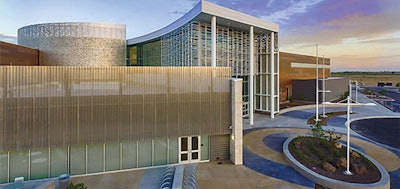 Lea County, N.M., has opened the doors on its new 160,000-square-foot community recreation center. The Center of Recreational Excellence (CORE) features a two-story lobby, an aquatics facility with a 10-lane, 25-meter competition pool, a leisure pool, a lazy river, two water slides, a splash area and a warm-water therapy pool. At the center of the facility are located a three-level play structure and multipurpose sport courts encircled by an elevated track. Another wing of the center houses an indoor soccer field. Plans for the CORE were provided by associate design architect D/P/S in collaboration with architect of record Barker Rinker Seacat of Denver.
Breaking Ground
The Buffalo Bills are breaking ground this season on an $18 million expansion to the ADPRO Sports Training Center. The addition, designed by Kansas City, Mo.-based architecture firm Populous, will increase the center's size by 25,000 square feet and improve the team's strength and conditioning, sports science and sports medicine facilities. The project focuses heavily on athlete-recovery space, with space for sleep pods, float tanks, a yoga studio and massage rooms. The expansion will also create space for equipment storage, conference rooms, soft-tissue therapy rooms, a doctor's office and a nutrition bar. The two-story center is scheduled to be complete in April 2019.
Sioux Falls, S.D.-based Avera Health begins work this fall on a $14 million sports training complex. The 60,000-square-foot Human Performance Center will house a sports medicine clinic and a therapy gym with specialized equipment (including an antigravity treadmill, a gait-analysis treadmill with 3-D motion capture, an underwater treadmill, a therapy pool and isokinetic balance equipment), as well as a biomechanics lab, a weight room, cardio rooms, indoor turf and a plyometrics floor. The complex will also include seven volleyball courts and a nutrition bar. A future phase will add basketball courts. The Human Performance Center is scheduled to open in December 2019.
Colorado Mountain College in Glenwood Springs has embarked on a $35 million project that will consist of two new buildings on the school's Spring Valley campus. Construction has begun on a 33,000-square-foot fitness and recreation center, as well as the new 16,000-square-foot Ascent Center welcome facility. The rec center will provide both students and community with a multipurpose gymnasium, an indoor track, weight and cardio rooms, group fitness studios, an indoor climbing facility and concessions. The Ascent Center will house admissions, student services, the campus store and café, conference rooms and student study and lounge spaces. The project is expected to be complete in fall 2019.
---
First Pitch
The borough of Pierrefonds-Roxboro in Quebec has confirmed plans to construct a $43 million (Canadian) municipal aquatics and recreation center. The aquatics portion will occupy 11,300 square feet with a 10-lane, 25-meter lap pool, a recreational pool and water games. The full center will cover more than 48,400 square feet and will include a fitness room and a multipurpose activities room with a capacity of 300 people. Construction is planned for 2021 with an opening date of 2023.
The Kansas State University athletics department is consulting with St. Louis, Mo.-based architecture firm HOK on a 10- to 15-year master plan. Projects under consideration include an $85 million renovation to Bramlage Coliseum, a $29 million upgrade to Snyder Family Stadium, a $24.5 million football facility, a $17.5 million volleyball arena, a $14.5 million tennis facility, a $13 million Olympic performance center, a $12 million track and field renovation, a $5.5 million soccer pavilion, a $4.5 million golf complex and a $4.5 million renovation to the Brandenberry Indoor Complex.
Florida State University recently launched its Unconquered campaign with a goal of raising $100 million to support Seminole athletics. Among other things, the results of the campaign will fund a $60 million, 122,000-square-foot indoor football complex with an indoor field, a weight room, new team locker rooms, training and hydrotherapy space, team meeting rooms and a recruiting lounge. Other plans include upgrades to the school's baseball stadium and basketball center.
Richfield High School in Minnesota is considering preliminary designs presented by Wold Architects and Engineers of St. Paul for multiple facilities. Potential improvements would include secure entries, renovations to the kitchen and serving areas, mechanical and air-quality considerations, increased space for special education, and changes to bring restrooms into ADA compliance. The athletic wing of the school housing the gym, locker rooms, weight room and concessions would be remodeled, and several bathrooms would be reconfigured to be gender-neutral.
---
This article originally appeared in the November | December 2018 issue of Athletic Business with the title "Forward Progress" Athletic Business is a free magazine for professionals in the athletic, fitness and recreation industry. Click here to subscribe.