Breaking Ground
The City of Reynoldsburg, Ohio, is building a 56,000-square-foot community center that will be operated by the local YMCA. The two-story facility, by design architect Moody Nolan, is taking form on the former site of a vacant swim club and roller rink and will include a 13,000-square-foot healthcare partner space to house the OhioHealth Clinic. The Reynoldsburg Community Center will feature an indoor and outdoor aquatics center, a gymnasium, a fitness center, a jogging track, studio space, administrative offices, and rooms for childcare, teen activities and youth adventure programs. The site will also house outdoor pickleball courts, a synthetic turf field and a summer camp play area.
Construction starts this spring on a 55,000-seat open-air stadium in downtown Birmingham, Ala. Protective Stadium will be the home field of the University of Alabama at Birmingham football team and is being funded as part of the Birmingham-Jefferson Convention Complex expansion. Conceptual plans for the stadium by Kansas City, Mo.-based Populous include new luxury suites, a club lounge, concessions stands and an expanded concourse, as well as locker room improvements. The $174 million stadium will also include 90,000 square feet of conference and exhibition space. Protective Stadium is set to open in time for the 2021 football season.
The Manhattan Beach (Calif.) Unified School District recently broke ground on a $38 million athletic complex at Mira Costa High School. Plans for the Mira Costa High School Athletic Complex were developed by global design and architecture firm Gensler and include a 20,000-square-foot triple-court indoor gym, a community pavilion gym, sports medicine rooms and strength training space, a 60-seat lecture hall, a dance studio, locker rooms and team rooms, a terrace and a stadium with a track. The complex is expected to be complete in fall 2020.
---
First Pitch

The Northbrook (Ill.) Park District has selected designs by Chicago-based architecture firm Wight & Company to move forward on a 44,000-square-foot indoor activity center. The highly sustainable new facility will feature two multi-use sport courts, an elevated running track, a fitness center with group exercise studios, and locker rooms. The building will also house a community events room and space for onsite childcare services. Construction is expected to begin this summer with a projected completion date of October 2020.
Pomona College in Claremont, Calif., recently unveiled preliminary plans for a $55 million athletics facility to replace the existing Rains Center. The 94,000-square-foot athletics and recreation center will be designed by San Francisco-based architecture firm SCB and will feature a lobby, an athletics hall of fame and multiple outdoor patios, as well as an expanded recreational fitness area, group exercise studios, two weight rooms, athletic training and equipment storage space, and new locker rooms. The school is also hoping to add team meeting rooms and offices for coaches and administrative staff. Construction is slated to begin in 2020.
The University of Minnesota has approved $4 million in improvements to the 7,000-square-foot Maturi Pavilion, home to the Gophers volleyball program. The project will include renovations to the facility's weight room, locker room, training room, players' lounge, coaches' offices, club room and restrooms, as well as upgraded seating in the guest section overlooking the main court. Renovations are expected to be complete by August in time for preseaseon camp. The majority of the project budget will come from donations.
---
Grand Openings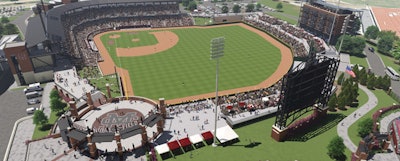 In February, Mississippi State University celebrated the re-opening of Dudy Noble Field. A $68 million rebuild provides the historic ballfield with a new lofted seating deck and a two-tier grandstand near home plate with an expanded seating capacity of 15,000. The stadium takes up 230,000 square feet of its 12-acre site and includes 20 suites, three clubs, two plazas, 96 outfield lounges, a party deck, a 360-degree open concourse and two iconic entrances. Designs were provided by Jackson, Miss.-based architect Wier Boerner Allin in collaboration with global design firm Populous.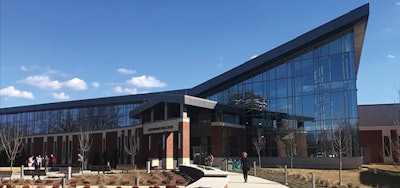 On Jan. 28, Jacksonville State University held a grand opening ceremony for its $32.6 million fitness and wellness center. The facility was designed as an on-campus gateway and focal point of student activity and recruitment, with a prominent peak that emphasizes the 43-foot hybrid climbing and bouldering wall — the tallest in Alabama. The project also features an aquatics center, a three-court gym, a multipurpose activity court, a social lounge space and an elevated track. Architecture firm Moody Nolan collaborated with consultant Brailsford & Dunlavey on the 104,500-square-foot facility.


Olympic Gold Medalist Tom Dolan's second swim school opened in February in Falls Church, Va. The 9,600-square-foot teaching space combines two former facilities into one open and accessible design. The new Tom Dolan Swim School, designed by Bethesda, Md.-based GTM Architects, includes family friendly changing rooms, on-deck showers, sound proofing and a state-of-the-art filtration system around the 90-degree shallow-water pool. The facility will also feature open parent viewing areas, play spaces for siblings and a wellness-focused lighting system.
---
This article originally appeared in the April 2019 issue of Athletic Business with the title "Forward Progress." Athletic Business is a free magazine for professionals in the athletic, fitness and recreation industry. Click here to subscribe.