The following content is supported by one of Athletic Business's advertising partners. To learn more about sponsored content, click here. A recent webinar discusses the following content in more detail. Click to download the slides or view a recording.
---
Located on Colorado's Western Slope, the Montrose Recreation District provides residents with a rich array of outdoor recreation opportunities that include hiking, camping and skiing. But until early 2017, it lacked a comprehensive indoor recreation and aquatic center — an amenity many local voters didn't believe was necessary, especially given the city's vast outdoor recreation options.
"We're a fiscally conservative community that is pretty tax-averse," says Ken Sherbenou, executive director of the 80,000-square-foot Montrose Community Recreation Center. "Plus, there were misunderstandings about how a public recreation center would operate in a community that also includes private fitness providers. We did a lot of educating of residents to show them how the public sector complements the private sector."

Nevertheless, after 30 years of discussions and three failed referendum attempts, Montrose district officials took the rec center proposal to voters one final time and struck gold.

The result is the largest recreation center on the Western Slope, with indoor recreation opportunities that complement the variety of outdoor recreation activities for which the region is known.

The $29 million facility was designed by Denver-based Barker Rinker Seacat Architecture and includes a three-court gymnasium, an expansive weight room, and a 27-foot-tall climbing wall with 12 anchors for top roping and five auto belays. Featured in the 2019 Athletic Business Aquatic Design Portfolio, the center is anchored by three major aquatics elements — a competition pool with two 1-meter diving boards and a 3-meter board, drop-slide and slack line, a leisure pool with a lazy river and slide, and a wellness pool with a designated therapy area — all powered by Pentair pumps and lighting, which keep the popular facility operating smoothly.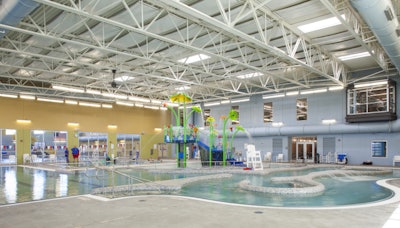 Each time the recreation center ballot measure failed, district leaders would focus on trimming the fat in their proposal, improving both design and operations efficiency while seeking new ways to cut costs and leverage grant money that has now surpassed $6 million.

"We left no stone unturned to make this facility happen," Sherbenou says. "And the skeptics really helped make our plan strong. They forced us to make sure we had a plan in place that was likely to be successful. Now, many of them are regular users of the facility."


Well Equipped
Despite the decision to save costs where prudent, Sherbenou says district officials were willing to outfit the recreation center's pools with the best equipment money can buy. That's why — working in collaboration with Beaver Dam, Wis.-based aquatic design firm Water Technology Inc. — the BRS design team specified Pentair products.
The natatorium features large cast-iron Pentair Aurora and plastic EQK pumps, IntelliBrite LED lighting, and Pentair floor inlets and nozzles. Additionally, facility maintenance crews use Pentair poles, brushes, test kits, vacuum accessories and more.

"What we like about Pentair products is that they are really reliable," says Andy Stein of BRS, the design manager for the Montrose project. "They have great customer service, and they have reps just about everywhere. If you give them a phone call, they can send somebody out to wherever it is usually within a day. With us having projects in some pretty small towns such as Montrose, which is relatively remote, Pentair really is a great product solution."

Operating at a high level on a daily basis is critical for the aquatic center, which partners with a local hospital that — as a tenant within in the center — uses the wellness pool for water therapy. The aquatic center also provides numerous activities for youths in the leisure pool and holds standup paddleboard classes in the competition pool. Additionally, high school and club swim teams have come to rely on the competition pool for practices and meets, and that facility can accommodate about 500 spectators.

"We're now a destination for regional swim meets throughout the year," Sherbenou says. "And the economic impact to the community has been very positive."

"It really comes down to quality and reliability," Stein says, referring to what makes aquatic centers successful. "What hurts you in the long run is if something is always broken. Then people will ask, 'What are we paying for here?' So it's all about reliability. We want to work with a manufacturer that's going to offer a quality product, stand by that product and help find a solution if there is a problem. And that's what we have with Pentair."


'A Much Healthier and Active Community'
The Montrose Community Recreation Center replaced a cramped, L-shaped aquatic facility built in the mid-1980s that was the only public indoor recreation space for residents. That facility has since been renovated into a field house, and future plans call for an outdoor pool expansion on a half-acre of property adjacent to the recreation center.

"The result of the rec center is a much healthier and active community," Sherbenou says, adding that membership numbers have far exceeded initial expectations with annual membership now over 8,000 in a town of 20,000. "When the facility opened, we really became a major hub — a special gathering place in Montrose that has tremendously enhanced quality of life. It's all that a public recreation center should be."