Breaking Ground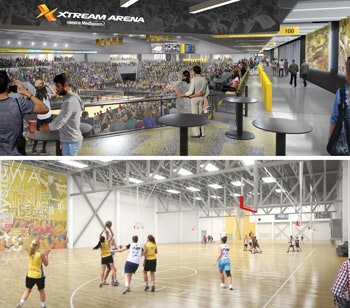 Construction is underway on the $50 million Xtream Arena in Coralville, Iowa. The project is part of a $185 million reinvestment project that also includes a field house and will serve as the home base for a number of University of Iowa sports programs and other events. The arena, designed by JLG Architects, has a fixed seating capacity of 5,200, while the attached five-court field house can host up to 6,000 spectators for basketball, volleyball, wrestling and concerts, and up to 5,250 for hockey. The 53,000-square-foot field house also includes an attached hotel. The venue is expected to open in August 2020.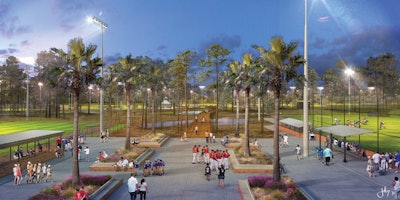 Visit Panama City Beach has broken ground on a $37 million Sports Complex in Panama City Beach, Fla. The 13-field outdoor sports facility will host competitive soccer, lacrosse, rugby, softball, baseball, football and flag football. The complex features nine synthetic turf fields with AstroTurf Z-Cap Cooling Technology and four natural grass fields, each equipped with lighting and Wi-Fi. The two largest fields will have a seating capacity of 1,500. The complex will also be equipped with dedicated tournament buildings, multiple concessions points of sale and 1,000 parking spots. The project is expected to be completed this summer.
The City of Arlington, Texas, broke ground at the end of March on a $26 million joint project between the Arlington Parks and Recreation Department and the city's public libraries: The East Arlington Recreation Center and Library at Bob Cooke Park. The 47,249-square-foot facility will replace the existing Hugh Smith Recreation Center and the East Branch Library and will combine a historic architectural style with spaces that cater to modern usage trends. The recreation side will include an indoor pool, an events room, a multi-use gymnasium, a fitness center, group exercise studios, locker rooms, community meeting rooms and outdoor amenities.
---
First Pitch
Comcast Spectacor and The Cordish Companies recently announced plans to construct a $50 million esports and entertainment venue inside the Philadelphia Sports Complex. The planned Fusion Arena, designed by architecture firm Populous, will have a 2,000-square-foot LED media screen in the entryway, a 10,000-square-foot training space, streaming rooms, concessions, club seating with USB ports, exclusive suites and a total spectator capacity of 3,500. Work on Fusion Arena is expected to begin this summer.
Henrico County is partnering with NOVA of Virginia Aquatics and the Regency Square mall to develop an indoor aquatics center in a vacant retail space formerly occupied by Macy's. The $18 million aquatics center will feature an eight-lane, 50-meter competition pool and two three-lane, 25-yard pools, in addition to spectator seating, a viewing mezzanine, locker rooms and a swim shop. The facility will host the local high school swim team, as well as swim lessons and recreational swimming.
Easton Area High School in Easton, Penn., is planning upgrades to the building facade this summer, as well as renovations to the existing 13-year-old athletics field. The $2.2 million project includes a new Vertex Prime synthetic turf field and refinished track, a new field underlayment and below-ground drainage system, upgraded field lighting and electrical systems, and installation of surveillance cameras. The renovations are expected to be complete before the start of the fall semester.
Wichita State University has announced a $10.4 million project that would create more space for sports programs within Charles Koch Arena. The project includes construction of a new Student-Athlete Success Center on campus, as well as renovations to the existing arena. The 36,000-square-foot, two-story Student-Athlete Success Center will house the university's track and cross-country teams, in addition to study and tutoring spaces. The project is set to break ground in June and finish in July 2020.
---
Grand Openings

The City of Brantford, Ont., and the Brantford YMCA recently celebrated the grand opening of a new community recreation complex to house combined YMCA and campus recreation offerings. The Brantford YMCA/Wilfrid Laurier University Recreation Complex, by architect CannonDesign, is equipped with a two-pool aquatics center, a childcare area, a youth recreation zone, a double gym with retractable seating, indoor fitness space, group exercise studios, a student lounge, health consultation rooms and community meeting rooms.

Virginia Tech has opened the doors on its renovation of Rector Fieldhouse in Blacksburg. With design work by architecture and engineering firm CannonDesign, the 110,000-square-foot fieldhouse has been reimagined with updated track and field competition and training spaces. The project included construction of a new throwing area for shot put and fluid seating accommodations for spectators. The renovation effort also expanded the eastside entrance and added an outdoor plaza and a north wing.
VillaSport Athletic Club and Spa is opening a new location this spring on a 130,000-square-foot lot in Roseville, Calif. The two-story club will feature work by ELS Architecture and Urban Design, and will include indoor and outdoor pools, indoor basketball courts, weight training and cardio space, and group fitness studios. The site will also house a full-service day spa with private relaxation rooms, a VillaKids childcare space, event rooms and an adults-only outdoor firepit area.
---
This article originally appeared in the May 2019 issue of Athletic Business with the title "Forward Progress" Athletic Business is a free magazine for professionals in the athletic, fitness and recreation industry. Click here to subscribe.