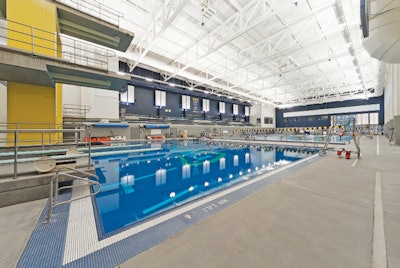 The following content is supported by one of Athletic Business's advertising partners. To learn more about sponsored content, click here.
---
Unless you're an elite swimmer or coach, you may not realize that Northern Arizona University in Flagstaff, Ariz., has emerged as one of the best high-altitude training sites in the world. Not only do top international runners train here, but the school's natatorium continues to rank as one of the best training facilities for swimmers. The campus, situated 7,000 feet above sea level boasts a 50-meter, 10-lane Olympic-size pool with a separate diving well that features 1- and 3-meter diving boards and a 10-meter dive tower — plus a spa, dryland training areas and a spectator viewing deck that accommodates about 325 people.
The 120,000-square-foot facility is part of NAU's $36.6 million Aquatics and Tennis Complex (which opened in 2016), and it immediately became regarded as one of the finest aquatic facilities in the country.
No wonder NAU is a Division I swimming and diving powerhouse; the women's team won its sixth straight Western Athletic Conference title in 2019.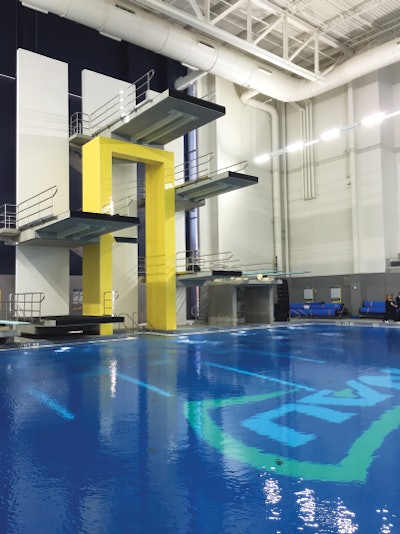 On top of that, the university also has become a high-altitude training destination for international swim teams seeking to boost performance.
A world-class venue for world-class athletes needs world-class equipment, and the NAU facility, which replaced a natatorium built in the early 1980s, is equipped with a large suite of Pentair products both in and out of the water.
"This is a first-class facility, and it's been a joy to manage," says Andrew Bourget, NAU's associate director of campus recreation for facilities and operations. "Not a lot of facilities have this kind of potential."
While NAU's previous natatorium, the 50,000-square-foot Wall Aquatic Center, also attracted international teams, it had outlived its usefulness and suffered from significant foundational and maintenance issues.
Given NAU's aquatics legacy and the new natatorium's extreme degree of usage. it's no surprise the facility's architect — Perkins+Will in Denver, Colo., in cooperation with aquatic design consulting firm Counsilman•Hunsaker — turned to Pentair to make NAU's natatorium a global destination that also serves the diverse needs of the NAU and Flagstaff swimming communities.
The pool's diverse lineup of users includes about 200 elite swimmers from as far away as Japan, Norway and Italy who train annually at NAU, as well as the Lumberjacks' own swim and dive teams, area club and high school teams, university faculty and staff members looking for mid-day recreation opportunities, and community residents participating in learn-to-swim and open-swim programs.
All told, the natatorium hosts up to three USA Swimming club meets per year, each with as many as 400 swimmers; up to three U.S. Masters Swimming meets, each with 50 to 100 swimmers; as many as five diving meets with up to 150 divers each; and four to six college meets.
Indeed, it's fair to say this facility would not operate at such a high level without Pentair products keeping the pool running efficiently while also helping ensure the safety of its broad range of users.
Major improvements
Pentair's presence is most obvious on the pool deck, which is equipped with the manufacturer's lifeguard chairs, safety equipment, lane line reels and starting blocks to ensure optimal performance — especially when it is needed most. The starting blocks boast a non-slip surface, kick plates, hand rails, multiple hand positions for backstroke starts, a side step and a larger overall platform than other blocks.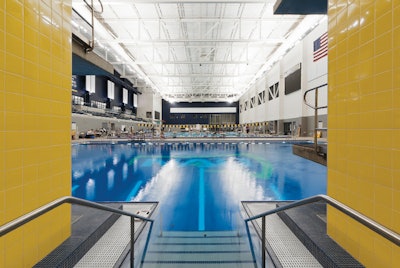 Highlighting the pool's interior are IntelliBrite® 5G white underwater lights, the industry's most energy-efficient option, which use 89 percent less electricity than incandescent and halogen pool lights.
The pool also boasts a WhisperFlo™ high-performance pump and a Pentair Aurora 340 Series end suction centrifugal pump. Additionally, Pentair supplied the skimmers, to help keep the pool clear of debris that could enter the water as a result of the aquatic center's high-usage patterns.
Not only does the new aquatics facility meet and exceed the needs of multiple user groups, but it also eliminated some significant maintenance issues inside the previous natatorium.
"We had lights over the pool that weren't accessible," Bourget says, citing a common challenge among operators of older aquatics facilities. "It was to the point where we weren't really able to keep the facility open in the evening. We put some lights on the walls to bring in some extra illumination, but as the big lights above started to go out, visibility became worse."
Between the lighting issues, concerns about the foundation and the facility's overall inefficiency, NAU realized it was time to build a new pool that would encourage some of the fastest swimmers on the planet to train and compete in Flagstaff on a consistent basis.
The result is a world-class facility that shares the building envelope with six indoor tennis courts (six additional courts are located outside). The natatorium is busy from about 5:30 a.m. to 10 p.m. every weekday, plus meets on weekends.
"It's a very active facility" Bourget says. "It's always full and always changing."