Check out the newest products as seen in the June 2019 issue.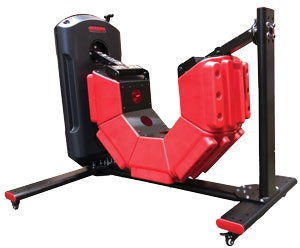 Marpo Fitness
The Marpo Functional Tire Trainer redefines the meaning of versatility in the gym. The dynamic, adjustable resistance lever offers personalized settings for both solo and partnered high-intensity circuit training routines or any combination of cardio, strength, power and endurance movements. The unique Dynamic Magnetic Braking (DMB) system allows for full control over the tire.
www.marpofitness.com
(888) 989-7673
---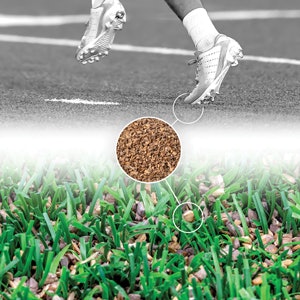 Brock USA
The ultimate goal of synthetic turf is to mimic the ideal natural grass surface in safety, firmness, temperature, ball response and any other performance characteristics athletes desire in a playing surface — as well as to provide a system that can be played on 24/7, 365 days a year. Brock USA now offers two key components to achieving that goal: shock pad systems that allow for impact absorption but keep the field firm and fast, and BrockFILL — a durable, firm organic infill that cools the surface.
www.brockusa.com
(303) 544-5800
---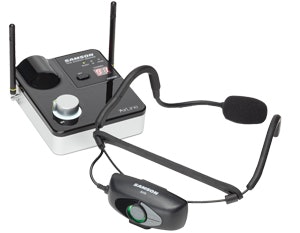 AV Now Fitness Sound
The Airline 99m AH9 Fitness Headset System is a unique wireless microphone solution designed to meet the specific demands of fitness instructors. Thanks to the AH9 micro transmitter with rechargeable battery and the AR99m micro receiver, the Airline 99m is a portable system that offers high-performance wireless connectivity, completely free of cables and belt packs.
www.avnow.com/airline99
(800) 491-6874
---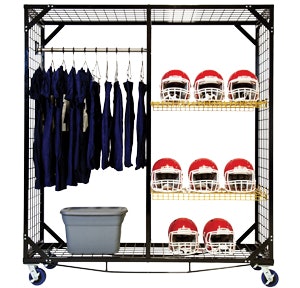 GearGrid
The GearCart is a versatile storage solution for storing a variety of athletic gear and equipment. The system can be utilized in different ways to maximize space and meet a facility's exact storage needs. Flat shelves can be added to provide horizontal storage surfaces, and stainless steel hang bars can be mounted for convenient hanging space. The GearCart is a great solution for storing equipment such as uniforms, helmets, shoulder pads, bags or totes.
www.geargrid.com
(888) 643-6694
---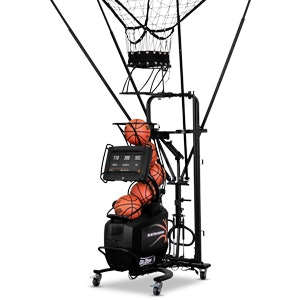 Dr. Dish Basketball
The new Dr. Dish CT is the next-generation shooting machine for the next generation of champions. Through its built-in touchscreen interface, the Dr. Dish CT gives players and coaches access to more than 100 custom workouts, elite-level move breakdowns and real-time video instruction from some of the most influential trainers in the game. It also provides powerful stats and analytics.
www.drdishbasketball.com/ct
(888) 887-7453
---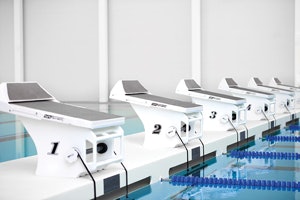 S.R.Smith
The new Velocity Advantage starting platform is designed to mount easily to pool decks or bulkheads. The 28-by-32-inch footboard surface is available with TrueTread™ or sand tread. The track-start wedge is adjustable to five positions and tucks easily under the footboard. Three built-in backstroke handholds provide versatility. The Velocity Advantage meets FINA, NCAA, NFHS, USMS and USAS competition pool rules and regulations and is compatible with Colorado Time Systems and Daktronics timing systems.
www.srsmith.com
(800) 824-4387
---
This article originally appeared in the June 2019 issue of Athletic Business with the title "New & Improved." Athletic Business is a free magazine for professionals in the athletic, fitness and recreation industry. Click here to subscribe.