Breaking Ground
The New York Mets recently launched a $57 million renovation of First Data Field, their spring training facility in Port St. Lucie, Fla. The project, planned and executed by EwingCole, features a variety of fan amenity upgrades to the 7,000-seat stadium, as well as state-of-the-art player-development facilities including an MLB Clubhouse, a full-size synthetic turf practice field, a half-size practice field, bunting fields, four covered batting tunnels, a 10-pack pitching field, and strength, conditioning and nutrition spaces. Stadium improvements include a landscaped arrival plaza, a team store, new restrooms and concessions, wider concourses, an outfield concourse extension with a feature bar, and a new elevator. The entire 100-plus-acre site was planned for a more intimate spring training fan experience. The project is scheduled to be completed in time for the start of spring training in 2020.
The West Allis-West Milwaukee School District plans to break ground this month on an $8 million Recreation and Community Services Center. The project, by Madison, Wis.-based CG Schmidt and Groth Design Group of Cedarburg, Wis., involves a remodel of the current recreation center and a new addition. The Recreation and Community Services Center will be divided into three main parts, with the center section devoted to group exercise studios, administrative offices and a multipurpose meeting room with an attached kitchen. The east end will house an indoor gym and elevated walking track, while the west end will have space for a preschool program and cycling classes, specialized Survive Alive House and Knowledge in Power training rooms, and a large multipurpose event space. Construction is expected to be complete within one year.
The Pinckneyville (Ill.) Community Hospital broke ground in April on a 16,000-square-foot Wellness Center on the hospital campus. The design, by Charlotte, N.C.-based Spencer Architects, will provide space to relocate the current physical therapy, occupational therapy and speech therapy programs, with private rooms and a rehabilitation pool. The Wellness Center will also house 24-hour cardio and weight-lifting space, a walking track, locker rooms and group fitness studios that are open for community use via badged entry. The hospital eventually hopes to provide space for community swim lessons and competition swim training at the therapy pool. The project was financed by the Delta Regional Authority in partnership with the USDA Rural Development Program.
Marshfield (Wis.) High School has broken ground on a new athletics facility, beginning an $11 million district-wide athletics improvement project by the Rettler Corporation of Stevens Point that will continue this summer at Marshfield Middle School. The facility on the high school campus will include practice space for the marching band, as well as educational spaces for science, math, technology education, special education and physical education, saving the school the ordeal of bussing students off-site for home football games or painting field lines in the parking lot for daily marching band practices. Construction is underway on the new concessions stand and outdoor football, soccer, baseball and softball fields. The district has already raised $7.7 million through private donations, to be added to its own $3.5 million commitment. A dedication ceremony is planned to be held at the high school this fall.
---
First Pitch
The Village Board of East Hampton, N.Y., has announced plans to renovate an eight-acre outdoor recreation facility at Herrick Park. The public park, which is rented to the East Hampton School District for school-related activities, currently features three tennis courts, two basketball courts, a baseball field, a softball field, a handball wall and a playground. A request for proposals from the Village Board is looking to improve pedestrian pathways, upgrade lighting and video surveillance, add playground equipment and enhance the athletics fields.
The City of New Westminster in British Columbia has begun the detailed design phase on the New Westminster Aquatic and Community Centre. The planned facility will consist of two parts — a community center on one end and an aquatics center on the other — joined by a common lobby and welcoming center. Key facility components include a gymnasium, fitness space, multipurpose rooms, a childcare center, a 50-meter competition pool, and a recreation pool that connects to the outdoors via garage-style glass doors. Construction is expected to begin in 2020.
The Amesbury (Mass.) City Council has approved $1.5 million in municipal bonds to help fund the design and construction of nine athletic fields at Woodsom Farm. The project would help provide the necessary athletics facilities after a new elementary school displaces a pair of existing baseball diamonds. The facilities at Woodsom Farm would include two new baseball diamonds and seven outdoor fields to accommodate soccer and lacrosse. Additional funding for the $2.5 million project will come from property taxes at The Heights Amesbury apartment complex.
---
Grand Openings

Marquette University in Milwaukee recently unveiled its $24 million Athletic and Human Performance Research Center designed by global design firm Perkins+Will with partners HGA. The 47,000-square-foot facility includes 5,400 square feet of research space, human performance laboratories, custom locker rooms for the lacrosse and golf teams, an indoor golf training area, a film room, a nutrition center, and strength and conditioning space with a turf area and a cardio mezzanine for the entire athletics department. The university broke ground on the project in March 2018 at the site of a former parking lot on campus. The building is the second facility to be completed as part of Marquette's $600 million campus master plan.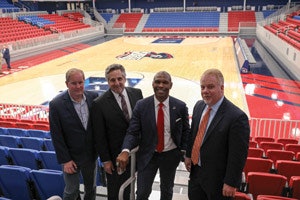 Robert Morris University in Moon, Penn., hosted a reception May 1 to commemorate the opening of the new UPMC Events Center on campus. The $50 million, 161,000-square-foot facility by Ross Bianco Architects features a 5,200-square-foot conference center and the 4,000-seat People's Court, which will be the home of RMU's volleyball and basketball programs. The new People's Court replaces the former Sewall Center with a larger arena and modern amenities, including a large video board, wireless internet, upgraded concessions, chairback seating and a dedicated student section. The conference center provides space for university commencement services as well as on-campus concerts. The UPMC Events Center also incorporates a full-sized practice court, offices for coaches and media relations staff, and a training and rehabilitation facility with a therapy pool.
The City of Aurora, Colo., last month unveiled the Central Recreation Center — Aurora's first new recreation center in more than 40 years. The $34 million, 61,250-square-foot facility, designed by Populous of Denver, features first-of-their-kind amenities such as the innovative wave pool and a waterslide with interactive videos that allow visitors to customize a themed experience, as well as an outdoor fitness balcony that offers a clear view of the Colorado Front Range Mountains, an interactive escape room and an integrated art installation. The facility also includes a gymnasium, a walking track, a natatorium, two fitness studios, a fitness grandstand, an indoor track, a catering kitchen, two multipurpose meeting rooms and flexible outdoor spaces. A formal ribbon-cutting ceremony was held May 9.
---
This article originally appeared in the June 2019 issue of Athletic Business with the title "Forward Progress." Athletic Business is a free magazine for professionals in the athletic, fitness and recreation industry. Click here to subscribe.