Check out the newest products as seen in the September 2019 issue.
Pentair
Pentair's new WhisperFloXF™VS 5HP commercial variable-speed pool pump is an easy-to-use, energy-efficient solution for commercial YMCA, JCC, high school, athletic club and community recreational pools. The WhisperFloXF™VS 5HP is designed to run on either single- or three-phase power and has a built-in drive eliminating the need for external storage.
www.pentair.com
(800) 831-7133
---
CRYO Science
°CRYO is the leading innovator in the development and production of cryotherapy machines and applications, manufacturing luxury cryogenic solutions that are safe, state-of-the-art and comfortable for both whole-body and localized therapies. °CRYO's safe whole-body cryotherapy machine, the °CRYO Arctic™, uses patented heat exchange technology to ensure users are only exposed to breathable air and never come into contact with cryogenic gases like nitrogen. The mobile and versatile °CRYO Penguin™ is available for localized cryotherapy treatment. These machines are trusted and used by the U.S. Air Force and the NFL, among other premium clients.
www.cryosc.com
(800) 392-4158
---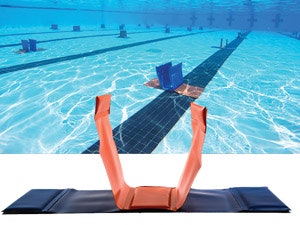 Aqua-Conscience
Traditional aquatics programs fail to provide verifiable, comprehensive lifeguard coverage. Too often this results in surveillance blind spots and unreasonably large coverage zones that put swimmers at risk and set lifeguards up to fail. Proper scientific testing must be conducted to ensure an adequate number of lifeguards are on duty, and that the lifeguards are properly positioned to identify patrons in distress. Aqua-Conscience products and testing procedures were developed to optimize key safety factors that reduce the risk of preventable drownings, providing a scientific solution for aquatic safety that ensures comprehensive visual coverage.
www.aqua-conscience.com
(800) 233-1609
---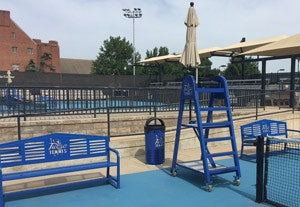 American Shade Design
American Shade's custom logo benches, trash receptacles and patented umpire chairs allow facilities to display pride in their brand. Logos are laser cut into steel with bench logos visible on both the front and back. All American Shade products are custom-fabricated using heavy-gauge USA Steel that is powder coated with high-performance, weather-resistant material in custom colors. In addition to logo products, American Shade provides spectator shading structures such as those at the new University of Texas at Austin tennis facility. American Shade has provided quality products to more than 40 NCAA, USTA and high school facilities.
www.americanshadedesign.com
(800) 366-0194
---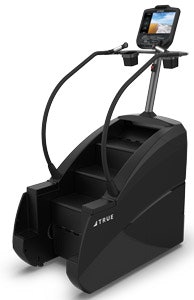 TRUE Fitness
The TRUE Palisade Climber is the perfect solution for fitness facilities, offering exceptional craftsmanship, a sleek exterior and simplistic serviceability. TRUE constructed the Palisade Climber from the ground up to meet the needs of users, service technicians and facility owners. When building the Palisade Climber, TRUE engineers over-designed many of the components to maintain the highest level of quality. Because serviceability was a key design aspect of the Palisade Climber, the front panel is removable for easy access to the electrical, drive and resistance systems. An AC Drive was chosen to ensure longevity and quality while being whisper quiet. In addition, the Palisade boasts one of the strongest and deepest steps and features integrated infrared sensors and a double-braking system for the highest level of safety.
www.truefitness.com/commercial-fitness/palisade/
(800) 426-6570
---
This article originally appeared in the September 2019 issue of Athletic Business with the title "New & Improved." Athletic Business is a free magazine for professionals in the athletic, fitness and recreation industry. Click here to subscribe.