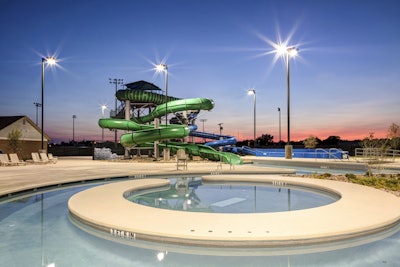 The following content is supported by one of our advertising partners. To learn more about sponsored content, click here.
For years, local leaders in Abilene, Texas, endeavored to bring in an outside operator to open a waterpark — a Wet 'n Wild or some other national brand. The idea never gained a lot of momentum, though, thanks in part to an ongoing water-shortage crisis in that West Texas community.
"But we did see that there was interest out there from residents," says Chris Gibson, assistant director of community services for the City of Abilene. "As time went on and the water crisis ended, we realized how important it was for us to give citizens a good aquatics facility — one they wouldn't have to drive three hours to the Arlington-Dallas area to use."
Enter Adventure Cove, a delightful pirate-themed municipal outdoor waterpark that features three slides, a zero-depth entry pool and a lazy river, all located in 105-year-old Rose Park, which hosted Elvis Presley concerts back in the day.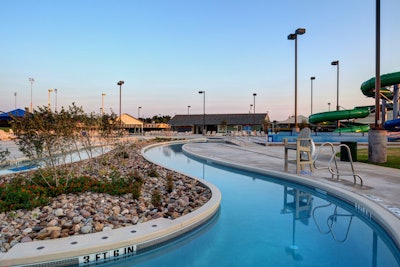 The $6 million facility — powered by Pentair and made possible thanks to the passage of an $81 million bond referendum in 2015 — replaced a decades-old L-shaped community pool and opened in mid-2017. This summer, a new slide was added, and the venue attracts more than 1,000 patrons on any given summer Saturday. Overall attendance is approaching 20,000 visitors per month during peak season, because nothing else like it exists for miles around.
Adventure Cove, whose architect of record is Eikon Consulting Group in Sanger, Texas, also serves as a valuable template for other cities looking to replicate Abilene's success.
"What Abilene did really well is listen to the community, so when it came time for us to design the facility, we knew that our big goals were a lazy river, zero-depth entry and water slides," says Jen Gerber, senior business development coordinator for Water Technology Inc., the project's Forth Worth, Texas-based aquatic design and consulting firm. "A lot of great work happened over a short period of time. What slows down any project is when there's hemming and hawing about decisions. But Abilene had a really engaged stakeholder group that made timely decisions."
Powered by Pentair
Abilene officials knew Adventure Cove would be a hit, and they planned accordingly — surveying residents, outlining objectives and then allowing WTI to recommend and install nine powerful Pentair Aurora 340 Series pumps to keep the water (and the fun) flowing all day long.
"Pentair's Aurora pumps have been a Water Tech standard for a long time," Gerber says. "They're extremely reliable, and on top of that, we've had really good support from Pentair and its distributors."
In fact, the pumps are so reliable that Gibson — who oversees the facility's operations and programming sides more than its infrastructure — knows very little about them.
"If you're in my position, and you're working directly with a manufacturer or its service provider, it's usually because you're having issues with the equipment," he says. "So right there, that's a big kudos to Pentair, because we don't need to interact with the company."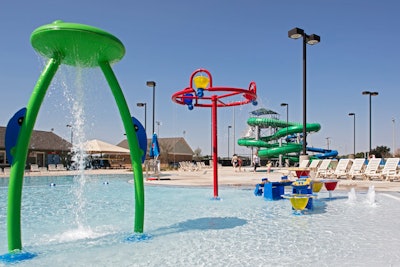 Fun side note: Gibson has been so impressed with Pentair's performance at Adventure Cove that he switched over some of the equipment on his own residential pool to Pentair products. "I did a lot of research and talked to other pool owners in the community," he says, "and Pentair always came to the top of the list as far as equipment goes."
A Park for Everyone
To back up the quality equipment that powers Adventure Cove, the City of Abilene pays its lifeguards and concessions workers more than the standard rates in the area in an effort to retain quality staff.
"We soon realized that we if we didn't, we weren't going to be able to retain lifeguards like we wanted to, and that it was going to decrease our rate of return, because of all the retraining each season," Gibson says. "We're competing against country clubs and local colleges, and we need to make it worthwhile for our lifeguards to stay and come back year after year. It's better to have a competitive rate up front, which will stabilize our retention."
While hourly wages are higher than at competing facilities, Abilene officials strive to keep Adventure Cove admission fees low. Admission is $4 for children under 48 inches, $6 for children taller than 48 inches and $7 for adults.
"Part of the city council's goal was to make sure that we had a park that everyone can afford to use," Gibson says, adding that Abilene's extensive networks of splash parks offers free admission.
Residents of Abilene and neighboring cities have embraced Adventure Cove. "In this area, there really aren't a lot of opportunities for people to participate in aquatics, other than a swimming pool," Gibson says, noting that additional property surrounding the park provides room for expansion. "Adventure Cove brings local people together and encourages those in surrounding communities to come spend money in Abilene for the day."
"Adventure Cove has a captive audience, and it really serves that audience," Gerber concludes. "Abilene is a great example of an excited group of city officials who wanted to make something happen, made all the right decisions in that regard and then let us give them exactly that they wanted."