First Pitch
Fairfield University has unveiled plans to build a new Convocation Center, which will play host to the school's basketball and volleyball programs, prep basketball, convocations, concerts and other gatherings. Designed by Centerbrook Architects and Planners, the 85,000-square-foot, 3,500-seat facility will replace Fairfield's Alumni Hall. Construction is expected to begin in spring 2020, and take between 18 and 24 months to complete.
The city of Medford, Ore., is seeking approval for a $50 million aquatics and event center. Plans call for a 160,000-square-foot facility, with amenities such as water slides, a lazy river and a competition pool. The city council will decide when to present funding options to local voters, who will have the opportunity to weigh in before the plan moves forward.
Cal State Fullerton announced plans to upgrade its baseball and softball clubhouse facilities. The project, which is expected to cost between $10 million and $12 million, includes locker room and shower areas, team meeting rooms and study space. Groundbreaking is slated to begin after the 2020 season, with completion prior to the 2021 season.
In September, the University of Nebraska announced plans to construct a $155 million football and athletic facility — one that the school says will be the largest of its kind in the country. Plans call for a 350,000-square-foot complex sited just northeast of Memorial Stadium. While the facility will house the football program, providing it with a new locker room, a strength and conditioning center, an athletic medicine facility, an equipment room, meeting rooms, coaches' offices and an outdoor practice facility, each of the school's more than 600 student-athletes will benefit from the planned training table and academic support spaces.
---
Grand Openings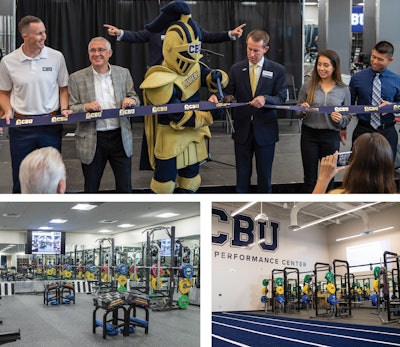 California Baptist University recently held a dedication ceremony for its Athletic Performance Center. The facility features a 10,800-square-foot weight room, the largest in the state of California among Division I non-football schools, with 14 squat racks, 18 pulley stations and 12 sets of dumbbells. In addition, the facility offers dedicated nutrition space, a basketball practice facility and more. Each of the school's 18 teams will use the facility.
Dartmouth College has dedicated its newly renovated Friends of Dartmouth Rowing Boathouse. The $7.5 million project, funded by private donations, includes moving-water rowing tanks and ergometers for year-round training, and expands the facility to provide more training space for the school's three rowing teams, allowing them all to train simultaneously.
Kent State University recently celebrated the official opening of its Basketball and Volleyball Development Center. Located within the Memorial Athletic and Convocation Center Annex, the facility provides dedicated practice space for the school's basketball and volleyball teams.
Wake Forest University held a grand opening for its Sutton Sports Performance Center and Shah Basketball Complex. The Sutton Sports Performance Center will serve all of Wake Forest's student-athletes, providing them with a four-level, 87,000-square-foot space with strength and conditioning facilities. Amenities include 10,000 square feet of dedicated strength and conditioning equipment for football, along with space reserved for men's and women's Olympic sports. Additional amenities include meeting rooms, coaches' offices and "heritage areas." The Shah Basketball complex will encompass 24,400 square feet, and provide both the men's and women's basketball programs with dedicated practice space, complete with 6,000 square feet earmarked for each program's strength and conditioning equipment.
---
Breaking Ground
In September, Michigan State University broke ground on the $18.8 million renovation and expansion of Munn Ice Arena. Scheduled for completion next fall, the project will add 35,000 square feet to the facility and provide amenities such as a locker room, a weight room, training areas, hydrotherapy pools, shooting bays and a player lounge.
Austin FC recently broke ground on the club's planned $242 million soccer-specific stadium. Set to open in 2021, when the club will make its MLS debut, the 20,500-seat facility will have a canopy roof overhead, as well as a grass playing surface and a safe standing zone for the club's supporters. The stadium is envisioned as part of a 24-acre soccer park, which will be available to the community year-round.
Osceola (Neb.) Public Schools recently broke ground on a $7.7 million elementary school addition that will add 26,000 square feet to the school campus. The addition will include a new competition gymnasium, four locker rooms, an athletic training room and coaches' offices, as well as day care facilities.
Albion College broke ground recently on a renovation and expansion of the Dow Recreation and Wellness Center. The project will add 11,000 square feet to the facility, as well as renovate 7,000 square feet, providing expanded fitness opportunities for students. A 5,000-square-foot weight room and cardio center, a new multipurpose room, renovated locker room and restroom spaces, and a new smoothie bar are among planned amenities. The facility is expected to be completed in May 2020.
The Cleveland Browns have announced plans to open a 20,000-square-foot fitness facility in the Flats of Downtown Cleveland this November. Browns Fit will offer members high-quality workout equipment, personal training, group fitness classes, a recovery lounge, locker rooms and more. The Browns join the NFL's Chicago Bears, Dallas Cowboys and San Francisco 49ers as franchises with team-focused fitness facilities to serve their fans.
---
This article originally appeared in the November | December 2019 issue of Athletic Business with the title "Forward Progress." Athletic Business is a free magazine for professionals in the athletic, fitness and recreation industry. Click here to subscribe.