Check out the newest products as seen in the January | February 2020 issue.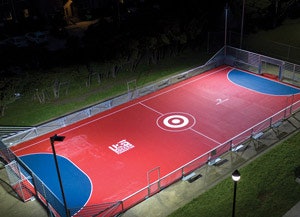 Musco
The Mini-Pitch System™ is a modular sports solution that revitalizes public areas to help communities create fun and active play spaces. The system features a galvanized steel structure that incorporates lighting, fencing, soccer goals, benches, ADA-compliant access and lockable storage as an all-in-one solution. The size of the pitch can be adjusted, and signage can be customized. The Mini-Pitch is ideal for transforming abandoned courts and other underutilized areas into places where children and families can come together. The system supports the U.S. Soccer Foundation's "It's Everyone's Game" movement to ensure that all children have access to the sport and its benefits.
www.musco.com
(641) 676-2652
---
Foreman Locker Systems
The FOREMAN Locker Systems' MVP (Most Value Per) locker combines Foreman's Superior FUNDERMAX HPL Panels with an extruded aircraft-quality aluminum profile. There are six standard colors kept in stock for quick turnaround. The MVP model, which comes in heights of 72 or 80 inches, has two lockable compartments, a standard clothes bar and two side hooks, and is ideal for college or high school athletic programs.
www.foremanlockers.com
(951) 677-1955
---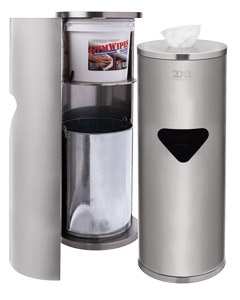 2XL Corporation
The G4 Stainless Stand designed by 2XL Corporation was customized and engineered to solve challenges and pain points addressed by customers and professionals. The G4 includes an ADA-approved one-piece body construction complete with an 8.5-gallon, galvanized steel trash bin. A built-in lid prevents the loss of lids and requires no removal, while a front-facing piano-hinged magnetic door allows for quick and easy access to the interior trash bin and wipes.
www.2xlcorp.com
(888) 977-3726
---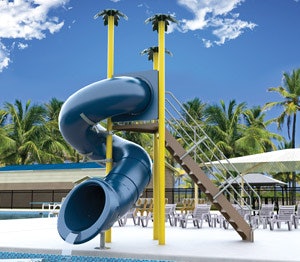 Spectrum Aquatics
High-quality, commercial-grade water slides from Spectrum Aquatics are fun for all ages. Pool structures are available in a variety of design options. Safety is a top priority, as evidenced by the slides' slip-resistant platform. These safe, colorful and highly visible slides will give pools a fresh look that will last for years to come.
www.spectrumproducts.com
(800) 791-8056
---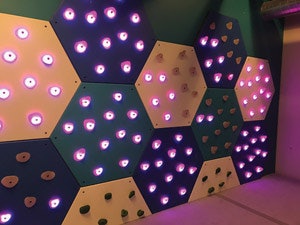 Exergame Fitness
GlowHolds interactive climbing walls combine illuminated, touch-sensitive holds with cloud-based content to deliver advanced interactive entertainment. With games and activities that are designed to challenge, GlowHolds offers climbers of all ages a fun and engaging experience. GlowHolds includes a kid-friendly control panel to select games and activities. Designed for the youngest of users, ClimbItControl uses large buttons and voice prompts to guide the user.
www.exergamefitness.com/glowholds-interactive-climbing/
(847) 963-8969
---
This article originally appeared in the January | February 2020 issue of Athletic Business with the title "New & Improved." Athletic Business is a free magazine for professionals in the athletic, fitness and recreation industry. Click here to subscribe.