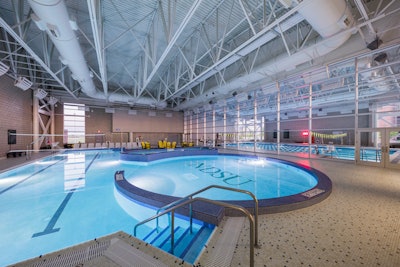 The following content is supported by one of Athletic Business's advertising partners. To learn more about sponsored content, click here.
---
The students at North Dakota State University in Fargo had gone long enough without a swimming pool. A dilapidated pool inside the campus athletic complex had been shuttered for years, and by the early 2010s, demand for a contemporary aquatics center had reached its peak.
In 2013, the student body passed a resolution calling for an aquatics addition to the Wallman Wellness Center; three years later, in fall 2016, a 28,547-square-foot facility opened with a six-lane 25-yard lap pool, a leisure pool with zero-depth entry, a spacious spa, a vortex circle, built-in bar stools, an indoor fire pit and multiple lounge spaces.
Call it an aquatics student union — with a little something for everyone.
"The whole idea came from the students," says Ryan MacMaster, assistant director of operations and aquatics for the wellness center. "Their philosophy was to have a pool facility where even non-swimmers would feel welcome and want to come with their friends. This was student-initiated and student-driven, and representatives from the student body sat on the design committee. They had a voice in the conversations, because they are the ones who actually passed that resolution to take the fee increase and pay for everything."
In return for their commitment, NDSU students receive plenty of opportunities to use both the lap and leisure pools. The facility hosts "floaty nights" (during which MacMaster fills the pool with up to 70 giant inflatable creatures), night swimming sessions four times per week with reduced lighting and additional lifeguards, Canoe Battleship tournaments, paddleboard yoga and other water fitness classes, themed movie nights and swim classes. And a build-your-own-boat competition will debut this spring. Larger events can attract as many as 200 students each.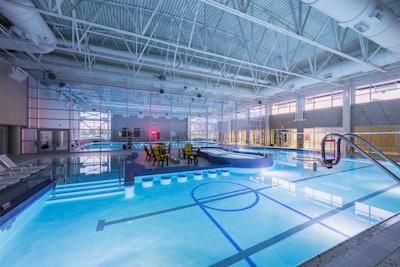 "The goal was to create an open, safe, comfortable environment by using natural light and open sightlines," says Justin Caron, principal of Carlsbad, Calif.-based Aquatic Design Group, which worked with lead architect RDG Planning & Design in Des Moines, Iowa, as the project's aquatic design consultant
To that end, a floor-to-ceiling glass curtain wall separates the lap pool from the leisure pool area. "It's a very practical solution, but also a very sustainable one in that the HVAC systems for each side operate independently and can be dialed into each space's sweet spot," Caron says.
Additionally, the pools are heated through heat-exchange systems that tie in with the rest of the building. Excess heat in the wellness center's HVAC system is used to heat the pools, which cuts down considerably on energy costs.
The Wallman Wellness Center (which remained open during construction of the aquatics addition) first opened in 2001. A 2007 addition resulted in more basketball courts and multipurpose gymnasium space, along with an indoor running track, fitness studios and racquetball courts. The opening of the $11 million aquatics addition represented the culmination of a 15-year period during which NDSU went from offering minimal recreation and wellness opportunities in existing athletic complexes to providing a dedicated facility that is now one of the most popular buildings on campus.
Pentair Aplenty
The Wallman Wellness Center is packed with Pentair equipment that includes not only such critical mechanical gear as WhisperFloXF® and CHK Series® pumps but also a suite of safety and maintenance equipment that features rescue hooks, pool brushes and vacuum hoses.
Pentair's Paragon brand of pool deck equipment also is showcased in the facility in the form of at least a dozen different products ranging from anchors and sockets, to water polo goals and basketball hoops, to rail goods and side-mount starting blocks.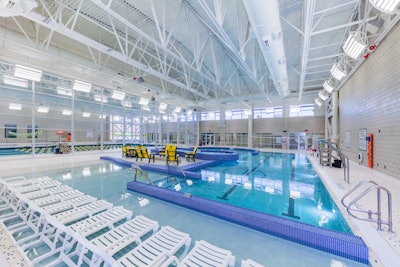 "It's not uncommon to see a lot of Pentair equipment on one of our projects," Caron says. "Pentair has a tremendous reputation in the industry and is well supported in the Fargo area."
Caron explains that his firm specs equipment based on three key criteria. First, the equipment must be the right solution for the project and allow the pool to operate as efficiently as possible while also meeting cost and size parameters. Next, Aquatic Design Group likes to ensure that the equipment can be serviced by local vendors. Finally, products are specified — especially in the public sector — based on whether local contractors are familiar with Pentair products and have solid relationships with the manufacturer.
As was the case at North Dakota State, Pentair typically ticks all three boxes.
Nearly four years after the Wallman Wellness Center opened, MacMaster couldn't be happier with the equipment approach Aquatic Design Group took with this project.
"I have zero issues with the mechanics of our facility," he says. "Everything runs really, really well."
'Friendly and safe spaces'
Although the Wallman Wellness Center is not open to all residents of the Fargo area, students from NDSU's Swim Academy teach Red Cross Learn-to-Swim programs to children and young teenagers during the school year and throughout the summer, and those families enjoy the aquatics center's community-centric amenities.
In fact, the facility's design — plus its mission to attract both aquatics enthusiasts and non-swimmers — is what makes it so special, according to MacMaster. "I think if we just had a lap pool, we would miss out on a lot of the demographics we attract," he says.
Caron agrees. "It offers friendly and safe spaces for people with modesty concerns or who want to be around the environment but not immersed in it. Plus you don't see a lot of fire pits in college aquatic centers; there's something very Fargo about that," he says, referring to the 1996 dark-comedy film. "But it was done intentionally to create a very social space."