When renovating or planning a new water facility for children, optimizing value and maximizing functionality go hand in hand. To optimize revenue generation at an aquatic facility, the more resources leaders invest in the amenities, the more desirable an attraction the aquatic center will become to a wider audience as well as from a regional perspective.
While fitness, childcare or pre-school, and banquet facilities are key revenue drivers for large-scale facilities and park districts or departments, aquatics can and will generate positive revenue when properly executed. Creating multifunctional spaces is the key to not only maximizing value and but also increasing usability. Here are strategies.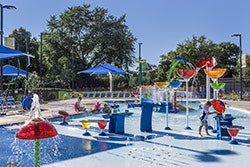 STRATEGY
Maximum + Decisive Variety. Adding a variety of features and amenities to the shallower parts of the pool will increase its functionality and appeal to young children and their parents, bringing more value. Adding a wading pool gives children a wider variety of options for play—they have an area where just their toes get wet as well as an area where they can get into the water and learn to be comfortable with the different types of play equipment.
Wading pools present an opportunity to create an active play area for toddlers. A zero-depth entry transition zone between the deeper wading pool water and an adjacent splash pad provides ample play area and space for amenities that have little to no standing water on the ground. More variety of water amenities means a greater number of patrons will be attracted to the park and are likely to stay longer because there is more for them to do.
New Splash Pads = Smart Value. When budget considerations are at play, a splash pad is one way to economize as they cost less than wading pools but are oftentimes just as popular. Splash pads are very similar to wading pools but without the standing water, and their lower cost frees up the budget for the larger amenities that draw crowds. One example project in Mt. Vernon, IL, spent $50/sf on a splash pad, rather than $200/sf for a wading pool, leaving a portion of the difference in funds for large water play amenities.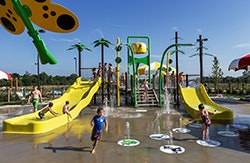 For many projects, the biggest expenditure is a large play feature in the wading pool or splash pad, which provides a greater ROI because a tot area with more amenities draws more people to the facility. Before investing heavily in play features that cater to families with small children, communities should analyze their demographics to ensure there are adequate population densities in those age groups to justify the expenditure.
Upgraded Splash Pads = Decisive Benefit. Another way to stretch a budget is to refresh existing splash pads and update amenities that are already in place rather than adding something new. The Bloomingdale Park District is one example. They updated their facility but kept their spray pad, which included a large play structure, and updated the play feature to replace the existing slide with a new one that included its own run-out. The new slide and refurbished play structure were a substantial upgrade to the spray pool, but the cost was significantly less than new construction because they kept the major plumbing and structural pieces in place.
Popular Rental Areas. An upgrade unavoidably includes some level of expenditure. One way to offset those costs is to provide additional revenue through rental areas within the facility. Rental areas are popular for families or small groups who have children and want a central place to gather and store their things. These are often somewhat secluded deck areas that include a shade component of some sort.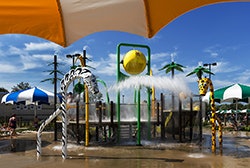 At Magic Waters in Rockford, IL, there are small cabanas that can be rented for several hours, giving small and medium groups a shaded "home base" if they want to get out of the water and eat or relax for a while. The cabanas are relatively inexpensive to build and maintain yet provide a great new amenity to attract patrons with a significant ROI.
The Interest of a Playground. With a design focused on providing a variety of different aquatic spaces that appeal to kids and families, it helps to approach the facility like a playground, including as much variety and interest as possible. This could include bright colors and pleasing shapes, a few different low-depth play areas in the water such as soft play, climbable foam animals within the wading pool for small children, and even current channels so that kids can get used to moving water.
A major component to this variety is acclimating young kids to water in various ways. They are more likely to be comfortable learning to swim when they are older because they have been exposed to a variety of different things that water can do and feel comfortable in various water depths and situations.
INSIGHT
Establishing and Investing in Priorities. The key part of early planning is to establish the budget and decide how to allocate funds. Funding will drive many design decisions and determine where to focus investment. Stakeholders determine priorities based on their current demographics and predictions for the future, both for children/families as well as for teens and adults.
Parents of young children are often the most active users of an aquatic facility and are even more likely to use it if there are appealing amenities. Therefore, they are often at the top of the list of demographic priorities. While it is less expensive to provide a zero-depth area in the regular pool, stakeholders who are targeting young families may choose to invest in a separate toddler pool if they forecast an adequate ROI in attendance numbers and admission revenue, thereby reducing, or eliminating, the amount of zero-depth water in the main pool. Toddler areas that are separate from the rest of the pool are perceived as safer and providing fences/gates to the toddler area is a best practice – even a code requirement in some states.
Small changes = significant impact. Civic leaders often underestimate the impact of even the smallest changes. They are intimately involved in the day-to-day running of the facilities and are understandably challenged to see things from the patrons' perspective. Simple, inexpensive changes like nicer lounge chairs and more appealing waste cans make the facility feel more like a resort. If a few small changes are enacted that make the facility nicer, people will want to spend more time enjoying the space.
Shade elements positively impact experience. The types of plants and other shade elements used are another small investment that can have a substantial impact on the character of the facility and patrons' perspective of it. A variety of vertical elements can provide shade in different ways throughout the facility. Several small umbrellas and pavilions can provide rest and congregation areas for individuals or small groups.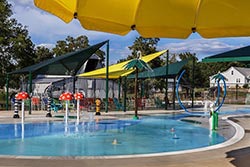 Larger, cantilevered shade structures can provide coverage for larger groups of 10+ people and have the potential to be rented out. These can be placed so that part of the shaded area is actually in the water, an option popular with parents who prefer to keep children out of direct sunlight. Trees—real or artificial—are an obvious source of shade. With real trees, designers aim to be conscious of when and where their leaves will fall.
Artificial palm trees add to the character of the space and can even be equipped with misters and other spray elements that add to the fun. Like the play amenities, creative use of shade elements is a way to provide a variety of different experiences within the pool area. Vertical shade elements make it feel like a destination in the same way that exciting amenities draw people in from surrounding communities and keep them coming back.
Comfort, safety and user friendly. Providing a unique experience that is comfortable, safe, and easy to use will attract visitors and ensure the adequate patron volumes necessary to recoup the expenses associated with building new features. How much or how little to spend in the first place is a careful calculation of budget and demographics to ensure that adequate numbers of local visitors and tourists of the right ages will take advantage of the new additions.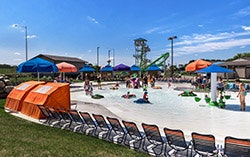 When leaders find the right balance, they can optimize value and function while also providing patrons with a fun experience that makes the community water park a popular destination for generation after generation. Re-investment in the facility every 7-10 years is important to keep it feeling "fresh" and up to date, and will keep your patrons from looking for the next, newest aquatic facility.
John C. Dzarnowski (
JohnD@fgmarchitects.com
), AIA, is Principal, Director, Municipal and Recreation with FGM ARCHITECTS.