Check out the newest products as seen in the July | August 2020 issue.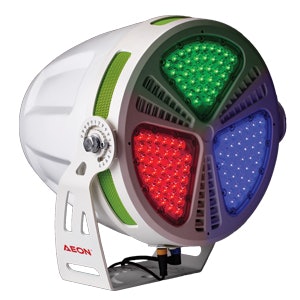 AEON LED Lighting
The AEON LED RGBA/RGBW Luminaire delivers simple and easy-to-use full-spectrum color flood lighting solutions that provide advanced functionality, versatility and operational efficacy. The AEON LED RGBA/RGBW Luminaire allows for dynamic scenes in indoor and outdoor settings, and is suitable for facade, architectural, wall washing, spotlighting and sports/flood lighting applications. Clients can build a state-of-the-art lighting system from the ground up, or advance a current lighting system into the new decade. AEON LED RGBA/RGBW is adaptable to various wired or wireless intelligent lighting controls. The LED can also be paired with AEON's HyLink Wireless Control for custom needs to maximize energy savings.
www.aeonledlighting.com
(803) 336-2230
---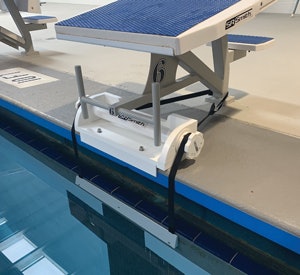 S.R.Smith
S.R.Smith's FINA-compliant Backstroke Start System is designed to be added to virtually any starting block style, with three mounting options — in deck, pool wall or platform post. The durable high-density polyethylene frame provides protection from harsh weather and pool environments. A raised diamond pattern on the ledge reduces the chance of slipping on the start, while the ledge height can be adjusted with one hand from in or out of the water. A training version is also available, attaching to most starting blocks with polyester straps that can be adjusted with stainless steel cam buckles.
www.srsmith.com/startwithvelocity
(800) 824-4387
---
Conica AG
The Swiss-based Conica Group has been developing innovative seamless flooring solutions based on polyurethane and epoxy resins for 40 years. Key products for sports flooring solutions are the CONIPUR SP, a reliable water-permeable spray-coating system — certified by World Athletics — that is popular in facilities that offer a variety of sports; the CONIPUR SW, a certified water-impermeable sandwich system for all weather conditions; and the CONIPUR 2LX+, a cost-effective, safe and comfortable track for sports, schools and training.
www.conica.com
---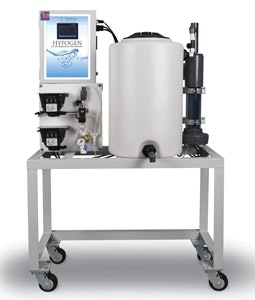 ChlorKing
HYPOGEN, an on-site hypochlorous acid generator from ChlorKing®, allows anyone to make their own high-strength sanitizer. The product allows sanitizer to be made on demand to keep surfaces clean at aquatic centers and athletic facilities. ChlorKing's technology uses salt, acid, water and electricity to generate hypochlorous acid with neutral electrolyzed water as its central component. HYPOGEN is all-natural, organic, ecologically safe and 100 times better than bleach for killing viruses and pathogens without hazardous chemicals.
www.chlorking.com
(800) 536-8180
---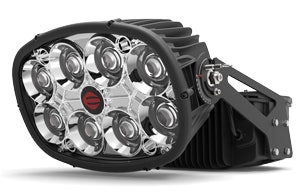 Ephesus Lighting
The new Ephesus LUMASPORT 8 sports lighting fixture, available at 55,000- or 90,000-lumen output, is engineered to provide outdoor municipal, high school and college facilities with a best-in-class solution. From design to installation and operation, the LUMASPORT product line offers facility operators the lowest total cost of ownership of any high-performance sports lighting system. Its two-piece assembly reduces installation time and costs while the innovative power-redundancy feature and the reliability of chip-on-board LEDs virtually eliminate maintenance. The LUMASPORT 8 precisely manages glare and light cutoff through a patented hybrid reflector and total internal reflection optical system. Additionally, introducing color Prism fixtures to the dynamic entertainment functionality brings a professional look to any field.
www.ephesuslighting.com
(800) 573-3600
---
Technogym
Technogym has added five new pieces to the 15-piece plate-loaded line of Pure Strength. Along with the addition of the Hip Thrust, Standing Abductor, Hack Squat, Pullover and Seated Calf, Technogym has introduced the new Glute Builder Training circuit designed to attract new customer groups looking to improve their body aesthetics. Pure movement trajectories are the result of biomechanics research aimed at defining the best balance between natural movement, safety and maximum muscle activation. For every piece of equipment, Technogym has tested all types of users to ensure a workload distributed throughout the entire movement trajectory. Ergonomics and visual flags guide users to the correct training position in order to ensure maximum effectiveness. By downloading the Mywellness app, members can view exercise videos, check training programs, add exercises and keep track of all activities. Every piece of equipment is fitted with a QR code that allows users to scan and get immediate guidance.
www.technogym.com

---
This article originally appeared in the July | August 2020 issue of Athletic Business with the title "New & Improved." Athletic Business is a free magazine for professionals in the athletic, fitness and recreation industry. Click here to subscribe.