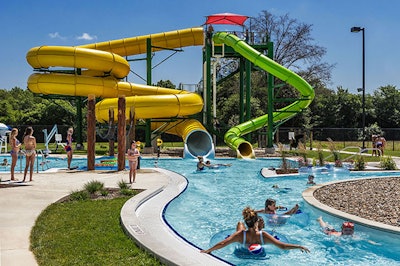 A well-designed and programmed aquatic facility is a great community investment and is often at the top of residents' wish lists. Not only do municipal pools support public health and contribute significantly to the social cohesiveness of a community, they are also very popular.
According to the latest U.S. Census report, swimming is the fourth-most popular sport in the United States. While all ages enjoy swimming, it is the most popular recreational activity for children and teens, ages seven to 17.
One of the challenges involved in putting together a municipal pool project involves choosing the amenities that appeal to patrons of all ages, as well as weighing cost and popularity to maximize the return on investment.
This is relatively easy to do with splash pads, wading pools and smaller slides aimed at toddlers, but amenities for teens and adults are often larger, more expensive and harder to plan for based on perceived interest and predicted use levels.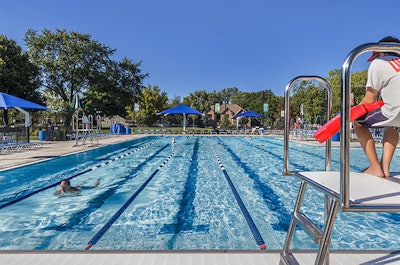 While many questions emerge, stakeholders and project teams may want to start with the "big picture" question of what their financial goals are for the project.
To assess financial objectives, the first step is to examine the overall budget and estimate the expenditure required to achieve the desired revenue. Studies performed by consultants on pro-forma considerations have shown that larger, more exciting features generate the most revenue and have the ability to draw in crowds from neighboring communities.
Even if the attraction is relatively modest, it may be unique enough to draw in visitors from nearby towns. They may not visit daily or weekly, but a few such visits per season from communities in the region will substantially increase revenues and place the facility in a different category than a neighborhood pool.
Integrate features
One way to set an aquatic attraction apart is to integrate multiple thrill features, such as large water slides, bowl slides and tube slides that are interconnected with another amenity.
One example facility had a fun house attraction set up on the stairs to the bowl slide, where guests could use spray guns to spray people going down the slide, making the slide amenity part of a larger experience.
Another project included a tube slide that emptied into a plunge pool with an option to either stay on the tube and continue to a lazy river, or climb out immediately to utilize a water walk with water guns and other attractions. Tying multiple elements together creates a unique synergistic experience that will attract visitors and keep them coming back.
Compose experiences
While many of these attractions are relatively ordinary individually, by developing a unique composition of experiences, designers can optimize the existing elements of the facility and build visitor fun and enjoyment around them. In this way, facilities that wish to add features but do not have the budget for a major renovation can transform the user experience while keeping many existing elements.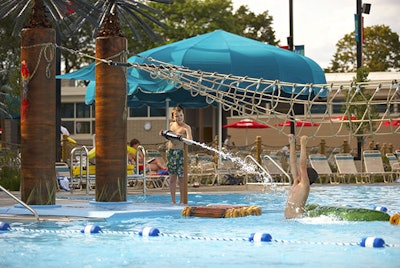 When space is limited, large slides can empty into a runout with self-contained water rather than emptying into a pool, so this feature does not affect the number and size of existing pools. This type of solution can be added years after the facility opens to refresh interest without having to add a new body of water.
Dual use
Another way to make a substantial change while minimizing financial requirements is to structure the facility to optimize dual usage of the features.
Though a local swim team may use the pool for swimming laps during their practice, there is not an ongoing need for lap lanes. Instead of a lap pool sitting idle the rest of the day, project leaders can incorporate a lap pool with deep water at one end to be used for diving, slides and open swimming. During swim practice and before the pool opens to the public, the pool can easily be converted to lap lanes.
Another option is to keep a number of lap lanes available all day. Simply open more during lap-swimming events and close them off during public swimming hours. This type of operations approach allows the public pool to be used by private groups — swim teams and exercise classes, as well as pool rentals — outside of normal operating hours, providing the potential for increased revenue.
Maximize creative programming
Regardless of the scope and budget of the project, one of the most significant challenges is to provide adequate programming opportunities for infants to adults without allocating too much for any single level of experience.
For teens, the key is to add something that generates interest without requiring excessive funds in order to maximize ROI. The possibility of generating additional revenue can be found by embracing some creative programming opportunities.
A deep-water area with 13-foot depth can be used outside of public swimming hours to teach kayaking or scuba lessons. Another popular programming opportunity is gated or fenced "adults only" areas, which can take a variety of forms — outdoor therapy pools with warmer water for senior aerobics, or even simply quiet areas remote from active children.
Optimize funds by optimizing ROI
In many projects, the best way to optimize the available budget is to upgrade an existing pool. Several key considerations help achieve success in most projects. For instance, water depth is important. The most used water in the pool is 2 feet to 4 feet deep, so the focus should be on optimizing amenities at those depths.
Building on water depth, the next step is to evaluate the existing amenities and see what can be added to bring premium value at a reasonable cost.
One popular addition that optimizes ROI is a climbing wall. This amenity meets so many objectives — the cost is relatively low; it is generally straightforward to add to an existing pool, and it is a popular thrill for teens.
Other creative ways to repurpose existing facilities include adding a dive well with a 3-meter diving board and a drop slide off the same platform that could even connect to an adjacent climbing wall.
Each facility and situation is unique, and it is up to developers and project teams to design or add on to the facility in a way that serves community members.
A pragmatic evaluation of the budget helps set priorities for what is included in the project and any opportunity to combine uses or optimize the existing infrastructure is a chance to practice good stewardship of the budget. Creative combinations provide a user experience that sets the facility apart, and the novelty of those unique solutions bring value in their own right.
A solid combination of approaches has the power of a total effect: a transformation of a neighborhood pool, especially for teens, into a regional attraction with minimal investment through the right planning and decision-making.
John C. Dzarnowski is director of Municipal and Recreation with FGM ARCHITECTS.