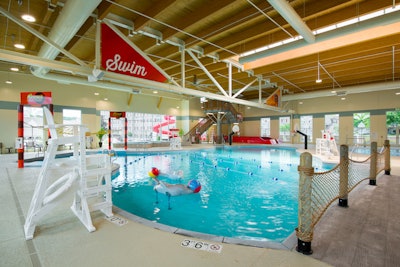 The following content is supported by one of Athletic Business's advertising partners. To learn more about sponsored content, click here.
Hershey, Pa., is known as the sweetest place on earth, thanks to its status as the home of chocolate giant The Hershey Company. So when the time came to replace the 40-year-old indoor and outdoor pools at Hershey Lodge — a 665-room resort and convention center located near the Hersheypark® theme park — the facility's leadership opted to embrace a tasty motif.
The colorful result is Hershey's Water Works at Hershey Lodge, a $13 million, 30,000-square-foot complex that opened in 2016 and can accommodate almost 800 guests at any given time. Highlights include a 3,000-square-foot leisure pool with sprays, floatables and lily pad walks that look like Reese's Peanut Butter Cups; a 1,300-square-foot children's pool with geysers and interactive sprays; slides designed to look like Twizzlers Twists; a 1,500-square-foot indoor splash pad with a themed lighthouse play structure; two basketball hoops; a 245-square-foot whirlpool; a 700-square-foot outdoor splash pad; and the indoor Cocoa Cabana dining area. The facility features Pentair pumps, lighting and other equipment that help keep it operating efficiently all year long.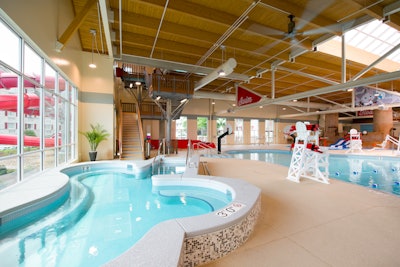 "The collaboration process included a lot of back-and-forth between us and Hershey's teams to ensure that we would provide them what they were looking for," says project manager Bill Bornick of Water Technology Inc., the facility's prime architect and a longtime aquatic design partner with Hershey Entertainment and Resorts. "We worked with a consolidated group that was able to really home in on what needed to be done and make key decisions. I like being part of that kind of environment, which is often common on hotel/resort projects."
The staff at Hershey's Water Works are pleased with how things turned out, too, as the waterpark has generated plenty of repeat business.
"The most rewarding aspect of Hershey's Water Works is watching how families respond to the experience when they return each year," says Lindsay Campbell, director of recreation at Hershey Lodge. "I've watched families come one year and play in the children's pool or slide down the kid's castle, and the following year they are conquering the Reese's Water Walk or the Twizzlers Twists slides. It is also wonderful to see the Hershey's brands come to life throughout the facility and to hear how that delights our guests."
Powered by Pentair
Several of Pentair's Aurora 341, Sta-Rite Max-E-Pro and EQ Series pumps power Hershey's Water Works, and the pools are illuminated by the company's IntelliBrite® 5G white LED lights. Pentair's Sta-Rite skimmers, floor and wall inlets are among the deck equipment in place, the outdoor spray pad boasts Pentair's Triton TR 140 sand filter, and lifeguards have access to a Pentair life hook and rescue pole.
"Pentair makes very good, high quality products, and that's what we want to specify, because we know they're going to last," Bornick says. "The company offers a wide range of equipment available in one place and can respond quickly to last-minute equipment changes, if necessary."
The inclusion of a variety of Pentair equipment at Hershey's Water Works likely will pay long-term dividends for the facility, he adds.
"It will help the owner five years, 10 years down the road," Bornick says. "Sourcing so many things from Pentair gives the owner a primary place to go when equipment needs to be replaced, which is really helpful. Pentair is a reliable vendor that prides itself on good relationships. You can call them up regarding an issue, and they will help you resolve it."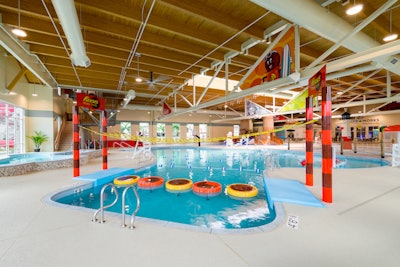 'Whatever we need, when we need It'
WTI works on as many as 200 aquatic projects every year, and usually 25 percent of them fall into the category of commercial waterparks and destination resorts with waterparks, such as Hershey Lodge.
"Our equipment specification process is the same for all of our projects, though the equipment selection itself might vary," says Jen Gerber, WTI's business development leader. "We identify the owner and operator's needs and budget, and we work closely with the entire design and ownership team to ensure that the equipment being specified for that project is the best fit for those needs."
"Pentair will work with you to make sure the client is happy in the end, and they get us whatever we need, when we need it," Bornick adds. "I've worked with Pentair on several projects, and my experience has always been good."
That was certainly the case with Hershey's Water Works, which remains one of Bornick's favorites. "I really like the finished look," the 21-year WTI veteran says. "This project had the most distinct theming I've ever done. It's not the biggest project, but it's very unique."