Check out the newest products as seen in the May 2021 issue.
Insane Impact
Insane Impact's LED displays are intended to enhance experiences, gather community and create memories. The MAX 2313, Insane Impact's latest addition to the MAX Mobile LED product suite, offers a screen that's 23 feet wide and 13 feet high. The massive screen combines with adjustable height, 360-degree screen rotation and a 160-degree viewing angle to capture large audiences from up to 500 feet away at any angle. In addition to its size factor, the MAX 2313 features easy setup and operation, crystal clear picture, USA-based sales and support, and weatherproof design — all backed by an industry-leading five-year warranty and replacement parts package.
www.insaneimpact.com
info@insaneimpact.com
(855) 717-1555
---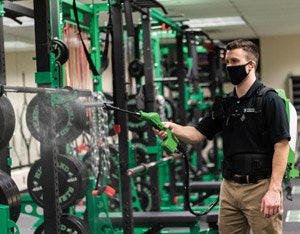 Victory Innovations
When it comes to protecting players, coaches and fans from the spread of COVID-19 and other illness-causing pathogens, a surface that "looks" clean just doesn't cut it. Keeping gyms, arenas and stands open requires an infection prevention protocol that delivers total surface disinfection. With electrostatic sprayers from Victory Innovations, facilities can achieve a more complete — and confident — clean for everyone. Victory's electrostatic sprayers can help quickly and efficiently disinfect everything from weight rooms to stadiums. Users can achieve 360-degree disinfection coverage on all high-touch athletic surfaces using the touchless application, which also reduces the risk of cross contamination.
info.victoryinnovations.com/athletics
---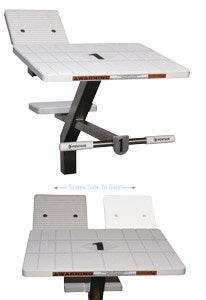 Pentair
Upgrade existing platforms with Pentair Paragon™ Track Start Plus +™ STS. The starting platform helps athletic facilities looking to upgrade their existing platforms instantly improve the caliber of their aquatic facility. The Paragon Track Start Plus + STS starting platform offers a side-to-side adjustable backplate that provides swimmers with infinite positioning and comfort while enhancing swimmer performance and allowing for unimpeded rear access. The kick plate adjusts from side to side and can be easily removed for storage. Powder coat color options are available for the frame, as well as for the non-skid sand finish kick plate.
www.pentair.com
(800) 831-7133
---
This article originally appeared in the May 2021 issue of Athletic Business with the title "New & Improved." Athletic Business is a free magazine for professionals in the athletic, fitness and recreation industry. Click here to subscribe.