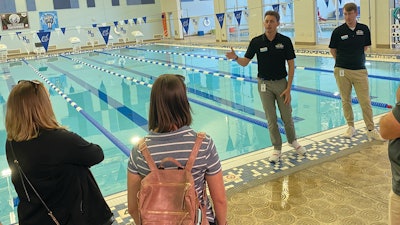 On July 21, 2018, a patron slipped and fell on the concrete indoor pool deck at Das Rec in New Braunfels, Texas, on the recreation center's very first day of operation, and suffered a broken arm.
Additional slips followed (without injury), so staff scoured other buildings — city hall, the parks department's main office, a golf course — for floor mats to cover the deck. Those were replaced by larger, rented mats for roughly a month until a permanent solution was identified: etching the concrete.
California-based Diamond Safety Concepts was called in for its proprietary technique of machine-grinding concentric circles into concrete, leaving Das Rec's 6,400 square feet of pool deck with a pattern that not only improved safety, but enhanced aesthetics.
"One of the biggest challenges we always have on concrete decks is slip-resistance," says Stephen Springs, a senior principal at Dallas-based Brinkley Sargent Wiginton Architects, which has employed Diamond Safety Concepts on multiple occasions. "We make everybody do samples and we make everybody bless the sample before it goes in. We had an approved deck, but we had two subcontractors working in that area. The deck from the edge of the pool to the deck drain was in a pool guy's court, and the deck from the deck drain to the wall was in a concrete guy's court. We wound up with two decks, and one got slippery fast. This was the cure of making all of it the same" in terms of slip-resistance.
Adds New Braunfels Parks and Recreation director Stacey Dicke, who showed off the $27,000 enhancement during a tour of Das Rec as part of AB Show 2021 in October, "We're very happy. We brag about this process all the time. If we had known about this treatment ahead of time, we definitely would have asked for it to be done prior to opening."