Proper maintenance can bring new life to any type of floor, from the gymnasium's hardwood to the locker room's resilient tile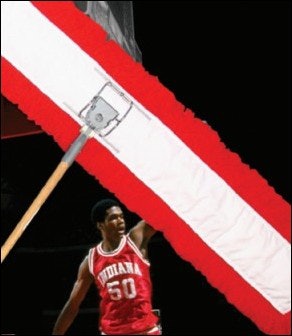 At least 60 nights a year, sneakers can be heard squeaking and basketballs bouncing on the hardwood court of the University of Wisconsin's Kohl Center. Home venue of the school's men's and women's basketball teams, the Kohl Center and its maple planks also host the state boys' and girls' high school championships each spring.
Exceptional maintenance is required for a court that is not only counted upon to consistently deliver extraordinary performance, but with scores of fans and TV cameras watching, is expected to look good, too. "Basketball coaches want the floor to have a shine they can see their face in," says Roger Schuster, maintenance operations mechanic at the Kohl Center and fulltime keeper of the court. "It may sound kind of funny, but we treat it like a piece of glass to keep that shine."
Keeping floors in top-notch shape is a challenge faced by maintenance personnel everywhere - and the care of gym floors (which, of course, aren't always hardwood) barely even scratches the surface. There's also the vinyl composition tile (VCT) of multipurpose rooms, weight rooms' rolled-rubber flooring, concrete concourses and hallways, and ceramic tile in rest rooms and locker rooms.
The wide variety of surfaces is enough to make one wonder where to begin when selecting appropriate maintenance equipment, cleaning solutions and care techniques. According to floor care consultant Stanley Hulin, it all starts with chemistry. "It is the chemicals that dictate the equipment and service procedure requirements," says Hulin. "Once the service procedures are selected, evaluate the traffic to see how often you need to perform the individual services."
Hard surface maintenance relies on several key solutions, including cleaners, finishes/sealers and strippers. Cleaners are the most basic of floor cleaning solutions, as they are primarily used for daily or weekly maintenance of non-wood surfaces. Generally, they are categorized according to their solution pH - acid cleaners have a pH less than 7, alkaline solutions have a pH greater than 9, and neutral cleaners will often have a pH in the 7 to 9 range. The proper choice of cleaner is dictated by "what kind of soil you are combating," says Hulin. A rule of thumb: dirt found on most surfaces is acid-based, meaning that surfaces should usually be treated with an alkaline cleaner. Yet if a surface has alkaline residues such as soap buildup, you should use an acid-base cleaner.
Neutral products, designed for light-duty use on practically any water-washable surface, are the most versatile. Such cleaners are ideal for the daily maintenance of a VCT lobby floor or a weight room's rubber surface, for example.
Acid cleaners, typically used on a periodic basis, are excellent removers of mineral and soap deposits common to rest rooms, locker rooms and shower facilities - areas that deserve equal, if not more, attention than larger facility spaces. "They make up only 10 percent of the space, but usually generate 80 percent of the complaints," says Bob Merkt, owner of MEGA, a floor-care educational and consulting firm based in West Bend, Wis. Such complaints are no doubt related to unwanted odors, the culprit commonly being urine trapped in the grout of ceramic tiles. To combat this problem, industry experts recommend cleaning rest-room floors daily with a disinfectant and then using an acid cleaner on problem areas once a month.
Facility operators have available to them several types of acid cleaners, many of which are EPA-registered and approved for use even in environments that demand the most-sterile conditions, including hospitals. At one end of the scale are heavy-duty acid cleaners, which are often hydrochloric-based and used only to remove iron buildup from toilets and urinals. Otherwise, cleaners that use safer acids (such as phosphoric acid) are sufficient enough to clean wet areas and neutralize unpleasant smells.
Those wishing to avoid using an acid cleaner altogether can opt instead for a nonacid germicide that can cut through grime just as effectively. Such solutions are actually high-powered alkaline cleaners, featuring an ammonia component that kills mildew, fungi and viruses on contact. Moderate alkaline cleaners, on the other hand, are often referred to as "all-purpose," and typically contain a water-miscible solvent (a glycol ether) ideal for removing oil-based soils. But because they contain solvents, alkaline disinfectants aren't recommended for regular use on floors that feature a glossy finish.
Regardless of the cleaner used, it's critical to heed the manufacturer's dilution instructions. (Also be sure to refer to the product's Material Data Safety Sheet, or MSDS, before use.) Doing so will conserve cleaner and protect the finish of your floor. A solution that is too highly concentrated will make the floor finish appear hazy and dull after cleaning. When used properly, however, most cleaners are strong enough to remove soil without damaging the finish - the last thing a facility operator would want to do, because finishes and sealers are considered a hard surface's last line of defense. "People often think they're working on the actual floor," says Hulin. "They're actually working on a film covering the floor." With finishes and sealers designed for concrete, terrazzo, VCT, linoleum and unglazed ceramic tile floors, that "film" is most often made of plastic. (Finishes aren't recommended on glazed ceramic tile because these surfaces are naturally slippery due to frequent water spillage.) That said, verify that the finish you purchase is UL-listed slip-resistant. An uncertified product may cost less initially, but can bring about expensive slip-and-fall lawsuits later.
As a protectant, a finish coating keeps dirt, scuffs and other stains from penetrating the pores of the permanent floor below - especially important for the long-term preservation of porous stone surfaces such as concrete, terrazzo, quarry tile and brick. Combination finish/sealer solutions are available for these types of surfaces.
Facility operators can select from a greater variety of finishes for their resilient tile floors. Finishes are formulated according to the technique by which they will eventually be applied. In response to the increasing popularity of ultra-high-speed (UHS) burnishers, more finishes are now composed to dry harder and shinier. Softer finishes can be applied using low-speed buffers or synthetic mops (never use cotton mops, which will bleed cotton oil and ruin the finish), but because they scuff easier these coatings require re-application on a more frequent basis.
Although most experts recommend a monthly treatment for optimum performance, refinishing frequency ultimately depends primarily on two things: the quality of the finish application and the traffic/usage pattern. Incorrectly applied finishes will likely show streaks or become hazy and powdery. A finish will set properly, however, if applied to a clean, dry floor using either a clean mop head or floor machine pad. First, be sure to rinse the surface with a neutralizer (not a neutral cleaner), a solution that has the ability to "neutralize" the finish's pH and bring it closer to 7.
The more coats of finish that are applied, the less frequently the floor will need to be treated. For routine maintenance, three or four coats will generally suffice, although on a floor that has been completely stripped of finish, product manufacturers recommend applying anywhere from five to nine coats. Make sure to apply no more than two or three coats in a 24-hour period to allow the finish to cure properly. Additional coats can be applied the following day, for which experts recommend preparing a new finish solution rather than using the previous day's leftovers. Drying time for each coat can range from 15 to 45 minutes, although floors in areas with high humidity will take longer to dry.
Using either a slow-speed floor machine or a high-speed burnisher, facility operators can apply restorers or maintainers atop the finish coat to give a little extra life to their floors' shiny appearance. Keep in mind, though, that doing so adds another layer to be stripped when the time comes.
Well-maintained surfaces need to be stripped only once every two to three years, but simply because floor strippers are used less frequently than other chemicals doesn't mean they don't deserve an equal measure of caution. Using the wrong stripper solution - if a stripper should be used at all - could ruin your surface. Most linoleum flooring, for example, is manufactured with a clear acrylic coating designed to guard against liquid absorption. If applied, the stripper solution will discolor, expand and soften the linoleum, causing extensive damage. While solvent-laden or "rinse-free" strippers aren't recommended for use on VCT within the first 30 days of the floor's installation, they shouldn't be used at all on asphalt tile floors, for risk of bleaching or discoloring. The same goes for rubber flooring, which can deteriorate with exposure to oils and solvents. Alkaline-based strippers, rather than solvents, are recommended for use on older terrazzo floors (solvents may conflict with petroleum-based sealers that at one time were used to seal terrazzo). Meanwhile, stripper solutions with a high alkalinity are not advised on marble, as they can discolor the floor.
Stripping finish off a hardwood floor can be done using either of two methods: sanding or chemical stripping. The latter method most often involves applying a methylene chloride stripper, a highly toxic but effective solution. Gentle, fresh-air ventilation is strongly recommended when using such a product. The market also has available nontoxic strippers, but be aware that some of them require special procedures to work properly, which could potentially lengthen an already tedious and painstaking process.
If you're unsure about which chemical stripper is ideal for your floor - or whether the floor should receive this treatment rather than sanding - consult the floor's manufacturer. Damage resulting from a maverick approach to maintenance can void a wood floor's warranty, so apply this rule of thumb to every aspect of hardwood floor care - from finish techniques (which will differ for floors with water-based and urethane-based seals) to dust-mopping, a daily wood floor maintenance task. For weekly or monthly damp-mopping, many manufacturers recommend pre-treating a dust mop with a waterless cleaner.
Still, there are some facility operators who find the use of those cleaning solutions unnecessary. Schuster's secret to keeping the Kohl Center's court looking brand-new is simple: For post-game mop-ups, he'll occasionally treat his dust mop with a small amount of vinegar. "Everyone has his or her own way of doing it," he says.
That may be true, but regardless of the methods, Hulin says that for hard floor maintenance there are several pieces of equipment that no facility operator can do without. "A 175-rpm rotary floor machine, a wet vac, a mop and a bucket," he says. "These are things you'll need for any job."
Selecting most of these supplies sounds simple enough, especially considering that industrial mops and bucket/wringer systems haven't changed significantly in decades, and finding a large-capacity wet/dry vacuum is about as easy as driving to the nearest home-improvement store (make sure the vacuum has a wide squeegee attachment). However, choosing the ideal floor machine for your facility is becoming an increasingly difficult process, with more machines than ever boasting high-tech features designed for simplicity, efficiency and versatility.
Take, for example, the high-speed (1,000 to 1,500 rpm) and ultra-high-speed (1,500 to 3,000 rpm) burnishers that have become popular for giving floors a "wet look" gloss. Generally featuring horizontally rotating disks ranging from 20 to 24 inches in diameter, these machines achieve a brilliant shine by generating enough heat and friction to smooth and harden UHS-rated thermoplastic and polythermal finishes. While other floor machines are generally electric-powered, facility operators can also choose propane or battery power for their UHS burnishers. Propane machines, usually outfitted with four- or five-gallon tanks, "can go a lot longer without stopping," says Glen Franklin, a floor-care consultant based in Snohomish, Wash. Plus, they provide excellent pad pressure and leave an amazing shine. Yet because propane burnishers are loud, it's advised that you use them after business hours or in between event times. Also, despite the fact that these machines are held to stringent EPA emissions standards, some people are inherently "spooked about using propane," says Franklin. An ideal alternative, then, is a battery-powered burnisher, which will operate more quietly and without pollution for about three or four hours before needing a recharge.
Those facility operators who aren't quite ready to take the technology leap can heed Hulin's recommendation and go with the industry's standby power tool, the rotary floor machine. The machine earns its name from the horizontal rotating motion of its cleaning disk, which can accommodate both pads and brushes. Also known as a swing machine, it cleans at speeds of anywhere from 175 to 350 rpm, more than sufficient for basic floor maintenance tasks such as scrubbing, sanding and spray buffing. It can be used on a variety of smooth and uneven surfaces, including variegated rubber and aggregate concrete. Rotary machines are available in several different sizes - anywhere from 13- to 20-inch diameters, although machines with 17- and 20-inch disks are the most common. The machines generally weigh about 100 pounds, but according to Franklin, most able-bodied persons will find them easy to use. "It's a matter of balance, education and training," he says. "I've seen little old ladies using swing scrubbers, showing big guys how to do it."
Perhaps even easier to use are cylindrical floor machines, which burst onto the scene a few years ago and are being touted by some industry experts as the hardware of the future. Cylindrical machines often weigh anywhere from 30 to 65 pounds and almost resemble a household vacuum cleaner in that the machine's head has a relatively square shape and low profile, allowing it to access hard-to-reach areas that bulkier machines often have difficulty cleaning. Underneath are two cylindrical brushes that counter-rotate at speeds ranging from 650 to 1,000 rpm and provide 3.5 pounds of pressure per square inch, five times the contact pressure of most rotary machines. Cylindrical machines even have multidirectional handles that enable users to clean right up against baseboards and walls, without spattering "slurry," or excess cleaning solution. Manufacturers also claim that the enclosed two-tank system of a cylindrical machine (which pumps fresh solution to the brush from a solution tank and squeegees excess into a recovery tank) allows it to use less moisture than a rotary floor machine.
Cylindrical machines have yet to equal the efficient liquid recovery of automatic floor scrubbers, though. These all-in-one machines combine the functions of a rotary floor machine, a solution tank and a wet vac by first applying the solution, then scrubbing the floor, and finally vacuuming the dirty solution. One manufacturer even offers an autoscrubber that dispenses a cleaning solution featuring a "surface active agent" that reacts with water and air to create scrubbing foam. This foam requires less water to clean the floor than normal solutions, but collapses back to a liquid state upon recovery, reducing tank dump/fill times. Featuring disks that range from 17 inches to more than 40 inches in diameter, autoscrubbers are ideal for quickly cleaning large expanses of hard-surface floors like courtyards and lobbies. Some autoscrubbers are even available as rider models. Data from the International Sanitary Supply Association (ISSA) suggests that in one pass, a 39inch autoscrubber can tackle a 5,000-square-foot floor in only nine minutes. By comparison, a wet-mop-and-bucket job would take more than eight hours. But the sheer size and weight of these machines (often around 150 pounds) can also present maneuverability challenges, leading manufacturers to offer self-propelled, walk-behind machines.
Certainly, as far as athletic facility operators are concerned, riding autoscrubbers are the top of the line in floor machines, costing anywhere from $10,000 to $20,000. Walk-behind scrubbers can run $5,000 to $7,000, and a facility operator can expect to spend anywhere from $500 to $1,500 on either a floor machine or a UHS burnisher. Without a doubt, proper maintenance of these machines should be a priority, regardless of what type of equipment a facility operator marshals for his or her floor-cleaning arsenal. According to Franklin, addressing minor issues such as frayed cords, low battery cell water levels, dirty solution tanks and old filters can extend a machine's lifespan long past its warranty. "Depending on the frequency of use, and how well-maintained they are, these machines can last five years at least, some even 10 or more," he says. "It's just like what my Army sergeant used to say about my M-16 rifle, 'Take care of your equipment and it'll take care of you.' You keep your machines well-maintained and they can go on and on."
Key cleaning accessories, too, can exhibit amazing durability. Merkt, a self-described "pad guy," admits that one scrubbing brush will outlast 100 pads. Although they have a much higher up-front cost than pads ($150 per brush compared to $5 a pad), Merkt says he still uses some brushes that are 15 years old. That said, should a facility operator automatically choose brushes over pads?
Not necessarily. Each can be used interchangeably on most floor machines (except cylindrical machines, which take brushes) and offer a great deal of variety - there are brushes and pads designed for both scrubbing and polish work. Brushes can be either abrasive, featuring nylon (the most durable), neoprene, polypropylene or wire bristles, or soft, featuring bassine bristles. Pads, meanwhile, have traditionally been categorized by color - generally, the darker the pad, the more abrasive it is. In recent years, though, some manufacturers have taken liberties with the color code. "Years ago, green was the common color of a scrubbing pad. Black was the common color for an abrading pad. Now there's a company making a blue scrubbing pad," Merkt says. To avoid using the wrong tool for the wrong task, he advises contacting the floor machine's manufacturer or a distributor, either of which is qualified to specify the correct pad.
While most industry experts avoid classifying one accessory as better than the other, they generally agree that abrasive brushes are ideal for scrubbing and stripping finish from rough surfaces, and that soft pads are excellent buffers of smooth floors. "It's a personal preference and, yes, there is a debate. I think pads clean better," says Merkt. "I'd recommend brushing first, then going over the floor with a pad."
But rather than take his word for it, Merkt recommends doing as much research as possible before making a commitment to any particular product, whether it be a simple accessory or a full-service floor machine. "Do a lot of homework," he says. "Go to the ISSA trade show and check things out. The show floor is as big as a football field."
"Ask the manufacturer or dealer for references," adds Franklin. "Has the company been around for a long time? Have you seen it advertising in magazines or at trade shows. You might be laying out $15,000 or $20,000 for a piece of equipment. Ask questions like, 'Who have you sold it to?' 'For how long can I get replacement parts?' Also, ask around locally and get feedback from people who have been in the trenches instead of just rolling the dice."